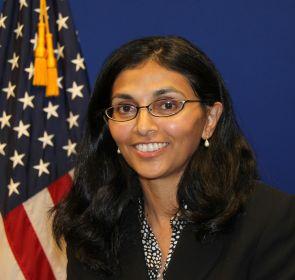 Nisha Desai Biswal is strongly tipped to succeed Robert Blake and will be the first Indian-origin nominee to the post, reports Aziz Haniffa

In what could be yet another historic appointment in the annals of the Indian-American community's immigrant experience, senior administration sources have told rediff.com that Nisha Desai Biswal is strongly tipped to be appointed the new assistant secretary of state for South and Central Asian affairs by United States President Barack Obama. She will succeed the current point man for the region, Robert Blake.

Blake is expected to be nominated shortly by Obama as the new US ambassador to Indonesia.

However, sources told rediff.com that if Obama does decide on Biswal, her nomination would be announced by the White House only after the President officially nominates Blake as the new envoy to Indonesia.

Biswal, a longtime senior Congressional staffer and administration official, is currently assistant administrator for Asia at the US agency for international development. She is one of the closest aides of Dr Raj Shah, United States Agency for International Development administrator and the highest-ranking Indian American official in the Obama administration.
Sources said that Biswal, during Obama's recent trip to Myanmar where he opened a US diplomatic mission, along with Shah had been at the president's side. She had provided Obama with comprehensive briefings on how the US could help that nation in its development efforts if it moved toward a democratic future, "really impressed" him and consequently had "tremendous support" to succeed Blake "among those who matter in the White House, who are rooting for her."
Blake also whenever he has appeared at forums with Biswal, whether they be Congressional briefings or Indian Americans events, has always fondly referred to her as 'my close friend and colleague,' and spoken glowingly of what as asset she is to the administration.
Biswal, if she is indeed nominated by Obama, will create history by being the first Indian American to occupy this position since a separate South Asia bureau was created in 1991, thanks to the efforts of then the staunchest supporter of India in the US Congress, the late Democratic lawmaker from New York, Stephen J Solarz, who chaired the Asia and Pacific Affairs Subcommittee of the Foreign Affairs Committee that had jurisdiction over affairs pertaining to South Asia.
But perhaps the most experienced South Asia hand appointed to the position since its creation was Blake, who came to the job after serving as deputy chief of mission in New Delhi and then US ambassador to Sri Lanka.
Administration sources told rediff.com that if Biswal is nominated by Obama, she would bring the same expertise, experience and gravitas to the position since she from her days as a senior Congressional staffer and administration official has considerable knowledge not only about South Asia but also about several other regions of the world from Central Asia to Africa and the Middle East to Latin and South America.
The sources acknowledged that if one were to incorporate all of her international travel during her tenure in the US Congress and her previous avatar with USAID, she is probably the most widely travelled Indian American to have served in the US government.
During the 1990s, she was a close aide and confidante to the then US Congressman Sam Gejdenson, Connecticut Democrat and ranking Democrat on the then international relations committee -- now the foreign affairs committee. She was tipped to be staff director of this committee if Gejdenson was re-elected in 2000 and the Democrats took over the majority in the House. But Gejdenson lost and the Democrats failed to secure a majority and Biswal remained on the minority staff and then on the majority staff of the appropriations subcommittee for the US state department and foreign operations, when the Democrats secured the majority for a short two-year period.
Before being sworn in as USAID's assistant administrator for Asia on September 20, 2010, for this subcommittee, which has jurisdiction over the state department and USAID, as well as other aspects of the international affairs budget, Biswal provided staff support to appropriations committee chairman David Obey and subcommittee chairwoman Nita Lowey in managing the appropriations and oversight of the US international affairs budget.
During the short period she was not in government service, Biswal served as the director of policy and advocacy at InterAction, the largest alliance of US-based international humanitarian and development nongovernmental organisations and also with the American Red Cross, both in its Washington headquarters and overseas as an international delegate in Armenia, Georgia, and Azerbaijan.
Sources told rediff.com that like her current boss Shah, Biswal too is loved on both sides of the aisle in the Congress and lawmakers have been impressed by her experience and commitment whenever she has appeared before the senate foreign relations and house foreign affairs committees. Thus, they contended that confirmation of her nomination is likely to be non-controversial and a shoo-in.
Biswal has been a popular fixture at Indian American functions and two years ago at the national federation of Indian American Association's annual convention in Washington, DC, where she was a special awardee and the lead panelist at NFIA's women's forum, she spoke of how "gender is such a critical component" of her portfolio, and what "a tremendous honour and personally motivating" it was for her "as an Indian-American woman to be able to work on issues professionally for the Obama administration."
She also detailed the kind of work USAID does in India and how she has been involved with programmes to help women farmers in India. "Over 50 per cent of the farmers in India are women and sometimes we don't recognise this. If you don't empower and invest in women, then you are under-utilising 50 percent of the work force. If you are not working on getting more empowered women legislators, you are underutilising a tremendous force for policy change."
Women legislators, she said, "tend to focus on different issues from make legislators." She said she could vouch for that, having worked for both men and women lawmakers on Capitol Hill. "Women legislators clearly tend to zero in more aggressively on issues such as access to health and education," she added.
Photograph: Nisha Desai Biswal | Courtesy: India Abroad Archives