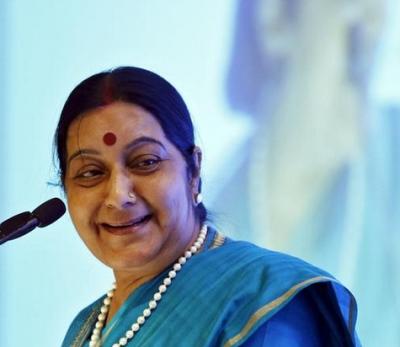 External Affairs Minister Sushma Swaraj will travel to Islamabad on Tuesday on a two-day visit during which she will hold talks with her Pakistani counterpart Sartaj Aziz and attend a multilateral conference on Afghanistan.
"External Affairs Minister Sushma Swaraj to lead Indian delegation for 'Heart of Asia' 5th Ministerial Meeting on Afghanistan on December 9 in Islamabad," External Affairs Ministry Spokesperson Vikas Swarup tweeted.
Swaraj's visit comes two days after talks between the National Security Advisors of India and Pakistan on Sunday in Bangkok, where they discussed terrorism, Jammu and Kashmir and a range of key bilateral issues apart from agreeing to carry forward the "constructive" engagement.
Swaraj will call on Pakistani Prime Minister Nawaz Sharif and meet his Adviser on Foreign Affairs Aziz on the sidelines of the 'Heart of Asia' regional conference on Afghanistan on Wednesday.
Her visit comes three years after former External Affairs Minister S M Krishna travelled to Islamabad in 2012 when the countries also inked a visa liberalisation pact.
During her visit, Swaraj will be accompanied by Foreign Secretary S Jaishankar, who was also present during the four-hour-long meeting between National Security Advisor Ajit Doval and his Pakistani counterpart Naseer Janjua in the Thai capital.
The joint statement after the meeting of NSAs said the talks were held pursuant to a meeting between Prime Ministers Narendra Modi and Nawaz Sharif on the sidelines of the climate meet in Paris, rejecting the version given by the Indian side then that it was a mere "exchange of courtesies" although Sharif had told Pakistani media that he had a "good meeting" and "doors of dialogue should open".
Before Paris, Modi and Sharif had held bilateral meeting in Russian city of Ufa where they decided that their NSAs would meet to discuss all "terror-related" issues.
However, Pakistan had called-off Aziz' visit after New Delhi had made it clear that he would not be allowed to meet Kashmiri separatist leaders in the Indian capital.
Acknowledging that the deadlock in Indo-Pak ties has somewhat eased, Pakistan Prime Minister's Advisor on Foreign Affairs Sartaj Aziz said his talks with Swaraj this week would focus on the resumption of composite dialogue process.
Aziz said the deadlock in Indo-Pak ties had eased to some extent. During his talks with Swaraj, Aziz said various matters with focus on resumption of composite dialogue process between the two countries will be discussed.
The conference on Afghanistan is expected to be jointly inaugurated by Sharif and Afghan president Ashraf Ghani on Wednesday. Foreign ministers of several countries will attend the conference.