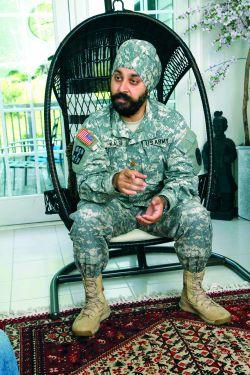 But it will be a giant leap for America when all can serve freely in the US Armed Forces, Major Kamaljeet Singh Kalsi tells Suman Guha Mozumder about the Pentagon's relaxing of rules on religious wear
In what was seen as a small but positive step forward, the US department of defence relaxed rules relating to religious wear like turbans, tattoos and skullcaps, bringing cheers to Sikhs and other minority communities who had been seeking religious accommodations from strict military uniform policy for a long time.
The DoD last week released new instruction updating its policy on making religious accommodations.
"The new policy states that military departments will accommodate religious requests of service unless a request would have an adverse effect on military readiness, mission accomplishment, unit cohesion and good order and discipline," Pentagon spokesman Navy Lieutenant Commander Nathan J Christensen said.
Requests to accommodate religious practices will be assessed on a case-by-case basis. The spokesman said department officials believe the new instruction that went into effect last week itself and will cover all religions recognised by the US military, will enhance commanders' and supervisors' ability to promote the climate needed to maintain good order and discipline, and will reduce the instances and perception of discrimination toward those whose religious expressions are less familiar to the command.
The US military has over 5,000 members of religious minorities within its ranks, and that includes a handful of Sikhs.
"I am grateful to be living in a day and age when the largest employer in the US can hear the voice of 3 Sikhs," Major Kamaljeet Singh Kalsi, who spent six months in the battleground in Afghanistan four years ago with his turban on, told India Abroad.
"I was granted a rare accommodation to keep my turban and beard in uniform nearly five years ago. It was the first time the military had granted such an accommodation in nearly a generation."
About last week's policy change, Major Kalsi said, "Although it is a small step forward, this is the first positive directive we've seen with regards to religious liberties from the military in more than a generation."
"When we started the process for my accommodation in 2008, we had to contend with the fact that Sikh beards and long hair were not even considered religious items. These articles of my faith fell under the military's 'grooming practices' and as such were not eligible for religious waivers."
"In the new directives, there is recognition that a Sikh warrior's turban, beard and unshorn hair are part of our articles of faith," the major said.
He noted that DoD has also formalised the previously adhoc process and defined the authorities responsible for the accommodation. All Sikhs must still apply for the accommodation, and the directive states that these requests will be weighed against military necessity, unit cohesion and safety requirements.
"So, at the end of the day, this is a baby step forward for the Sikh community, but it will be a giant leap for America when we can all serve freely," Major Kalsi said.
Noting that Sikhs have a long tradition of service and sacrifice, which is in their blood, he said that Sikhs have served honourably and with distinction beyond their small numbers in militaries all over the world.
"We have proof of concept in as much as there are three of us that have shown that we have been assets to the mission," Major Kalsi said.
"Captain (Tejdeep Singh) Rattan and myself deployed to Afghanistan in far forward settings in hostile environments, and were awarded medals for our service to country. Time and again, we have shown that we can don helmets, gas masks, and integrate well into units without affecting unit cohesion."
"The proper controls are also built in, as any recruit must get through boot camp where among other things, you must be able to demonstrate that you can wear a gas mask and establish a seal; wear a helmet and complete the physical demands of the course and maintain unit cohesion."
Sikhs or any other faith-based communities are not asking for a blank check, he said, but simply for the ability to go to boot camp and prove themselves.
"If a Sikh cannot meet the military's standards or establish a seal on the gas mask, then he or she will wash out of the program just like any other American. But right now, we can't even get into the recruiter's office," Kalsi said.
With the help of the Sikh Coalition and the law firm of McDermot, Will and Emery Sikhs set out to change the policy that presumptively bans Sikhs from serving in the US military. Along the way, the Sikhs garnered many supporters in Washington.
Most recently, the Becket Fund for religious liberties has joined the ranks of Sikhs in asking the military to re-evaluate its policies with regards to religious accommodation. The community members had a historic briefing for Congressional staffers January 8 on this issue, which was attended by the DoD as well.
"With this mutual respect and understanding, we have been able to move the ball down the field, but are still very far away from the goal," Major Kalsi said. "Sikhs, Muslims, Hindus, Christians or Jews should be able to walk into any recruiter's office and be able to serve both God and country without having to sacrifice one for the other. I applaud this new military directive, and am optimistic that it will lead to the overall policy change that will once again allow Sikhs to serve freely in the US military."
'Presumptive ban on Sikh articles of faith remains intact'
The Sikh Coalition, which has been fighting relentlessly for admission of Sikhs with their articles of faith in the United States military for a long time, said while it appreciates the new Pentagon rules, 'we are disappointed that the presumptive ban on Sikh articles of faith remains intact.'
The policy revisions announced, the coalition noted, provide a framework through which Sikh soldiers may seek religious accommodation. '(But) to be clear, Sikh Americans must still go through a lengthy and uncertain administrative process before being approved or denied the opportunity to serve their country with their religiously-mandated turbans and beards,' the coalition said. .
Since 2009, three Sikhs Americans -- Major Kamaljeet Singh Kalsi, Captain Tejdeep Singh Rattan and Corporal Simran Preet Singh Lamba -- have received rare and historic accommodation to serve in the US Army with their articles of faith intact.
Their historic accommodation came only through the expending of significant resources from the Sikh Coalition and its co-counsel at McDermott Will & Emery LLP over years.
"The revised Pentagon policy appears to formalise the ad hoc process through which these three clients were granted individualised religious accommodation while maintaining restrictive appearance regulations that effectively ban Sikh articles of faith," the coalition said.
Image: Major Kamaljeet Singh Kalsi