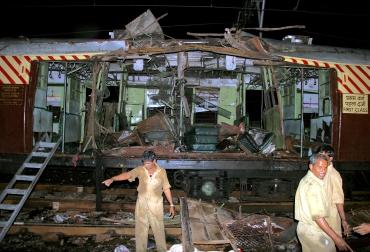 Seven years after the Mumbai serial train blasts in which nearly 200 people were killed and over 700 injured, the trial in the case is still going on with the special Maharashtra Control of Organised Crime Act court recording the statements of the accused.
"The court is now recording the statement of the accused who wanted to depose as a defence witness in the case," said advocate Sherif Sheikh, appearing for some of the accused in the case.
Sheikh said they propose to examine some more defence witnesses in the case.
Special MCOCA judge YD Shinde has till now recorded the statement of about 180 prosecution witnesses. The statements of witnesses has been recorded in over 2,400 pages.
The prosecution and defence have also submitted over 700 exhibits to the court to substantiate their claim. While about 40 defence witnesses have deposed in the court, including four accused, the court is now recording the statement of the fifth accused.
During the trial, the court also recorded the statements of three accused -- alleged co-founder of terror group Indian Mujahideen Sadiq Sheikh, Arif Badruddin and Ansar Ahmed -- arrested in 2008 for their alleged role in various blasts across the country during that year.
The defence lawyers had called them as witnesses as they had in their confession statement stated that it was the IM which was responsible for carrying out blasts since 2005.
Seven RDX bombs kept in the first class coaches of Mumbai's suburban trains had exploded on July 11, 2006, killing about 188 people and injuring 817 others.
The blasts had occurred in suburban trains between Khar-Santacruz, Bandra-Khar, Jogeshwari-Mahim junction, Mira Road-Bhayander, Matunga-Mahim junction and at Borivali.
Kamal Ahamed Ansari (37), Tanvir Ahmed Ansari (37), Mohammed Faisal Shaikh (36), Ehtesham Siddiqui (30), Mohammed Majid Shafi (32), Shaikh Alam Shaikh (41), Mohd Sajid Ansari (34), Abdul Wahid Shaikh (34), Muzzammil Shaikh (27), Soheil Mehmood Shaikh (43), Zamir Ahmad Shaikh (36), Naveed Hussain Khan (30), Asif Khan (38) had been arrested by the Anti Terrorism Squad.
Key accused Azam Chima along with 14 others are absconding in the case.
The examination of witnesses resumed after a span of two years as the Supreme Court had stayed the trial in 2008.
Before the stay, the prosecution had already examined a police officer.
The apex court vacated the stay on April 23, 2010.