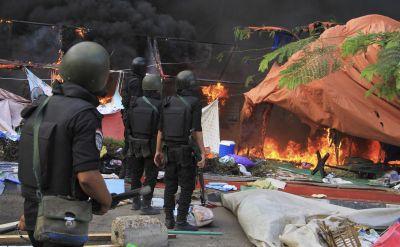 Nearly 150 people were killed on Wednesday when Egyptian security forces, backed by bulldozers and armoured vehicles, stormed two huge protest camps occupied by supporters of ousted President Mohammed Morsi, prompting the government to impose emergency to quell the raging violence.
he nationwide state of emergency will be in force from 7:30 pmIST, the presidency said in a statement read out on state television.
The emergency will be in place for one month. The state of emergency enables the army to take all necessary measures to impose and retrieve security.
The interior ministry issued a statement earlier saying security forces were taking "necessary measures" against the protesters, who want Morsi reinstated, at the Rabaa al-Adawiya mosque in the east of Cairo and the protest in Nahda Square.
Conflicting reports emerged over the number of people killed on Wednesday. At least 149 people have been killed in clashes around the country, Al Jazeera quoted the health ministry as saying.
Security forces earlier said 95 people have been killed and 758 injured. However, Morsi's Muslim Brotherhood claimed the death toll was as high as 2,200, with about 10,000 injured.
The interior ministry said 543 pro-Morsi supporters were arrested nationwide in incidents related to dispersing the Rabaa al-Adawiya sit-in in NasrCity and the Nahda Square sit-in in Giza.
Live footage from Cairo on Wednesday morning showed smoke engulfing Nahda Square, which was later completely cleared, and there were reports of tear gas and birdshot being used on supporters of Morsi.
The police took full control of the Rabaa al-Adawiya camp, the state news agency reported. Bulldozers were said to have been used to uproot the camps that had been in place after 62-year-old Morsi was ousted by the military on July 3.
In a press conference, the cabinet media adviser thanked the security forces for "exercising self-control and high-level professionalism in dispersing the sit-ins," and held the Muslim Brotherhood responsible for "escalation and violence".
Witnesses said that after firing tear gas into the Rabaa al-Adawiyeh sit-in, pandemonium struck among the thousands of protesters. Two journalists were also killed while covering the violence on Wednesday. Mick Deane, a cameraman for the UK-based Sky News channel, and Habiba Abd Elaziz, a reporter for the UAE-based Xpress newspaper, died from gunshot wounds.
Protesters have camped in Cairo demanding the reinstatement of Morsi, who was country's first democratically elected president and his Freedom and Justice Party was the largest political group in the now dissolved parliament.
Image: Riot police clear the area of members of the Muslim Brotherhood at Rabaa Adawiya square, where they are camping, in Cairo, on Wednesday.
Photograph: Reuters