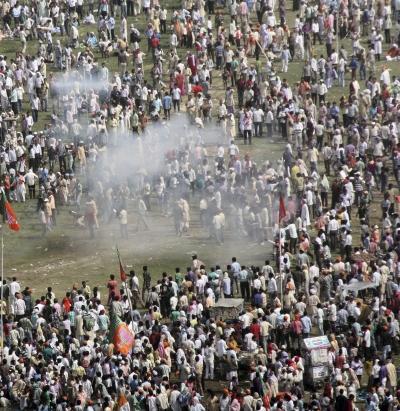 Three people who had been detained Ranchi in connection with the Patna serial bomb blasts have been released after interrogation, even as raids continued in several areas of Jharkhand in connection with the blasts.
All the three, detained after the blasts on Sunday, were released after interrogation, a senior police officer said today.
Soon after Bihar police tipped off their counterparts in Jharkhand that some accused in Patna blasts hailed from the state, he said raids are being carried out.
Police recovered black powder and material used to make IEDs, pressure cooker and extremist literature during the raids, he said.
Five people were killed and 83 injured in seven low-intensity serial blasts in Patna in and around the venue of Narendra Modi's mega rally at Gandhi Maidan shortly before his address to a huge gathering on Sunday.
Image: Smoke rises after a bomb exploded near Gandhi maidan in Patna where Narendra Modi addressed a massive rally on Sunday ' Photograph: Krishna Murari Kishan/Reuters