More than 120 eminent citizens, including retired high court judges and former bureaucrats, have written to President Droupadi Murmu opposing what they called "highly objectionable attempts" to legalise same-sex marriages.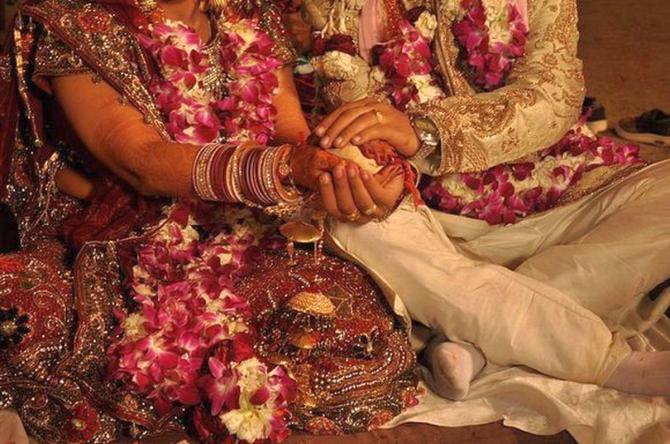 They said Indian society and culture do not accept same-sex behavioural institution as it is irrational and unnatural.
The signatories said they were "shocked" over the "continuous onslaught" against the country's basic cultural traditions and religious tenets, in particular the "highly objectionable attempts" towards legalisation of same-sex union.
The deliberation regarding human institutional relations like that of a marriage is "essentially a legislative function", they said, claiming that the courts should "refrain" from creating or recognising or demolishing the institution of marriage either by way of ajudicial interpretation or striking down or reading down the existing legislative framework for marriages.
The issue is being considered by the Constitution bench of the Supreme Court and has become a "rallying point" for some "typical pseudo liberals" who are already "divorced" from Indian values under the bogey of "progressive and liberated thinking", they said.
The signatories to the April 27 letter include former Comptroller and Auditor General (CAG) Rajiv Mehrishi, former home secretary L C Goyal, former foreign secretary Shashank, former RAW chief Sanjeev Tripathi, Justice (retired) S N Dhingra and Justice (retired) Lok Pal Singh.
They said it was imperative to let the Supreme Court know the accurate estimation and outcome of such a "culturally disastrous" step in the name of a "path-breaking approach".
"If we revise the law to make same-sex sexual union rational, acceptable or moral, it will open the doors to same-sex sexual culture. Our society and culture do not accept same-sex behavioural institution because it is offensive to our values, besides being irrational and unnatural," the letter read.
They claimed that it was "widely appreciated" that same-sex relationship "can't create long-term or stable institutions".
"If they are allowed to adopt children, they can't maintain stable and long-lasting relationships with their families, parents, relatives and partners. The health and future of such children will be severely compromised," they claimed.
The letter also claimed India "cannot afford" that its future generations live in such an atmosphere, "which surely will produce more gays and lesbians, and tear apart and destroy the institutions of family and society irreparably. They won't know about their parents, ancestors, culture, religious tenets and age-old values".
They requested the President that the "Indian social fabric, conventions, traditions, values and religious tenets should not be hastily shredded in the name of elitist progressiveness".