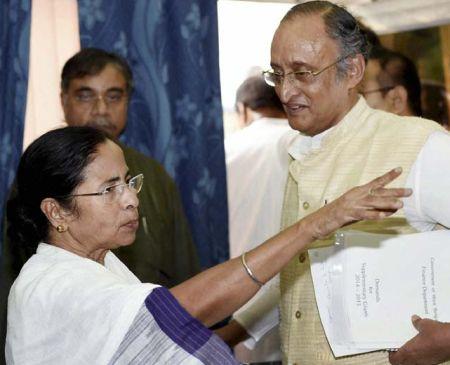 Khardah is no ordinary constituency.
It is the electoral battleground of two economists-turned-finance ministers, report Namrata Acharya and Ishita Ayan Dutt.
The latest showpiece at the Bilkanda-II gram panchayat in Khardah, the constituency of West Bengal Finance Minister Amit Mitra, is an asbestos box that is being passed off as a makeshift home for Basana Dey.
A Congress loyalist, Dey's house was reduced to ashes about a fortnight back in an accidental fire. "We knew Dey's family supports the Congress. But we have put together a house for her. We don't discriminate," says a local Trinamool Congress member.
Dey, in her 50s, looks satisfied. Will she vote for the Trinamool this time? Her son quickly intercepts, "We don't understand politics. We will vote for whoever helps us," he says in a tone that makes it apparent who he would pick on April 25 when this constituency goes to poll.
Khardah is the winning constituency of Mitra. In 2011, he defeated Left Front stalwart Asim Dasgupta by 26,000 votes with a promise of better infrastructure, roads, sewerage and employment.
Khardah is no ordinary constituency. It is the electoral battleground of two economists-turned-finance ministers (one sitting and another former). In fact, Mitra and Dasgupta have more similarities to count than differences.
While some say Mitra has done a lot for his constituency, the face of Khardah hasn't changed much.
Several state and Centre-sponsored schemes have led to better roads, water-supply, health and education facilities. However, the major problem of a poor drainage remains. But, as of now, Dey and her ilk seem happy.
"Did you have good roads here before the TMC came to power?" Mitra asks a group of women voters at Bilkanda on his campaign trail. "No, never," they say in unison. "Have girls got cycles from our government?" the minister asks again. "Yes, we have," the chorus gets louder.
Nearly 11,000 bicycles have been distributed among girls in the area so far, which according to Mitra, has reduced the school dropout rate.
Similarly, under the Kanyashree project, nearly 577 girls have received a one-time grant of Rs 25,000 in the locality. "All this has changed lives of people here," says Mitra.
Close to Rs 100 crore (Rs 1 billion) has been spent on development work at Khardah in the past five years. The focus areas have been roads, water supply, education and health infrastructure, Mitra says.
Kanyashree Prakalpa is the state government's flagship social scheme under which an annual scholarship of Rs 750 is offered to girl students from poor families. This apart, a one-time grant of Rs 25,000 is given to every unmarried girl student on turning 18.
According to the recent Budget document, about 3.3 million girls across West Bengal have enrolled for this scheme so far. "The idea is to check the school dropout rate," explains Mitra. But it has come at a cost, roughly Rs 1,900 crore (Rs 19 billion).
As Mitra proceeds with this campaign, some discordant notes are heard. When asked, they say, "We have no jobs here. There are a few hosiery factories, but none of them employ local people," says a resident.
Does it mean that the people of Khardah are worse off? "Earlier, there was hardly any development in Khardah. The pace is slowly picking up now. We have water connection in almost all houses in Bilkanda," says a woman. That sure is a slur on Dasgupta, who represented this constituency for 24 years till 2011.
Dasgupta, who is also camping in Khardah, appears spirited. Has Khardah changed for the better in the last five years? "There is an environment of suppressed terror. People cannot talk freely now, and that's the biggest causalty of Khardah's democratic traditions. Drainage is a big problem at Khardah. We started work towards improving the drainage system. However, the work is either stalled or is done without any planning. Employment generation remains a concern," says Dasgupta.
According to Dasgupta, some 100 small and medium enterprises had come up during the Left Front regime, half of which have closed down in the past five years. Also, out of more than 300 self-help groups set up during the Left regime, more than half have ceased to exist, he adds.
But Dasgupta has an immediate challenge. More houses are openly flaunting TMC flags in Bilkanda than Communist Party of India-Marxist.
Leningarh (the fort of Lenin), one of the central areas in the town, is now popular as Joraphulgarh (the fort of joint flowers -- the TMC symbol) with all 15,000 voters having changed over to the TMC from the CPI-M in the last assembly elections.
Will the 2016 elections throw up yet another name for this area? For that, one would have to wait till May 16 when votes will be counted.
IMAGE: West Bengal Chief Minister Mamata Banerjee with state Finance Minster Amit Mitra. Photograph: PTI