'Castro told us: "Give me a thousand Gurkhas and I shall keep my neighbour under control!"'
'We pretended that we did not know which neighbour he meant.'
Ambassador T P Sreenivasan remembers Fidel Castro.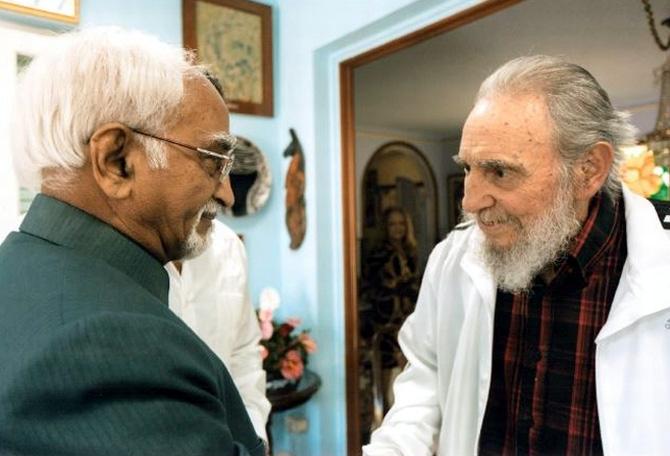 IMAGE: Fidel Castro greets Vice-President Hamid Ansari during a rare 65-minute meeting in October 2013. It was the last time the Cuban revolutionary met an Indian leader.
A popular story about President Fidel Castro is about the three-hour (or longer) speeches that he used to make. At one stage, he decided to cut the speech down to one hour to give his audience a reprieve.
He called his speechwriter and asked for a one-hour speech. But when he read it, it was again three hours. He severely reprimanded the speechwriter, who sheepishly told him: "Excellency, I wrote a shorter speech, but you read all the three copies!"
The story cannot be true as Castro always reads his speeches with conviction, as if he is speaking from his heart.
Even in private conversations, he is passionate, forceful and mesmerising. Moreover, he has begun, since the Rio environment summit in 1992, to read one page speeches with great effect at international gatherings.
From 1979 to 1983, when Cuba was the chairman of the Nonaligned Movement, Havana was my second home and I had innumerable occasions to listen to Castro in public meetings and private conversations. Every encounter left me spellbound.
More than his ideology, his personal charisma must be responsible for his longevity long after the collapse of the Soviet Union and Communism as we knew it during the Cold War.
Castro's most astonishing performance I witnessed was at the Sixth Nonaligned summit in Havana in 1979, which he chaired with aplomb.
It was his finest hour as he had assumed the leadership of the developing world, despite his known links with the Soviet Bloc.
He was determined to establish his credentials as his own man, whose mission was only the unity of the nonaligned movement. While his comrades tried in the conference rooms to declare nonaligned movement the natural ally of the Soviet Union, Castro chaired meetings, large and small, with total impartiality, dedication and patience.
The biggest issue in Havana was the charge of betrayal made by the Arabs against Egypt soon after the Camp David Accords. A move to expel, or at least suspend, Egypt was gaining momentum and Chairman Yasser Arafat personally led the charge against Egypt.
But Castro and the rest of the movement were not inclined to take drastic action against a founding member. Castro allowed the Arab leaders to have their say, but together with India, Yugoslavia and Algeria (the 'gang of four', as they came to be known in Havana), Castro managed to save Egypt from severe embarrassment.
I saw how Castro handled an unexpected challenge by the leader of the Indian delegation (he is no more) to the Havana Summit. It was the third day of the conference and our minister was quite upset that his turn to address the plenary had not come.
Castro, who was obviously aware of the Indian minister's displeasure, walked up to him during a break in the plenary and enquired about his welfare. The minister thought that this was his best chance to register his protest at the highest level and made his feelings known.
After the initial shock, Castro patiently explained to him that, according to nonaligned tradition, heads of State and government had precedence to speak over foreign ministers.
The minister said it was understandable, but he felt that the chairman should be more firm in controlling the speakers. He even said the chairman was superfluous if he did not exercise his judgement as to how long the delegates should speak. The interpreter was visibly embarrassed to translate the Indian minister's angry words to his chief.
Castro, however, was unmoved and he simply walked away. By the evening, we received word that Castro would receive the minister in his office the next morning. Some of us accompanied the minister, but it turned out to be a one-to-one meeting and that conversation was totally lost to posterity.
During another visit with another Indian dignitary, I met Castro in his office. On his desk were several books on the Gurkhas and he asked us a number of questions about the Gurkhas.
He was obviously impressed by what the Gurkha soldiers of the British Army did in the Falklands to Argentine soldiers. They engaged the Argentines in duels and finished them one by one with their khukris.
He had read all the literature on the Gurkhas and learnt about their valour and courage. He knew that the Gurkhas have been fighting in the British Army for over two hundred years.
Castro told us: "Give me a thousand Gurkhas and I shall keep my neighbour under control!" We pretended that we did not know which neighbour he meant.
Castro came to the Indian ambassador's residence in Havana often, particularly when there were senior leaders, visiting from India. The usual decoy car and other paraphernalia were there, but once he settled down, he was quite relaxed and talked to each one of us.
He always talked through an interpreter, but his body language was transparent enough to convey the intensity of his convictions.
Castro was a star at the New Delhi NAM summit in 1983, where Afghanistan and Kampuchea were major issues. To his credit, he did not stand in the way of the mild criticism of the Soviet Union that the summit voiced. New Delhi had its moderating influence on the supporters as well as the critics of the Soviet Union.
The historic moment of handing over of the chairman's gavel by Castro to Prime Minister Indira Gandhi presented an interesting spectacle as Castro proceeded to give her a bear hug after giving her the gavel and she quickly slithered away. He seemed surprised for a moment, but quickly joined the loud applause around.
The name of Castro creates strong feelings in the United States even today even though there have been several instances of the United States doing business with Cuba. The celebrated episode of Elian Gonzalez is a case in point. I had trouble with a US Congressman for saying some good words about Castro.
He asked me why India maintained good relations with Cuba. Thinking that it was an honest question, I gave an honest answer. I traced a bit of the history of the nonaligned movement and the role played by Cuba and India in it. Even though the world situation had changed, as two developing countries, we worked together on several issues.
Ideology had nothing to do with it, I said. But, for this particular Congressman, no good word about Castro was acceptable. I learnt the hard way that I should keep my admiration for Castro to myself during conversations with US Congressmen with Spanish names.
T P Sreenivasan, IFS, is a former ambassador to the United Nations, Vienna, and former governor for India, International Atomic Energy Agency, Vienna.
This column was first published on Rediff.com in May 2005.