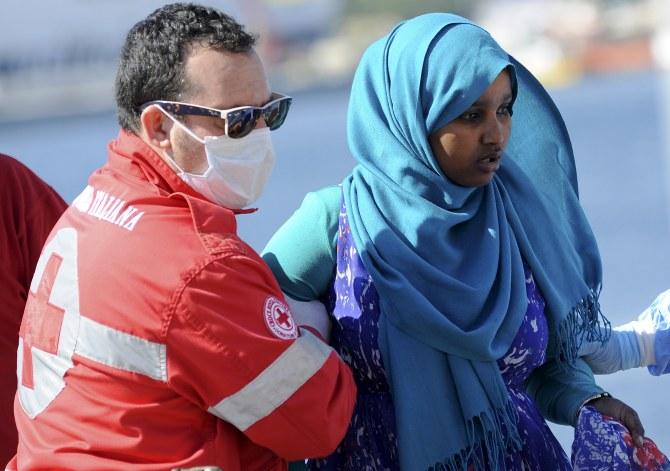 A migrant is helped as she disembarks from a Coast Guard boat. Photograph: Guglielmo Mangiapane/Reuters.
Up to 700 African migrants are feared dead when their boat capsized off the coast of Libya overnight, the Times of Malta reported on Sunday
Only 28 people were rescued in the incident, which happened in an area just off Libyan waters 210 km off the coast of Lampedusa and 27 km from the Libyan coast, the newspaper's website reported.
Carlotta Sami, a spokeswoman for the United Nations High Commissioner for Refugees, told reporters, "At the moment, we fear that this is a tragedy of really vast proportions."
The boat is believed to have capsized when migrants moved to one side of the vessel when a merchant ship approached. The disaster could be one of the worst seen during the decades-long migrant crisis in the southern Mediterranean and would bring the total number of dead since the beginning of the year to more than 1,500.
Though the weather is roughly similar to last year, the death toll is dramatically higher and could exceed 1,600 if the details are confirmed.
So far, at least 900 have died trying this year as the overcrowded boats capsize.
An Italian official confirmed that navy vessels were involved in the operation, which was being coordinated by the Italian coast guard in Rome. But he said details were still being evaluated.