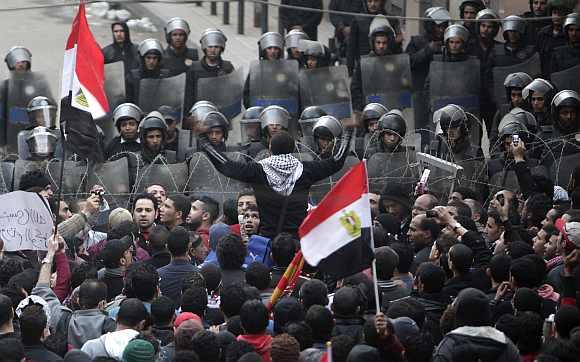 An Egyptian court today sentenced 11 youths to death for their involvement in the deadliest sport-related incident in the soccer-crazy nation, the 2012 football riots in Port Said in which 74 fans were killed.
The sentencing was referred to the Grand Mufti -- the country's most senior religious authority who according to Egyptian law must review all death sentences although his decision is not binding.
The court fixed May 30 for the final verdict in the deadly riots that broke out following an Egyptian Premier League between Cairo's El-Ahly and home team Al-Masry in February, 2012.
Sunday's sentencing came following a retrial of 73 defendants after an appeals court rejected a lower court's verdict that sentenced 21 people to death for their involvement in the incident.
The court also ordered immediate arrest of seven other defendants in the same case in which 74 young fans of El-Ahly team were killed in the clashes, termed as the deadliest sport-related incident in the country's modern history.
Seventy-three defendants were tried in the case, including 9 police personnel and three officials from Al-Masry football team. More than 500 were also injured after thousands of Al-Masry fans violently attacked El-Ahly fans using knives, stones, bottles and fireworks, while the police kept the Port Said stadium's gates closed.
In 2013, the Port Said criminal court sentenced 21 defendants to death. Five others were sentenced to life in prison and 10 others were sentenced for 15 years. Twenty-eight other defendants were acquitted in the 2013 verdict.
The Egyptian court appealed the verdict of the 28 defendants, while the other defendants appealed their sentences. The court, then accepted the appeals and retried all defendants.