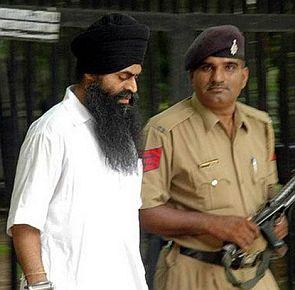 Punjab's dreaded separatist outfit Khalistan Liberation Force militant Davinder Pal Singh Bhullar, a convict in 1993 Delhi bomb blast case, was on Saturday released on 21-day parole after nearly 23 years behind the bars.
Bhullar was convicted in connection with the killing of nine people and injuring of 31 in a bomb blast in 1993. Among those who survived the attack are former Youth Congress chief M S Bitta.
Behind the bars following his conviction in the case, Bhullar is undergoing life imprisonment after the Supreme Court commuted his death sentence. He was sentenced to death by a designated Terrorist and Disruptive Activities (Prevention) Act court on August 25, 2001.
Bhullar's
wife Navneet Kaur, along with her relatives, received him when he was released from jail custody on Satur. Bhullar was shifted to Amritsar Central Jail from Delhi's
Tihar Jail in June last year.
After being shifted from Delhi's Tihar Jail, within a week he was admitted to local Swami Vivekananda Drug De-addiction Centre from Amritsar Central Jail. Navneet Kaur had sought the shifting of Bhullar to Amritsar Jail citing his poor health.
Navneet, who had migrated to Canada with her in-laws in 1994, has her parental house in Amritsar. Former terrorist Gurdeep Singh Khera, who was transferred to the Central Jail in Amritsar last year in June, was released on Friday on a 42-day parole.