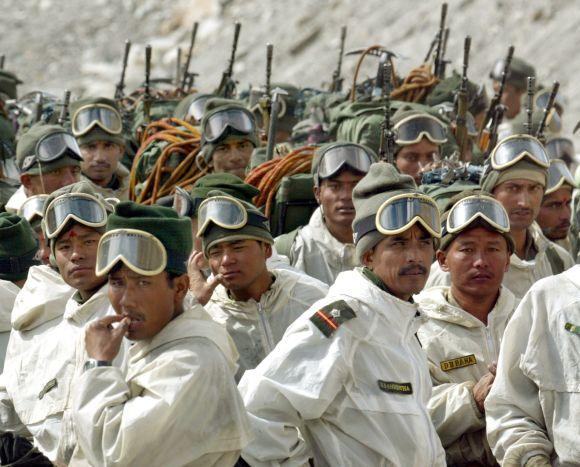 Fifty soldiers lost their lives in the Siachen Glacier due to climatic conditions and avalanches in the last three years while 16 soldiers died while serving in United Nations peacekeeping operations during that period, Lok Sabha was informed on Friday.
In written replies, Defence Minister Arun Jaitley said the government was aware of the "strategic importance" of Siachen Glacier and requisite forces have been deployed in that area on basis of the "threat perception, ground situation and other operational needs".
50 soldiers were killed in the last three years up to July 20 in Siachen Glacier owing to landslides, floods and avalanches and climatic conditions, he said.
Siachen was once the world's highest battlefield where Indian and Pakistani troops were constantly engaged in skirmishes till 2003 when ceasefire was declared.
India maintains more than 3,000 troops on the glacier where Indian posts have been built at altitudes upto 23,000 feet.
Jaitley said India has deployed 7,148 troops in UN peacekeeping operations. "16 troops have died there in the last three years."
The Indian contingents are deployed in Congo, Lebanon, South Sudan, Golan Heights, Sudan, Ivory Coast, Iraq, East Timor and New York. Six Indian soldiers were killed in Congo, two in Lebanon and eight in South Sudan.
To another query, the minister said the government has ordered a study into the stress level encountered by young officers of the Army and has also asked the Defence Research and Development Organisation to develop methods to mitigate it.
The minister said the report was submitted in April 2014 and the DRDO lab has already developed 'Suicide Risk Assessment Test' to identify at-risk personnel which has already been handed over to the Army.