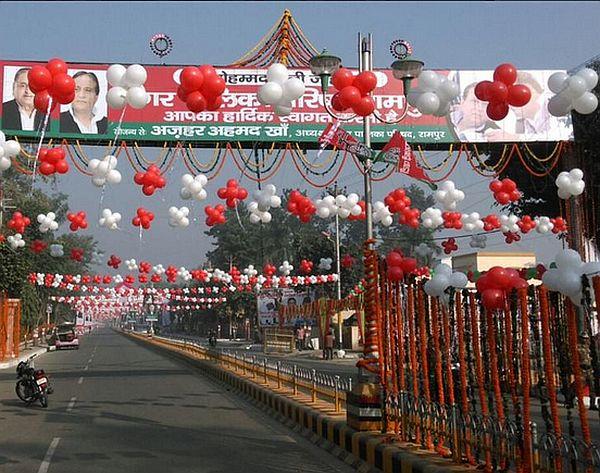 Uttar Pradesh's powerful minister Azam Khan will host a gala event on the occasion of Samajwadi Party founder and president Mulayam Singh Yadav's 75th birthday in Rampur on Friday and Saturday.
The highlight of the event is a 75-feet long U-shaped cake made in New Delhi.
Accompanied by his chief minister son Akhilesh Yadav, Mulayam will fly to Rampur on Friday afternoon in a state aircraft from Lucknow. After landing at the CRPF airstrip, he will take a 12- km ride through the town in an exquisite buggy specially imported by Azam Khan from the UK. The buggy ride will culminate at the Jauhar University in Rampur.
As the celebrations were set in motion after Mulayam's arrival here, Azam's comments over the funding fuelled a controversy.
When questioned about the funding for the grand event, an irate Khan, who has left no stone unturned to make the celebrations successful, said money had come from the Taliban and fugitive gangster Dawood Ibrahim.
"Why does it matter where the money for celebrations is coming from? Some have come from Taliban, some from Abu Salem, some from Dawood, some from terrorists...," he said in an apparent sarcastic response.
Azam had also kicked up a row on Thursday when he suggested that the Taj Mahal, the monument of love in Agra, and the income generated through it should be handed over to the Wakf Board contending that the monument is a mausoleum.
"Taj Mahal is a mausoleum and each mausoleum is 'Waqf' and comes under the Sunni Central Waqf Board," he had said.
Local schools in Rampur have been closed for two days to facilitate the birthday celebrations.
The local administration has sought a special fleet of 25 cars for VIP movement on the two days. All big hotels and guest houses in town have been blocked by the district administration to accommodate MPs and MLAs who are expected to join the celebrations.
The evening will be marked by special performances by the famous Sabri brothers and Hans Raj Hans at a makeshift auditorium at Jauhar University. The series of cultural functions will be followed by the cake cutting ceremony at the stroke of midnight.
Mulayam will lay the foundation stone of a new medical college to be built under the university on Saturday, after which he will launch several schemes of the SP government. The programme will conclude on Saturday afternoon with a public rally to be addressed by Mulayam.

With inputs from PTI
Image: Flowers, balloons and posters adorn the streets of Rampur town in Uttar Pradesh as the Samajwadi Party celebrates its president's 75th birthday. Photograph: Courtesy Twitter