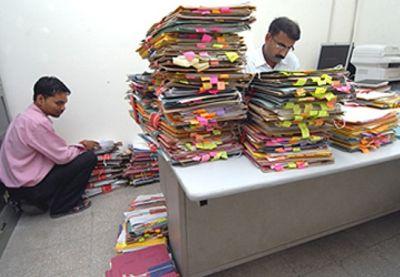 Over 40,000 complaints and appeals are pending in the Central Information Commission which is working without its chief for more than nine months.
A total of 40,051 cases -- comprising 32,531 appeals and 7,520 complaints filed under the Right to Information Act -- are pending in the commission as on Monday, as per CIC official data.
Of these, 15,736 appeals and complaints are pending before the Chief Information Commissioner's bench. Rest of the cases are pending with seven Information Commissioners -- Vijai Sharma, Basant Seth, Yashovardhan Azad, Sharat Sabharwal, Manjula Prasher, M A Khan Yusufi and Madabhushanam Sridhar Acharyulu, it said. Three posts of information commissioners are vacant in the transparency watchdog.
Among the information commissioners, Sharma is tipped to be the next chief information commissioner. His name is understood to have been cleared in a meeting that Prime Minister Narendra Modi had on June 1 with leader of Congress party in Lok Sabha Mallikarjun Kharge.
Finance Minister Arun Jaitley, who is also the part of three-member selection committee headed by the prime minister, had also attended the meeting.
Last month, Congress president Sonia Gandhi and party vice president Rahul Gandhi had attacked the prime minister over the delay in the appointments of Chiefs of CIC, CVC and Lokpal, saying the government feared transparency.
The delay in the appointment of chief information commissioner and information commissioners, which has resulted in high pendency, has been questioned by the RTI activists who have accused the government of "gradually killing" the transparency panel.
"With huge number of pending cases in CIC, the commission requires drastic reforms including its chief to work on Saturdays," said Lokesh Batra, RTI activist.
Batra has also questioned the government's reported move to appoint Vijai Sharma as the new chief information commissioner, who is the senior-most information commissioner in the panel.
"If he does become the CIC, then it is a bad joke on the transparency movement of this country considering that he has only 179 days left to serve before retiring on December 1, this year. CIC's tenure is for five years. Why appoint somebody who is due to retire soon? This means the government will have to start another selection process soon," he said.
Another Bhopal-based activist Ajay Dubey said the government must ensure the appointment of chief information commissioners and information commissioners in CIC. "The Centre is trying to gradually kill the transparency watchdog by delaying the appointments," he said.
Dubey said if the government wanted to choose a serving information commissioner as its chief, it should have done that earlier. "Why to keep CIC headless for over nine months?" he asked.
RTI applicants have also complained of delay in sending reply to queries filed by them with government departments. "Applications are pending for over three months with government departments and there is no sense in approaching CIC as pendency is too large there," an RTI applicant said.
CIC, which is mandated to resolve appeals and complaints filed against government departments or public authorities by information seekers under the Right to Information Act, has been working without a chief for over nine months, after the tenure of CIC Rajiv Mathur ended on August 22, 2014.
The posts of chief and a vigilance commissioner are also vacant in Central Vigilance Commission, the country's top anti-corruption body.
The term of central vigilance commissioner Pradeep Kumar had ended on September 28, last year, while vigilance commissioner J M Garg completed his tenure on September 7.
Image used for representational purposes only