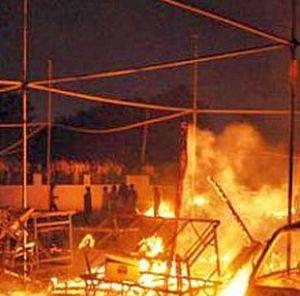 At least 13 people were killed on Monday when a fire broke out in a multi-storey building in a busy market in this eastern Pakistani city, officials said.
The fire fighters and Rescue 1122 reached the spot and launched the efforts to rescue the trapped people.
District Coordination Officer (Lahore) Capt (R) Usman Younas told reporters that the fire broke out at the entrance of Khalid Plaza, in Anarakali bazaar where electronic items, lighters, and sunglasses are manufactured and sold.
He said in a span of 5 minutes the fire engulfed the whole building trapping a large number of people inside.
"Eleven people have died of suffocation so far and two injured are on ventilator," he said, adding the rescue teams have saved the lives of 10 people trapped in the building.
"The rescue operation has been completed," he said.
Rescue 1122 spokesman Jam Sajjad, however, confirmed the death of 13 people in the incident.
"Thirteen people including a woman has been killed as mostly lost their lives because of suffocation. The condition of 10 injured is stated to be out of danger," he said.
Abdul Hameed, an eyewitness, gave short-circuiting as the probable reason for the outbreak.
"The blaze spread within no time when the fuel of a power generator placed at the entrance of the plaza caught a spark," he claimed.
Image used for representational purposes only