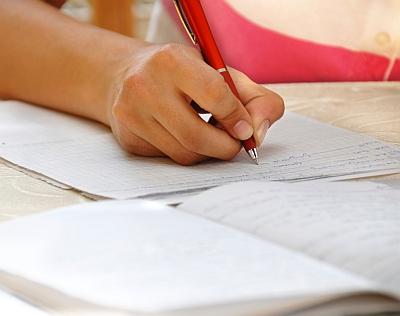 'The copying mafia is very powerful. We need to use technology to fight them.'
The Uttar Pradesh Board of High School and Intermediate Education has decided to install surveillance cameras at all exam centres for the 10th and 12th board exams which will be conducted next year.
The CCTV cameras will be installed in exam halls, all entrances, control rooms and at the places where the question papers are kept. UP has 474 examination centres.
Surya Pratap Singh, a senior IAS officer, was principal secretary, in the UP education department from December 2014 to January 2015. He was in the post for just 40 days.
During those 40 days, Singh launched a campaign against copying in exams, which led to his abrupt transfer from his post.
Singh discusses UP's CCTV initiative with A Ganesh Nadar/Rediff.com
The state has 474 examination centres, so how many CCTV cameras are we talking about?
The plan was that every examination centre will have 2, 3 cameras. One camera per room is enough. I am hopeful that they will be able to do it.
How much money will they need to buy these cameras and other equipment?
The cameras are not very costly. They are available for Rs 1,800 to Rs 2,000. The entire package will not cost more than Rs 15,000 per school/college. Schools and colleges have enough money for this.
How many people will be involved in monitoring these cameras?
Monitoring is not needed. The cameras will record. You can check it later. Flying squads can check it later. The system stores the data which remains for a month.
Who will comprise the flying squad?
The flying squads are from the education department. They comprise principals and teachers from various schools. They are accompanied by two policemen.
What happens if there is a power failure? Will all exam centres have power back up?
The system has a power back up of five to six hours. At some places there is also solar back up. That will not be a problem.
What about impersonators? How will they be identified?
An identity card is issued to every student appearing for the exams. The original registration details are also there with the board. The I-card can be cross checked with the originals.
Once there are cameras, this (impersonation) will come down. As impersonation is a case of cheating it will lead to three years of imprisonment -- this will be a deterrent.
Are all the examination centres located in school and colleges? Are some located in any coaching classes?
There are 50,000 coaching classes in Uttar Pradesh. They are debarred from being examination centres.
What about the evaluation centres where exam papers are corrected?
Evaluation centres already have cameras.
Do you think this initiative will stop copying in exams?
The copying mafia is very powerful in this state. They will try to find loopholes and take short cuts. We need to use technology to fight them.
In the long run, the surveillance cameras will have a very good impact. Other states are also following this idea.
Fake students will drop out, particularly those who come in from other states. They will realise that they cannot get away with cheating.
Apart from the UP government, who else is involved in the effort to stop cheating in exams?
There are a group of intellectuals who work under the NGO, Voluntary Action for Social Transformation. Earlier they had started a campaign Nakal Roko Abhiyan. Now they have started an Uttar Pradesh Bachao, Uttar Pradesh Bannao Abhiyan campaign.
How many students appear for the 10th and 12th exams every year in Uttar Pradesh?
About 65 lakh (6.5 million) students appear every year.
Image published only for representational purposes.