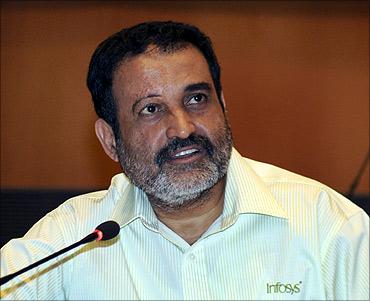 'Children should be brought up connected to our culture and should be introduced to characters from our mythologies.'
'What is this Baa Baa Black Sheep?'
Nikita Puri makes sense of Mohandas Pai's social and political views.
Recently, soon after Prakash Javadekar was seen in a suit signing the historic Paris agreement on climate change at the United Nations headquarters, T V Mohandas Pai tweeted to the minister: 'Sir why the suit? Please wear Indian clothes and stand out as an Indian.'
The comment elicited sharp reaction from the twitteratti. Clothes are a matter of personal choice; it's unfair to comment on them, said some. The suit could be protocol said others. There is no such protocol, countered Pai. 'Look at the African leaders,' he retorted.
Sitting in his Bengaluru office, Pai tells me: "Don't decry your roots, they give you confidence." He lightly thumps the table between us every time he wants to emphasise a point, which is often.
Once best known for his role as chief financial officer at Infosys, Pai has carefully picked up many hats along the way. He is today known as one of India's leading angel investors, a philanthropist and a social commentator who has taken upon himself the task of upholding and promoting all things Indian. The tweet to Javadekar is a case in point.
In Pai, several startups have found a ready investor. In 2015, he, along with Tata Sons Chairman Emeritus Ratan Tata, ranked as India's top angel investors.
According to VCCEdge data, while Pai made investments across 18 deals (amount disclosed $0.4 million), Tata invested across 17 deals (value not disclosed). Pai invested across segments, from lifestyle brand Kaaryah to online meat ordering startup Licious.
As a philanthropist, he is involved with the Akshaya Patra midday meal programme as its founding member. The programme feeds about 1.5 million children every day.
A data-driven man with a wealth of information on his fingertips is how Biocon Chairman Kiran Mazumdar-Shaw describes Pai. She has known him for the past few decades and along with him has founded the Bangalore Political Action Committee, a citizen-led body aimed at promoting good governance and Bengaluru's development.
"Both of us," she says, "are very outspoken and we are often the lone voices on issues where no one wants to speak."
Of late, it is more because of this outspokenness that Pai has been in the news. A distinctive leaning is now visible in his tweets and blogs. A clear bent towards the Right is how his critics describe it. "An Indian point of view," is how Pai sees it.
Thus, he is all for re-writing India's history. "India's history has been captured by the Left and extreme Left," he says, adding, "They dominate Indian history councils and academics. Our children are reading what they've written and are getting a distorted view of what India is. People like Irfan Habib and Romila Thapar are examples of this."
Thapar has countered this very view in a recent interview to The Caravan. She said she keeps hearing of how Left-wing intellectuals hog institutions and have kept out the Right-wing intellectuals. 'I don't know why that is said because I don't see a regiment of Right-wing intellectuals all waiting at the gates of JNU (Jawaharlal Nehru University) and other institutions, unable to enter. This is factually not so,' she said in the interview.
Both Thapar and Pai acknowledge this is but a battle of ideologies.
Thapar suggests that communalism is being used as a strategy to change the mindset of Indians to support a certain ideology -- of a choice between a Hindu Rashtra and a secular democracy. In this confrontation, universities and the educational system are, and will continue to be, obvious targets because education can easily be converted into indoctrination, she has said.
Pai stands his ground and driven by the belief that Indian civilisation "has been in the past captured by those who are outside the country," he has launched the Foundation for Indian Civilisation Studies.
The first series of this Bengaluru-based NGO will see conferences on ancient Indian mathematics and Indian metallurgy. "Besides funding conferences, we will also fund research papers with rigorous academic standards which we can then export to the world," he says. "I'm working towards arranging the first of the conferences."
He is also of the view that "we should have our own scholars," adding, "I like Rajiv Malhotra."
Malhotra, an Indian-American author and Hindu activist, had after a career in the computer and telecom industries, found The Infinity Foundation. The foundation focuses on Indic studies and promotes a non-Western and nationalistic view of India and Hinduism.
"I don't agree with many of the things he says, but he's fighting for the Indian point of view," says Pai.
The "Indian point of view" repeatedly comes up during the conversation.
At the mention of the animated Sanskrit film, Punyakoti, which he has co-produced, Pai's eyes instantly light up. Shoulders pushed back, he begins to sing the Kannada folk song the movie is based on. His voice is clear and confident as he sings about a cow that always speaks the truth.
"Besides Kannada, I grew up on Konkani nursery rhymes because of my mother," he says. "Children should be brought up connected to our culture and should be introduced to characters from our mythologies. Why promote silly characters like Mickey Mouse and Goofy? What is this Baa Baa Black Sheep?"
Remarks such as these often have people dubbing him a right-winger.
His recent blog on student protests in JNU made waves when he wrote that students of the university are funded by taxpayers for their education and not politics. Criticism came in buckets with political analyst Pawan Khera describing it as the 'most bizarre argument offered on the issue.'
The irony of the argument stands out as Pai recalls his own days in college. "College was a time of a political awakening for all of us," he reminisces. "We marched on the streets after the Emergency; we marched for nuclear disarmament. We'd go to listen to Jayaprakash Narayan when he'd visit the city; we were rebels."
It does not escape him that the 'rebellion' seen on campuses today is also the youth questioning the times, the way he did back in college. "Students are always rebels," he says, "but it needs to be productive in the long run since higher education is a privilege, not a right."
He goes on reminiscing about those days when Amitabh Bachchan, as the angry young man, brought to screen the frustrations of the common man. "We were the Deewar generation; there was a lot of anger. In those days (the 1970s), India was a failing country. There were no jobs."
If society was polarised then, it is polarised again today, though over different issues. Those on one side of the divide often criticise Pai for being on the other side of the spectrum. The criticism is louder for him because being in the position of influence that he is, he is both heard and followed.
Pai remains unfazed. "I can take valid and data-based criticism," he says. 'Data' is easily one of Pai's most favourite words; it is the hammer and the chisel in his personal toolbox. It always has been. By the time he was 22, he had collected and studied 3,000 annual reports. "I'd read them like story books," he says.
Pai believes that with time he has become more tolerant towards dissent. "I'm 57 now. I don't argue much, and I don't want to win all the time now," he says.
"As the CFO of Infosys, I wanted to win arguments all the time -- (N R Narayana) Murthy knows about this," he says as he smiles. Mazumdar-Shaw agrees. "If you reason with him, he's willing to concede," she says.
Pai says there was a time when once in a while he would call people names. "But I have stopped now because my sons have asked me to. They tell me, very rightly, 'Don't attack the person; attack the idea'."
So that is what he does, sometimes unabashedly going against popular opinion. Most recently, when everybody seemed to be gunning for Vijay Mallya, he asked why no one was being held accountable for Air India's losses (Rs 30,000 crore/Rs 300 billion) just as Mallya was being held responsible for Kingfisher Airlines (losses of over Rs 9,000 crore/Rs 90 billion).
Getting abused on the social media, he says, has become a daily occurrence. "The Congress thinks I'm a Sanghi (affiliated to the Rashtriya Swayamsevak Sangh) and the Bharatiya Janata Party thinks I'm an agent of the Congress," he says. "What I support are economic policies."
Rajiv Gandhi, he says, was a great white hope. "I liked whatever UPA (United Progressive Alliance)-1 was able to do. I liked Manmohan Singh's economic policies. And I like Narendra Modi's economic policies. But I don't like what UPA-II did, and I don't like Rahul Gandhi's policies."
Unlike Nandan Nilekani, his colleague from Infosys who has entered politics, Pai says he doesn't have what it takes to be a politician. He would prefer to remain on its fringes as he continues to wage ideological battles.
So, as we wrap up, he hands me two hardbound books: William Durant's The Case for India and Rajiv Malhotra's The Battle for Sanskrit. On his way out, he picks up a few more copies to give away.