'As far as I know, Burhan Wani did not kill anyone.'
'Kashmiri Pandits will be more comfortable with Kashmiri Muslims than anybody else in India.'
'Kashmiri Muslims have committed a sin by stealing the properties of Kashmiri Pandits.'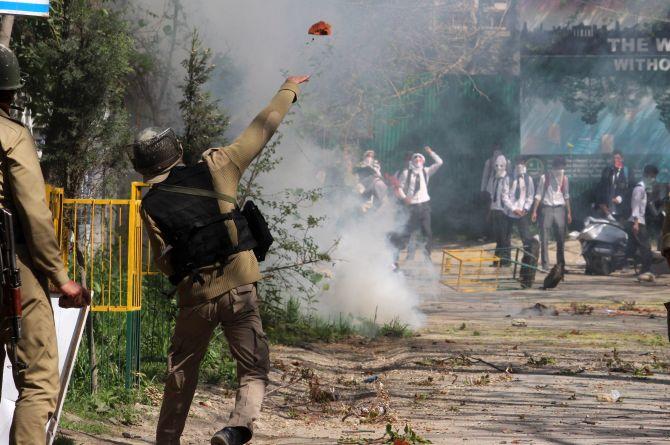 The streets of Kashmir have been rocked by violent protests for months on end after the death of the Hizbul Mujahideen's Burhan Wani last July, and the valley suddenly seems inhospitable like never before.
But not for filmmaker Sreejith Karanavar who lived in Srinagar for six months in the aftermath of Wani's killing to shoot a documentary on the conflict rocking the border state.
Karanavar screened his three-part documentary on Kashmir at a media interaction in Thadomal Shahani Centre for Media and Communication Mumbai on Wednesday, May 3.
"The message I wanted to give people through my documentary is that you have to accept the problem in Kashmir, but at the same time I am not telling you what to do," says Karanavar.
In an interview with Rediff.com's Syed Firdaus Ashraf soon after his talk, Karanavar, below, discussed the politics behind the unrest in the Kashmir valley.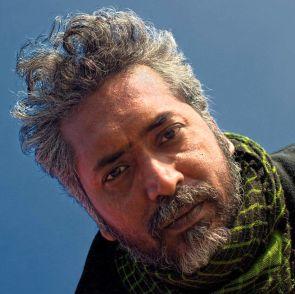 Why did you decide to go to Kashmir?
I had a friend there. When I went there, I realised there was a lack of media representation for various reasons.
The local journalists had to write what they were told from the centre (their head offices) so they ended up quitting their jobs.
So there was hardly any media representation. The few newspapers in Srinagar were only writing about what was happening around the city and they were not critical of the government.
We thought there was a space to be filled. Therefore, we came out with this kind of documentary.
What did you experience in six months?
We are filmmakers and went there for a feature film.
In doing so, we shot regular news footage of protests and shootings which a news channel would do.
Our work is somewhere between a documentary and news.
Why are the people of Kashmir upset with India, as you have tried to show in your presentation?
They are not upset with India.
There are 12.5 million people in Kashmir and 7 lakh military personnel.
India has an army of 13 lakh out of which 7 lakh are in Kashmir.
The question is very simple: Do we need 7 lakh army personnel in Kashmir?
When the local people step out of their homes, they see men in uniform everywhere. This has been going on from 1991.
People want a normal life and they do not want army people hanging around all the time.
That is the primary reason for anger for an average Kashmiri.
Then there are a plethora of problems like scarcity of funds from the central government and bad infrastructure.
They (often) do not get food (due to blockades).
But the images of students, particularly schoolgirls, throwing stones at security personnel convey a deeper problem than what you are saying.
Definitely it does. It is like playing into the hands of the Indian government.
Suppose I have a neighbour who disturbs me everyday. One day I break down and protest.
And then he tells everyone, 'Look, I told you he is the bad guy.' This is what the Indian government has been doing in Kashmir.
They are successful because the Kashmiri people have no voice in the Indian mainstream.
Nobody knows what the Kashmiris' point of view is and whatever the Indian government says, the people of India accept.
What about separatist groups like the Hurriyat Conference?
They are also struggling to maintain their sort of integrity. You know how politics is, you have to give and take a lot.
The Hurriyat, to some extent, is forced to make deals with the government and they do that.
Having said that, right now, the Hurriyat has the support of the people of Kashmir. If they call for a strike, people come out in support.
This wasn't the case earlier, but (has been like this) after Burhan Wani's death.
He was an educated boy, he never went to Pakistan.
He managed to get guns and was basically indulging in fantasy.
Burhan was tortured by the cops and therefore he turned that way.
There was no known case against him for having shot anybody or any kind of damage.
Though Home Minister Rajnath Singh talked about cases against him, but if you read those cases, they are funny.
There were 7, 8 such cases against him which were forcefully registered.
Are you saying Burhan Wani did not kill anyone?
As far as I know, he did not kill anybody.
I have met his father. They are very nice people.
Burhan snatched guns, but did not kill anyone.
But he is a terrorist.
He was the Hizbul Mujhadeen's 'commander,' so he is a terrorist, but he did not do anything for which he should have been shot.
It is illegal. They built up the whole case (against him).
Do you think the government needs to build confidence among Kashmiris?
India needs to address the people and show some concern for Kashmiris. This is not what I need to tell the government, it is their job.
Everybody is insisting on my responsibility towards the country, but not about the country's responsibility towards me. That is what the case is in Kashmir.
It has reached such a point that they do not want to be a part of an India which does not care about them.
Prime Minister Narendra Modi has spoken of Kashmiriyat, Jamhooriyat and Insaaniyat. Why does his message not go across to the Kashmiris?
The prime minister is not sending this message on the ground. He says something and does something else.
In the morning he makes such statements and in the afternoon, protestors are shot (in Kashmir).
But why are these protestors throwing stones?
Because they cannot live properly. Their lives are blocked.
For four months they put Kashmir under non-stop curfew. It means students did not go to school, nobody went to work.
Business is dead and there is no tourism. People are frustrated now.
How do they get food when everything is shut?
They are habituated to living in such a system.
In winter, very few people visit Kashmir. There is not enough business.
So the Kashmiris have a habit to store and survive.
The Indian government too puts a lot of money into Kashmir.
Its total annual budget is Rs 48,000 crore (Rs 480 billion) out of which Rs 22,000 crore (Rs 220 billion) is given by the Indian government.
Does this money trickle down to the people?
It mostly goes in salaries. 50 per cent of people in Kashmir are government servants and they are the ones who retard the process (of hartals and protests).
They do not want trouble because their salaries come from the Centre.
So why are they protesting against India which gives them salaries?
But the same government also does not allow them to live freely.
There are people who feel India has cheated them.
Kashmiri Muslims have committed atrocities against the Kashmiri Pandits.
During (then governor) Jagmohan's time (in 1990), things got hairy because Pakistanis send kabalis (tribesmen) and other mercenaries into Kashmir to destabilise the situation.
Pakistanis wanted Kashmiri Muslims to drive away Hindus from Kashmir.
Many people hold Jagmohan responsible for jeopardising the situation. Pandits say they left Kashmir to save their lives.
But it was Jagmohan who said in a statement that he would not be able to protect the lives of Kashmiri Pandits.
He told the Kashmiri Pandits that if they wanted to be safe, then they should leave.
When that exodus started, the Muslims started occupying the homes of Pandits because they were empty.
So you blame Jagmohan for the Kashmiri Pandit exodus?
Not that way. I am saying that there was a situation when Jagmohan made that call which created such a situation.
Otherwise, it would never have happened.
Kashmiri Pandits and Kashmiri Muslims are brothers and are of the same racial stock.
They will fight, but they are brothers. Kashmiri Pandits will be more comfortable with Kashmiri Muslims than anybody else in India. This is a fact.
For 26 years, Kashmiri Pandits have not been able to go back home!
Because they are scared. There have been many attempts from Kashmiri Muslims to get them back, but the atmosphere of conflict does not allow them to go back.
You were asking me what the government must do. They must do all these things.
I have told Kashmiri Muslims that they have committed a sin by stealing the properties of Kashmiri Pandits. They have done wrong.
IMAGE: Students pelt stones at security forces in Srinagar. Photograph: Umar Ganie
MORE KASHMIR features in the RELATED LINKS BELOW...