'It was the Supreme Court's order (recommending changes in the SC/ST Act).'
'Isn't it wrong not to accept even the court's order?'
'Are you bigger than every institution?'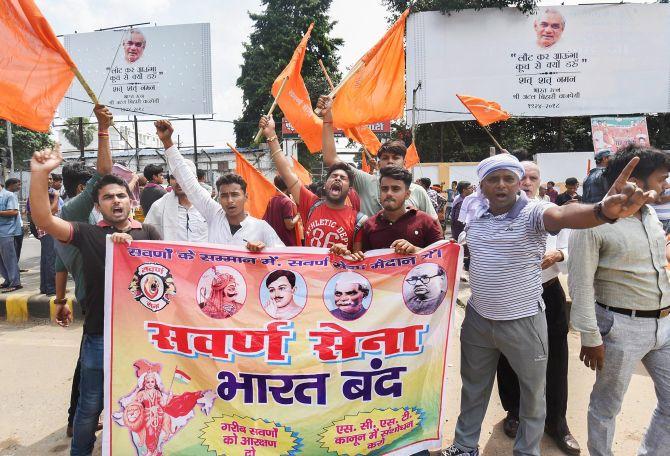 A 'Bharat Bandh' was called on Thursday, September 6, by some upper caste organisations against the amendments enacted by Parliament to the Scheduled Castes and Scheduled Tribes (Prevention of Atrocities) Act, after some of its provisions were read down by the Supreme Court.
The bandh evoked a strong response in Madhya Pradesh, with violent protests witnessed in several districts.
Dharmendra Sharma, national president, Brahma Samagam Sawarna Jankalyan Sangathan, an organisation spearheading the protests, said about 150 organisations participated in the bandh.
Sharma's organisation is fighting a two-pronged battle -- one against the alleged misuse of the SC/ST Act, and the other against caste-based reservations.
"Modiji shouldn't have amended the SC/ST Act after the Supreme Court order on it. Let Modiji try and become PM in 2019 with votes from the backward community only. Can he do that?" Sharma asks Rediff.com's Utkarsh Mishra.
Why did you call a Bharat Bandh against the amendments to the SC/ST Act?
We want that one should not be arrested without investigation. And there should be a provision to punish those who file false cases.
A false case under this Act can ruin people's lives, what is there in the Act for such people?
The person levelling false cases should also be punished accordingly, be it with an imprisonment of an equal term or some penalty.
The government should ensure this. It should look both ways, and check the misuse of the law.
Okay, we are ready to be arrested at once (after being slapped with a case under the SC/ST Act), but what if the charge is found fake?
If I am found guilty, then it is okay. So there should be a balance.
You are looking at one section of society with an open eye and the other with a closed one. This is not correct.
If you are ensuring safety of one section, then do that for the other too.
This is our demand from the government.
But there are provisions in the Indian Penal Code against those who level false allegations. Perjury is also punishable. You still you want it enshrined in the Act?
Then the politicians should speak about it clearly.
The way they say 'koi mai ka laal arakshan khatam nahi kar sakta (no one can end reservations' a reference to a statement by MP Chief Minister Shivraj Singh Chouhan), the way they say they are from a particular community and no one can harm that community.
If you only wanted votes of a particular community, then you should have said it before becoming prime minister (or chief minister).
Seeing it in this way I find Mayawati would have been a better candidate (for prime minister). One should say openly that from which community one comes (to seek votes).
We don't have problems with anybody. It is the government who wants your identity, not us.
We do not ask someone to which community s/he belongs before having tea or dinner with her/him.
But it is the government because of whom this issue has become so hot.
Why are they giving so much importance to caste? They should have just said that we are Indians.
But now Modiji is saying with folded hands that had I not been from a backward community, I couldn't have become PM.
Now let him try and become PM in 2019 with votes from the backward community only. Can he do that?
The PM, the President hold such respectable positions, they should not talk like this.
Like Shivraj Singh (Chouhan) here (in MP) said, 'koi mai ka laal...' Why do you need to say this?
It was the Supreme Court's order (recommending changes in the SC/ST Act). Isn't it wrong not to accept even the court's order? Are you bigger than every institution?
If you have become (the PM or CM) today, does not mean you will always be there.
It shows that they are not being able to contain their success.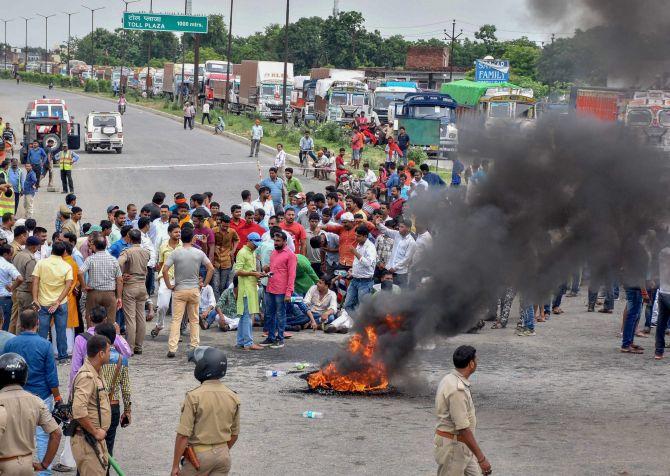 What changes do you want in the reservation policy?
There should be no caste-based reservations; it should only be given on economic lines.
How, according to you, should India deal with the caste problem? Do you consider it a problem at all?
If you do a business, you do an audit every year and find out about your profits and losses.
But there has been no audit of the reservation system in our country in 70 years. The governments could not find out how many people benefited from the policy.
They could not find out who got (the benefits of reservation) and who didn't. They keep on wasting the taxpayers' money.
They say there is grave poverty in our country. So why don't these politicians give up their salaries? They keep on fooling people.
But now the people are becoming aware. They are asking questions. It is people's money which they are wasting.
They don't do any survey (about who benefited from these schemes). They don't give information to people.
They can't do it anymore. Everyone now understands their game.
The government conducted a socio-economic caste census in 2011, but it has not released the caste-based data so far.
If the data comes out, the picture on the 'need for reservation', as you say, will be clearer.
I accept that the backward castes need reservations more.
Brahmins are 10 per cent of the population, out of them one or two per cent will be found needy of reservation; the same with Thakurs.
Thew rest 22 per cent or so will go to the backward castes only. They will get the real benefit.
Today, the top 6 to 7 per cent people of the backward castes are reaping the benefits of reservation. (If reservation is given on economic lines, then) those among the backward castes who are really poor will get its benefits.
We don't need it. They do.
Do Mayawati or Mulayam (Singh Yadav) need reservation? No, they can fight and win elections on their own.
But lower sections aren't so privileged. So they should get the benefits.
We acknowledge there has been a (caste) problem. But what were you doing if you couldn't solve it in 70 years? That's what we are asking.
They (the lower castes) are part of the same society as we are. We should think about the welfare of society as a whole.
But we only tried to divide the society further. The result is society stands divided today like never before.
Everybody identifies himself as Hindu, Brahmin, Thakur, Raghuvanshi, Muslim etc. Whereas 'Indian' should be the only identity.
Is the Modi government doing something different in this direction or is it also like its predecessors, according to you?
I believe Modiji should not have amended the SC/ST Act after the Suprme Court's order on it.
They (the government) should have conducted a study on how many cases filed under the Act are true.
It was said that out of 14 lakh (1.4 million) cases registered, 12 lakh (1.2 million) were found false. So, for only 2 lakh (200,000) out of 14 lakh, they should not have (taken such a step).
I believe many of them can be guilty and those who are guilty must be punished whichever community they belong to.
But there should be an investigation (before arrest).
Analysts say most of these cases are termed as fake because of the institutional bias of the police because of which they do not investigate properly, in order to label the case false and close it.
See, the system will take time to improve.
I believe there should be President's rule. When netagiri will stop, the system will itself be better.
Politicians have ruined this country. Most of the money is spent on their expenses. They make the laws.
Sometimes I feel British rule was better. We did not need Independence for such politicians.
We are fed up with these governments. They only increase taxes.
There are a lot of things because of which people are angry in this country and these political parties will have to face their wrath very soon.