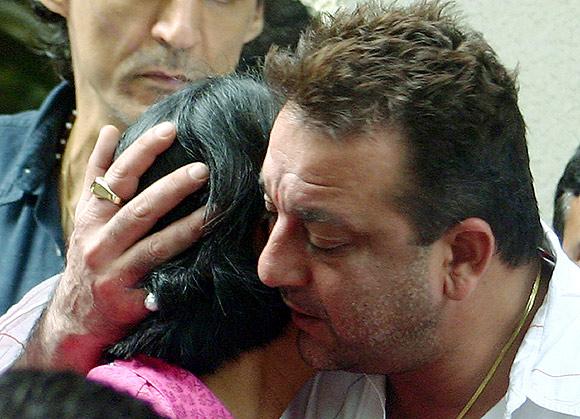 'There are other prisoners too who are behaving in a good manner, but they are not being released sooner.'
'Show similar leniency to the other 27,000 plus prisoners too.'
A social activist from Mumbai, Pradeep Bhalekar, has filed a petition against Bollywood star Sanjay Dutt's early release from prison.
Dutt has been at the Yerawada jail in Pune since May 2013. He is serving the remaining 42 months of his five-year prison term after being convicted under the Arms Act for possession of an AK-47 weapon which was part of the cache of arms that landed in Mumbai ahead of the March 12, 1993 serial blasts.
He is due to be released on February 27 after Maharashtra's Bharatiya Janata Party-Shiv Sena government allowed remission of the star's sentence by 18 months on account of good behaviour.
Bhalekar, chairperson, Samajik Karyakarta Saurakshan Samiti, tells Syed Firdaus Ashraf/Rediff.com that the Maharashtra government has shown Dutt undue favour.
Why you have filed a petition against Sanjay Dutt's early release?
There are 57 jails and more than 27,000 prisoners in jails, but the Maharashtra government does not give any kind of special treatment to these prisoners.
So why give special treatment to Sanjay Dutt alone?
It is not only Sanjay Dutt who is behaving in a good manner in jail. There are other prisoners too who are behaving in a good manner, but they are not being released sooner.
But he is due to be released on February 27. So why file this petition at this juncture?
Sanjay Dutt got five years' imprisonment for his role in the 1993 serial bomb blasts. He spent 18 months as an undertrial in jail when the case was going on. After he was convicted in 2013, he has spent another two years plus.
So he has spent only three-and-a-half years in jail. Therefore, Sanjay Dutt must spend one year more in jail as he has not spent his full five-year term in jail.
Why are you targeting Sanjay Dutt?
I am a Mumbaikar, I am not associated with any religion or any caste. I am an ordinary person. I feel any person who had dinner with Dawood Ibrahim must not be let off easily.
I feel our government is showing leniency to such a man and as a Mumbaikar, I feel sad about it.
Are you sure other jail inmates don't get the same benefit as Sanjay Dutt?
I was myself in jail. I was imprisoned on a false charge and convicted in an attempt to murder case. I am an activist, so I was trapped under a false case. The sessions court sentenced me, but the high court discharged me in the case.
I have studied about all these things in jail. I never got the facilities which Sanjay Dutt got only because I am an ordinary citizen.
The argument is that Sanjay Dutt is a changed man today. He believes in Gandhigiri and non-violence. He is reformed, therefore he is being released.
He speaks of Gandhigiri but he also had dinner with Dawood Ibrahim, India's most wanted man. Gandhiji never asked anyone to have dinner with such men.
Are you sure that Sanjay Dutt has not spent more than three-and-a-half years in jail?
Yes, I have the reports with me.
I feel if they want to release Sanjay Dutt, then show similar leniency to the other 27,000 plus prisoners too who are imprisoned in different jails in Maharashtra.
Do you think Sanjay Dutt gets undue benefits because he is a celebrity?
The government only works for rich people.