'If you are doing something to our national democratic space which involves serious amounts of land, the public should have been consulted.'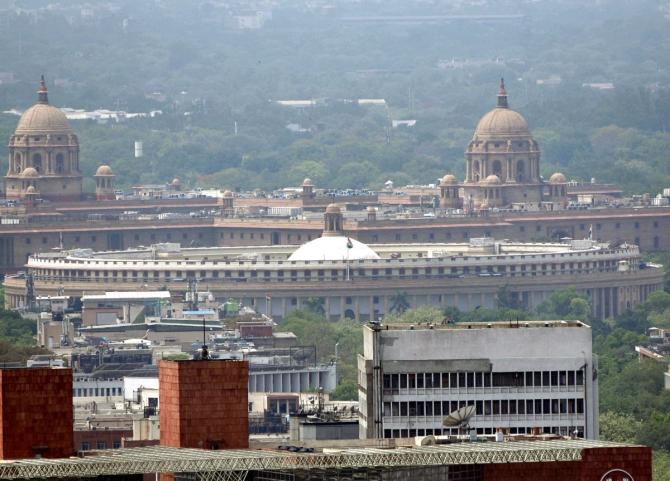 On Thursday, December 10, Prime Minister Narendra Damodardas Modi will lay the foundation stone for his most ambitious project -- a Rs 20,000 crore (Rs 200 billion) plan to redevelop Delhi's Central Vista that is home to buildings and precincts of historic importance and heritage value, including Parliament, Rashtrapati Bhavan, the iconic North and South Block right up to India Gate.
The project has come in for enormous flak from social, environmental and legal activists with each set having their own set of complaints, but all of which centre around the opacity and hush-hush way in which the scheme is being handled.
Delhi architect Madhav Raman has been closely following the redevelopment plan ever since it was announced in September 2019.
Raman speaks with Prasanna D Zore/Rediff.com pointing out the various discrepancies -- legal and environmental -- in the Central Vista Redevelopment Project, how it could possibly harm our national heritage and how the central government is riding roughshod over objections raised by activists.
"The value of heritage buildings comes from the precinct and not just the buildings that stand on these precincts. If that's the case, you can transplant the buildings elsewhere and create a new New Delhi somewhere else and keep it as a museum piece. But when you mummify these structures they lose out their living heritage value," says Raman in the first of a two-part interview.
What are the fundamental objections that urban planners, including you, have with the central Vista Redevelopment project?
From urban planning perspective, the major objections are about the question of land and land use to begin with. That is, what was the land allocation situation for government purpose in the original Central Vista Redevelopment Project (CVRP) and what was it after the land use change that the Delhi Development Authority (DDA) notified in March 2020.
Before March 2020, it was 60/40 split between public/ semi-public (60 per cent) use and government use (40 per cent).
That is 40 per cent of the plotted land over there in the original masterplan was meant for government use; land, which they are free to develop as they choose fit.
Post DDA notification it has swung to 95 per cent for government use and 5 per cent for public and semi-public which include public spaces like museums, galleries, centres of arts, national library, (the Delhi) high court, etc.
These are all buildings with access to public. The rest of the space is for government use with secured and limited access.
Primarily when the DDA notifies land use change, it is legally bound to give us (the public) compensation.
The centre of the Central Vista is actually four pieces of land which measure between 11-25 acre plots.
On these plots we have the National Archives, National Museum, and the National Centre of Arts. All these public spaces, after the notification, have been given for government use.
So now what is going to happen to the National Museum? It has centuries-old treasures in it. It's not that we're arguing over mathematics here.
If you change the land use, you also have to give compensation. So, where are we to go for our National Museum now?
The DDA is mandated with creating the master plan, called the MPD (Master Plan of Delhi), which is based on certain requirements of the city.
In Delhi there are certain specific requirements of national institutions, like the National Museum, National Centre of Arts, and National Archives.
Now, the location within Central Vista is pretty important because that's our national, core democratic space.
The importance of public buildings in that space is kind of sacred, and that's how it's been since 1952 when we got our first master plan.
There's consistent 60/40 split; the eastern part of Central Vista has all the government buildings like the Krishi Bhavan, Udyog Bhavan, which the CPWD has designed and built since the 1950s and 1960s.
The first issue is that you are shortchanging the public which had 60 per cent of the spaces with Central Vista to just about 5 per cent.
This basically changes the complete allocation of public, semi-public land at the master plan level and completely demolishes the structure of the master plan.
And there is no compensation for this loss by providing say an X acre of land for public, semi-public use elsewhere.
What it looks now is land grab.
Land grab for what?
From whatever has been put into public domain, and there is only minimal there, they are saying that they are going to build government offices.
If you look at the math, what they had at 40 per cent of government use is more than the land they need; if they just develop it within the rules of the bylaws they can easily accommodate 55,000 employees which the government says need to be given space to.
The question is: Is the extra land that belonged to public use as per the original master plan of any value to you or not.
If we do the simple math, whatever land they had already, they can build the space for 55,000 employees even if they build within the controls like height restriction, build volume, etc, as legally as possible, the government will get enough as per their own requirements.
Government doesn't randomly build office spaces.
There is a department of personnel (and training) (DoPT), which says that if you are certain grade of government employee you get a certain office size.
Every year or two years, they bring out new allocations based on how they feel they should distribute their office accommodation.
What land they had under their 40 per cent quota is plenty to house 55,000 employees.
When they issued the tender back in September 2019, they said they wanted to build government offices.
The latest plan that they have applied for environmental clearance as of November 11, and to which they have made an amendment to their application for environmental clearance, they have said they also want to build the PM's house, vice president's house, PMO, SPG residential area in the same complex.
Effectively, you have taken up our national space which is protected by public, semi-public use as a national asset.
I personally don't have any problem with the prime minister getting a house somewhere there, which is their decision and they are free to take it, but the point is are you doing within the law or outside the law.
Now, if you say that we want to put all the residential buildings too, then in 2017 when they revamped the Lok Kalyan Marg (10, Janpath), didn't they realise it then?
The other issue is as a government you are holding all these national assets in trust, so, how have you performed your trust to the people.
The reason for bringing these residential buildings in the CVRP is that they are saying all the buildings are falling apart; there's an earthquake problem.
Now, I have been keeping a very close eye on this matter and not once have they put up any study where they show how the old buildings are exposed to the earthquake, or there is no space audit that suggests so.
Do you know that the award for the consultancy for the winning bid was declared on October 18, 2019 and there's a newspaper article in The Indian Express on January 13, 2020, which has the chief secretary (Rajiv) Gauba writing to all the ministries asking them to give him their space requirements.
This proves that the plan to build the residences within the Central Vista is an afterthought.
Like this example, there are many situations where the carts have been placed before the horses; many instances where information has been issued post fact.
See, no one is being confrontational. The problem is that the fundamentals of the CVRP are very shaky.
Why isn't there more information about this project in public domain?
I don't know, but there doesn't seem to be any reason why they need to exclude people's participation. The land use change is a case in point.
When you make land use change and the DDA issues change to the master plan, they have to have public consultation and they are supposed to do that based on sharing information.
You can't just say I want to just talk to you. If I don't know what you're going to do, how am I going to talk to you?
I believe the DDA itself didn't know (about the change of land use) because they made a mistake in the first land use change and now they issued the correction to the land use change because they acted in haste in the first place.
If you are doing something to our national democratic space which involves serious amounts of land the public should have been consulted.
Then comes the issue of heritage.
Firstly, we have to understand that this is a special area, special project because of our living heritage.
Our Constitution was born in the existing Parliament building; every day they pass laws in this building to strengthen our Constitution. That is what the living heritage of Parliament is.
You consider the Central Vista as part of democratic space not just because there is a park there and people picnic there.
These spaces are reflection of day-to-day living of our democratic freedoms. Every time you've had any form of democratic protest, it takes place within the Central Vista.
Even though Jantar Mantar is assigned for public protests, when the Nirbhaya protests happened, they happened within the Central Vista.
When a new government was formed post-Emergency and when the new government took oath of office there were five lakh people standing inside the Central Vista.
There is a history to the precinct. It's not just individual buildings. We are not trying to make post cards.
Their argument is they are not going to touch any heritage building and we are very grateful for that.
The value of heritage buildings comes from the precinct and not just the buildings that stand on these precincts.
If that's the case, you can transplant the buildings elsewhere and create a new New Delhi somewhere else and keep it as a museum piece. But when you mummify these structures they lose out their living heritage value.
Now in the master plan, in the bylaws, which are legal documents, there's protection to this entire area as Grade I heritage.
The duty of applying heritage scrutiny and care of three bodies is with the Delhi Urban Arts Commission (DUAC), Heritage Conservation Committee (HCC) and the Central Vista Committee (CVC).
The second set of challenge is, the CVC, which is an expert body, has four members who are from The Indian Institute of Architects, Institute of Town Planners, and CPWD (Central Public Works Department) officers who are not independent.
The CVC was in fact headed by Anand Kumar, ADG Works, whose actual expertise is road engineering. He is the head of the CVC that gave its no objection to the new Parliament.
There are also petitions pending hearing in various courts and from what I understand the petitioners are saying that this environmental clearance consultations and heritage committee public consultations are essential part of our democratic process, which is called public participation or participatory democracy.
It is very cynical of the government to say they are not taking these processes seriously.
When you don't share information and hold public consultations, or don't even hold public consultations to begin with, or you evade public consultations, it means you're not taking it seriously.
I believe the legal hassle here comes from the fact that the government doesn't think it's necessary or it doesn't believe in this participatory democracy, which is built not only into the Constitution, but also into these processes of urban planning and environmental clearances, as necessary or essential part of our democracy.
The solicitor general's argument in court is that we are a representative democracy and not participatory democracy, and so such consultations do not hold any legal validity.
The question is when you have statutory expert committees, why is the government trying to evade scrutiny and trying to kind of short circuit the process.
What is happening now I think and which is a big legal problem, is that the DUAC has already given its approval to new Parliament design, which is the ultimate sanctioning agency here, but it is expected to give that approval based on an approval from heritage committee first.
The heritage committee hasn't seen the new Parliament design. And they (the DUAC) have said in court that we will show it (the design of new Parliament building to the heritage committee) before we start construction. And that's where the problem lies.
As far as I know, the barricades are up if you go that side and they have started digging the site for the new Parliament.
My point is once the deed is done, you can't put the government in jail.
My point is no one is trying to say that you are doing something illegally and therefore you must be punished.
If you are building something like the new Parliament or if they're trying to take our core national democratic spaces with high ecological value -- it has the highest water table in the city; highest tree cover in the city -- and if you are changing it, the basic process has to be correct in law and in democratic participation.