'Make sure your public hospitals work.'
'Don't allow people to go shopping for expensive services; provide them yourself as the government and then charge them very little or nothing at all.'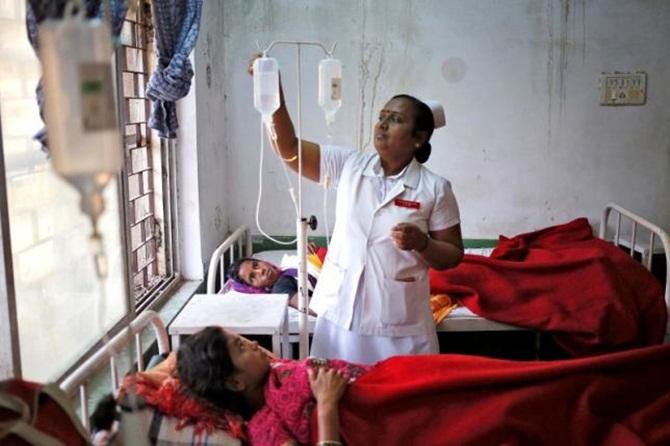 Jeffrey Hammer, professor at the Woodrow Wilson School at Princeton University and someone who worked for 25 years at the World Bank, has been working on public health issues in various developing countries for several decades.
In 2004, he authored the World Development Report on 'Making Services Work For Poor People.' Professor Hammer was in India recently and spoke to Anjuli Bhargava on what he thinks is wrong with the way the Indian government is approaching public health and what is the way ahead.
Tell me a little bit about your research and what you think is wrong with the way the Indian government is handling public health.
When I first started working on these issues in the Indian context, I was struck by how little attention was being paid to the provision of basic public goods like water, sanitation, pest control, draining of swamps, getting rid of mosquito, sewage systems -- issues that most developed countries addressed back in the 19th century.
I first worked on health in India in 1997 (as part of my World Bank job). I could see the sewage systems or rather the lack of them, the challenges of providing clean, safe water, et cetera. These are some problems that the government really needs to tackle. If the government doesn't do it, it doesn't get done at all.
The second one is the health insurance market. Most rich countries have had to deal with managing the insurance system for their citizens for expensive treatment requiring hospitalisation.
In India, treatment is expensive. Most people can't afford it. You don't save for hospitalisation. That's what insurance is for.
In most countries, they make sure that the insurance function is handled by the State. You may have private practitioners providing care, but the government runs and manages the insurance system. This is one of the things that the government really has to do.
The rhetoric in the health sector in India was always about universal primary health care.
In India (1995 NSS) shows that the private sector has been providing almost 80 per cent of this. Good or bad, it is there and has been doing it.
After 10 years of the National Rural Health Mission, the private sector still forms 80 per cent of the total universal primary health care.
But here the government -- both rhetoric and resources -- seem focused on this -- which the private sector can well do -- and they seem to be ignoring what the government absolutely has to do. So, the government is doing the things it doesn't absolutely have to do and ignoring the essentials.
When did the US system begin to go wrong? People here feel that India is heading the same way.
I'm not an expert on the US system, but our problem arose with the whole third party payment problem. When someone else is paying the bill for hospitalisation, there is no incentive for the doctor or the patient to keep costs low. The costs are passed on to the insurance company. And, now there are a lot of vested interests in keeping the system the way it is.
It is now costing us 18 per cent of the GDP -- according to latest estimates -- whereas in most countries it is half that amount. So, we are paying for it, but it is not clear that anyone is really paying attention on keeping the costs down.
The government in India has not really been expanding or investing in public or district hospitals. How do you view this?
That's exactly the opposite of what should happen. It is focusing on the relatively cheap things -- say a doctor visit for an infection -- which even the poor can pay for to some extent, but they can't conceivably pay for a hospital stay.
One hospital stay can drive them deep into debt. Hospitals episodes drive people into desperate straits, not a common infection or a fever.
But here in India the authorities keep arguing that universal primary care is the most important thing for developing countries -- a bit like a stuck record.
Often, government officials are sceptical when they get advice that runs contrary to what they believe, dismissing it as rhetoric of a certain interest group. It doesn't get taken as seriously.
What ought to be the way ahead in India? What more does the government need to do?
Either the government needs to deal with insurance or it should work out an insurance scheme where a doctor can bill the government directly. This carries a risk of insurance fraud.
The alternative might be to make sure your public hospitals work. Don't allow people to go shopping for expensive services; provide them yourself as the government and then charge them very little or nothing at all.
Ensure that the government hospital system works well -- don't go by just institutions like AIIMS and Safdarjung Hospital -- but at a district level.
At the district level, you may often find doctors missing or not up to the mark or unwilling to work because there is no accountability.
Failure to perform means that the doctor may get reassigned to another district or village -- that's all.
I also think this is partly a long-term consequence of focusing so much on primary health care. Any additional resources the government has should be spent on preventing the spread of diseases by providing better sanitation -- this could help more than sending doctors anywhere.
The government needs to spend on a wider and working public hospital system and on the financial protection for the poor.
The focus needs to shift totally. It may be better to withdraw a bit from primary health care and focus on ensuring that hospitals work.