'Despite living in a free nation for so many years, if atrocities like rapes, public flogging, social boycotts are faced by Dalits, then conversion is the only option.'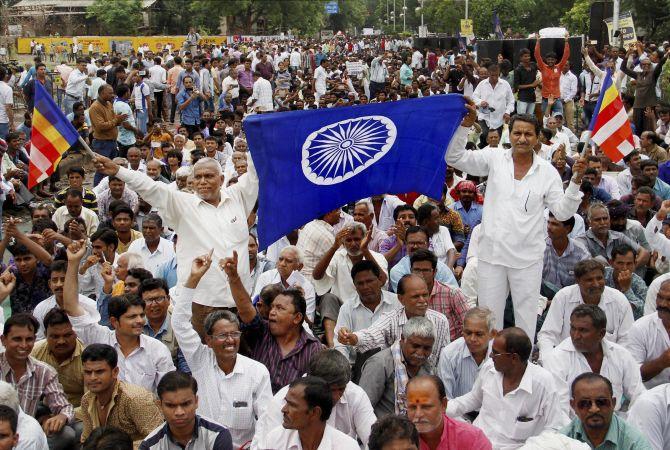 Banaskantha Dalit Sanghatan President Jayantibhai Makwana speaks to Rediff.com's Prasanna D Zore about the deplorable state of Dalits in Gujarat and why they plan to convert to Buddhism soon.
Why do you want the Dalits of Gujarat to convert to Buddhism? What purpose will it solve?
The Dalits of Gujarat have been subjected to extreme injustice in the recent past.
The most recent incident is which some Dalits, who were skinning a dead cow, were beaten black and blue by Shiv Sena goons in the name of gau raksha (cow protection).
31 people assaulted these 4 Dalits who were doing a job that these gau rakshaks will never ever think about doing even in their dreams.
This recent attack has gone viral but four years ago, the police fired upon unarmed Dalits who were protesting in Thangadh (a village in Surendranagar district that witnessed firing upon Dalits when they went to the local police station to file a complaint against the upper castes) with AK-47 assault rifles. Three Dalits lost their lives in that attack.
You are saying three Dalits were killed by police armed with AK-47 rifles?
Yes, the police fired upon them with AK-47s. The incident took place in (September 22-23) 2012 but till now, not even a chargesheet has been filed against the accused police officers.
No government has yet filled the backlog in reserved category of government jobs in Class I, II, III and IV in the state. And the state government is converting these reserved category posts into open category, lying to us that the Dalit quota has been filled as per the law.
Is the state government doing this openly? Why didn't the Dalits raise this issue earlier? Why now?
We did raise our voices, filed petitions with the state government, held demonstrations and protests across the state, but all our efforts to get the Gujarat government take cognisance of our demands bore no fruits.
The state government said the backlog since 1976 had been filled, but today, since the population of Dalits has increased compared to the 1970s, the Dalits think that the backlog has not been filled.
In response, the Banaskantha Dalit Sanghatan filed 49 petitions against the government in the Gujarat high court and the latter ordered that the former's position was not borne by facts and the Dalits should get government jobs based on the backlog since the 1970s.
The government responded by saying 'the backlog quota has been completely filled.'
A backlog of more than 6,000 jobs that were reserved for Dalits is yet to be filled by the state. The Constitution of India guarantees us seven per cent jobs in the state government, but we don't get it.
Look how small the number of Dalit IAS (Indian Administrative Service), IPS (Indian Police Service) officers deputed by the central government is compared to the seven per cent of their total population in India.
Only three per cent of cases filed under the Scheduled Castes and Scheduled Tribes (Prevention of Atrocities) Act, 1989, get justice and in the rest, the accused get acquitted for want of proof or other reasons, ably supported by the state government's official machinery.
You will just find one case where an accused of a crime against a Dalit was awarded a sentence of more than seven years, that too in a case under Section 302 (of the Indian Penal Code, which deals with murder). This was a case in a village in Vav town in Banaskantha district.
You will not find a single case filed under the SC/ST Act where an accused has been sentenced for seven years. Only three per cent of the accused get sentenced, that too under *Summary B and not under *Summary C that invites severe punishment.
Also, you will not find a single special court in Gujarat to try cases of atrocities against Dalits that has been guaranteed by our Constitution.
When policemen or government employees violate the SC/ST Act, no case is filed against them.
When Dalits try to file a case against any cop or government employee under the act, the police never entertains them and refuses to file a first information report.
The Una incident is the best example. Not a single policeman has been booked under the Act despite there being witnesses saying the police watched from a distance as Shiv Sena goons bashed up the Dalits. Those policemen are only suspended, but not charged under the Act.
The Act clearly states that not just the attackers but those who support them tacitly or openly should also be booked.
There is also an Act of the state government that calls for allocation of land to landless labourers, taking away land from those landlords/farmers who own more than 54 acres in any particular block.
According to the Gujarat Zameen Toch Maryada Dhara Act, 1960, the government, after getting possession of land in excess of 54 acres from farmers/landlords holding it, should allocate it to the landless labourers.
Does the Act mandate allocation of land in excess of 54 acres to landless labourers or Dalit landless labourers?
Landless labourers, but most Dalits in Gujarat or India don't own land.
The state government is in possession of more than 700 acres of land in Banaskantha district under this Act, but not a single plot has been given to any landless Dalit.
While the government claims that land has been transferred in the name of Dalits, there has not been a single instance where government employees have gone to the farm along with the Dalit allotee to the place, stood there, mapped the boundary of the land that is to be officially allocated to Dalits, in the absence of which the Dalits do not have the strength to fight the farmer whose land the government has allotted to him.
These are some of the most pressing issues that make us feel disenfranchised and powerless and so Dalits will convert to Buddhism in protest against such atrocities.
Do you think the situation will change once the Dalits in Banaskantha change their religion?
I don't know if converting to Buddhism will solve the atrocities and injustices faced by the Dalits, but at least we will feel emancipated emotionally from the clutches of a system that treats Dalits as dirt and shit.
We want equality before the law and I am sure Buddhism will help us feel equal to other citizens of India.
We have the right to convert, as per the Constitution framed by Dr Babasaheb Ambedkar and we will be making use of that freedom guaranteed to us by the Constitution. He too converted to Buddhism to escape the inhuman treatment meted out to the Dalits by Hindus.
Converting to Buddhism will be a befitting reply to manuwadi (casteist) attitudes that have only been getting bolder and bolder in recent times and openly slogging the Dalits.
How many Dalits are planning to convert?
As of now, we have got forms of over 1,000 Dalits who say they want to convert and given it to the district collector (of Banaskantha).
As per the Constitution, conversion is our right and we have to just give it in writing to the district collector that we want to convert. We do not need the permission of the collector to do so.
We have told the collector that we do not want to be a part of this religion (Hinduism) and we want to convert (to Buddhism).
When are you planning to bring these conversions into effect?
Till now we have submitted only 1,000 forms. The day we get 10,000 to 15,000 forms, we will hold a mass conversion to Buddhism.
We will undertake this conversion on some important day like Babasaheb Ambedkar Jayanti, or Buddha Jayanti, or the birth anniversary of great reformers like Shahu Maharaj, Savitribai Phule, or Mahatma Phule.
Were you also part of the Dalit Mahasammelan that was called out in Ahmedabad on July 31?
Yes, because we believe that to seek justice and equal rights for Dalits is not the job of one person or leader. Unless we organise ourselves in large numbers across the state, across India, there will be no change in the condition of Dalits.
So, we have to come together under one platform. And that is what was disseminated at the Dalit Mahasammelan that took place in Ahmedabad on Sunday (July 31).
At the Mahasammelan we have pledged with our Dalit brothers and sisters not to skin dead animals or enter drainage lines to clean the gutters and filth.
After doing such menial work, if we are still going to face such grave injustices and atrocities, then why should Dalits do these dirty jobs?
Don't you think the presence of many Muslim leaders and Rahul Sharma, the former IPS officer who has been at loggerheads with BJP leaders in Gujarat, will give your movement a communal or political twist?
We have made it very clear at the outset that whoever wants to support our movement should be an apolitical person. We don't want our movement to take a political turn at all.
We have kept away people from the BJP (Bharatiya Janata Party), the Congress, the Janata Dal or the AAP (Aam Aadmi Party) and carry forward our revolution for the betterment and upliftment of Dalits. That is our biggest and most important goal.
Despite being living in a free nation for so many years, if atrocities like rapes, public flogging, social boycotts are faced by the Dalits and the government keeps quiet then conversion is the only option left to us to gain respect and equality.
After being in power for more than 20 years now if the BJP is feigning ignorance about our plight and are only giving platitudes to Dalits, then what else can we do?
Are you blaming only the BJP for the condition of Dalits in Gujarat?
Every government that was in power ever since Gujarat became a state is responsible for our pitiable condition.
No government fought for the rights of Dalits and that has emboldened these gau rakshaks to treat us like animals.
Narendra Modi was chief minister when the Thangadh killings took place. No chargesheet has been filed till now against the police officers who killed the three Dalits then.
If he really believed in sab ka vikas (development for all), then we wouldn't have been driven to this situation.
IMAGE: Dalits attend the Mahasammelan in Ahmedabad, July 31, 2016, in the wake of the recent Una incident. Photograph: PTI Photo
*Note: According to indiankanoon.org, there are three kinds of summary which can be asked for by the investigating officer when s/he is of the opinion that there is no sufficient evidence to justify the forwarding of the accused to the magistrate.
A request for 'A' Summary is to be made when the officer investigating the case is of the view that the offence is true but undetected and where there is no clue whatever about the culprits or property or where the accused is known but there is no evidence to justify his being sent up for trial.
A request for 'B' Summary is to be asked for when the complaint is maliciously false and 'C' Summary when the complaint is neither true nor false, that is, due to mistake of facts or is of a civil nature.