'It is not about women today; it's about men.'
'We need to focus our energy on a war footing on men.'
'Let us start with a boy who is 10 years old.'
'If you don't concentrate on your son, the safe spaces for women will shrink further.'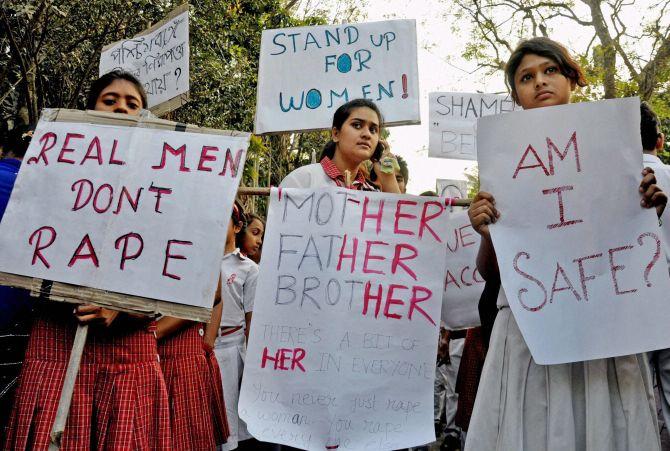 IMAGE: Students participate in a rally protesting the gang-rape of a nun in West Bengal. Photograph: PTI
A brutal rape-murder in Kerala has raised the ghost of a similar horrific incident that occurred in New Delhi on December 16, 2012.
It underlined that fact that nearly four years later, nothing had changed. India -- which continues to be one of the most dangerous countries in the world for women -- continues to see horrific crimes committed against women.
The Jisha murder case -- Jisha was a 29-year-old law student in Perumbavoor -- is the latest to slip into the spotlight, even as thousands of cases go unreported.
Dr Sunita Krishnan runs Prajwala, an organisation that rescues girls and women from trafficking. She is also the honorary director of the Nirbhaya cell launched by the Kerala government.
Dr Krishnan, who has won a Padma Shri for her work, speaks to Shobha Warrier/Rediff.com
Kerala was the first state to start a Nirbhaya cell to provide security to women in the state after Nirbhaya's brutal murder in Delhi. Is it not ironical that a similar brutal rape and murder has taken place in Kerala?
Let me make one thing clear. The Nirbhaya cell in Kerala did not come up because of the Nirbhaya case in Delhi.
I had met the chief minister of Kerala in September 2011 and apprised him of the growing number of sex trafficking and sex-related crimes in Kerala.
Immediately after my presentation and meeting with him, he constituted a high-level committee led by poet Sugathakumari with Sarada Muraleedharan and I as members. We were involved in the drafting of the Nirbhaya policy.
We used the word 'Nirbhaya' in February 2012, at least nine months before the Delhi incident happened. We wanted to make Kerala safe for women and children. Like we say in Malayalam, women and children should be able to walk around without fear (nirbhayam).
I was appointed as the first Nirbhaya advisor to the government, but I resigned in 2014 since the government was not serious about implementing the policy. In 2015, they got me back again. Now, I am the honorary director of the Nirbhaya cell.
What happened in Perumbavoor to Jisha is very shocking.
What happened in Delhi took place in a moving bus but here it happened inside the girl's house. It reveals the shrinking of secure spaces for women and children in this country, not just in Kerala.
Do you feel the incident has nothing to do with the state?
No, it has nothing to do with the state. But this is the state that claims to be 100 per cent literate. It is absolutely outrageous that this kind of a thing happened in a state that is otherwise so progressive.
You look at the crime itself. It is revolting and criminal. It is not just a case of rape, but I suspect, gang-rape. The rapists were so clever that they mutilated her vagina all the way to her rectum so that it is difficult to get any evidence.
It is not a crime committed by somebody unknowingly; it is a criminal conspiracy.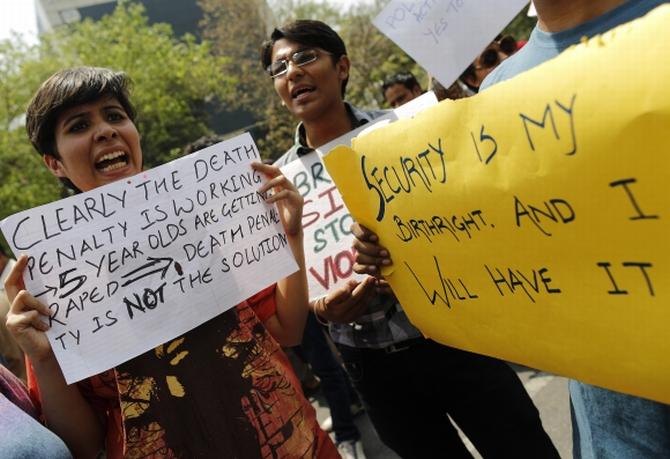 IMAGE: A demonstation outside the police headquarters in New Delhi. Photograph: Adnan Abidi/Reuters
Do you blame the government for not providing adequate security to women? Or is it just the beast in men that caused them to commit such a heinous crime and Kerala has nothing to do with it?
I would say there are multiple factors.
Yes, the state is responsible and it has failed in its duty of safeguarding women.
There is also a larger issue of questioning the male mindset.
The judiciary is equally responsible. I think we should put a lot of blame on the judiciary. The message that the judiciary has been giving is that you can commit a grievous crime and then live as a state guest in our jails.
Look at both the Nirbhaya case and the Soumya murder case; the offenders are living as state guests in jails at the taxpayers' expense.
So you feel men are not scared to commit crimes against women?
Yes. There is no deterrent at all. Looking at the impunity with which people are committing such crimes, it is clear that our judiciary has failed to create a deterrent by executing the offenders.
I would say a grievous crime like rape should not have any scope to appeal. If a sessions court convicts these people, that should be the end of it.
I have serious reservations against the so-called human rights groups in our country who, in a moment, stand up and speak on behalf of these offenders.
Thanks to their intervention, no capital punishment is executed.
Let me ask: What about the human rights of the victim? What about the human rights of Jisha or the Delhi gang-rape victim or the hundreds of women who were raped and mutilated?
Today there is a need to walk that extra mile and say, as the judiciary, as state machinery, we will not tolerate this kind of crime against women and children.
IMAGE: Dr Sunita Krishnan runs Prajwala, an organisation that rescues girls and women from trafficking. Photograph: Kind courtesy Sunita Krishnan
Usually after such crimes, society comes up with solutions which only impose restrictions on women...
What restrictions are they talking about?
Take the case of this woman. She was raped and murdered inside her home.
I would say restrict the men around you. Restrict the way they move, restrict the way they look at women.
If you look at this case, you will see the absolute apathy shown by the local police. The mother had been complaining to them about intimidation, obscene messages and so on. Just because she is psychologically unwell, the police did not give a proper response to her complaint. Today, she has lost her daughter.
By the time the media and political parties awoke, five days had passed.
A state that has a strike at the drop of a hat for the most frivolous reasons, a state that had a strike when Saddam Hussein was executed, took five days to wake up!
What you see today in Kerala is political parties making mileage from a tragic incident. Don't you feel they should have been more mature in dealing with a crime like this?
Absolutely. Political parties are good only at politics and that's what they are doing. They are getting mileage though this blame game.
Have any of these people thought about the mother? Right now, I am running around to see that she gets Rs 10 lakh (Rs 1 million) as compensation and that the case is shifted to the CID.
My sole concerns are how to support the family, ensure the investigation is done correctly so that whatever happens happens in a time-bound manner.
Don't you feel the political parties and media are giving a caste colour to the incident by labelling the victim as a Dalit law student?
Does it matter whether she is a Dalit or from some other caste?
I feel those who brought in the Dalit angle are unnecessarily deviating from the issue. She is a woman and a human being. That is it.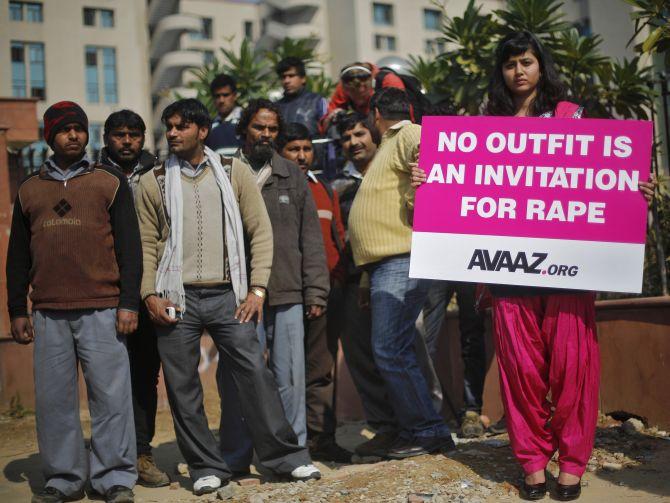 IMAGE: Protesting outside a court in New Delhi. Photograph: Adnan Abidi/Reuters
Is this kind of labelling not as brutal as the brutal rape and murder?
I think whatever is happening right now is far worse than what she went through. She has been raped and murdered, but what people are doing to her memory right now is far worse.
Some people are trying to gain mileage out of this. Shame on such people.
You said Kerala is one of the most literate states in the country, but the rate of crimes against women is 63 per lakh population, higher than the national average of 56.3.
Does this not make Kerala a state where women feel unsafe?
Absolutely.
There are not many states in India where women feel uncomfortable to get out and walk on the road after 6 in the evening. No public transport is safe for women here because of the regressive mindset of the men.
We did crime mapping in the state through the Kudumbasree programme and found that the most unsafe place in Kerala is the family itself!
This state has the maximum temples for goddesses like Kodungalloor Amma to Chottanikara to Attukal. In the same state, women cannot walk on the road after 6 pm.
The other day in Bengaluru, a Manipuri young woman was kidnapped and there was an attempted rape.
Do you think urbanisation has anything to do with the rise in these kinds of crimes against women?
I don't think so. Delayed justice is the major factor behind crimes against women.
We need to look at the attack on the Manipuri girl from a racist angle. It could be a racial crime too as we see many people walking around when she was there.
IMAGE: A protest rally in New Delhi. Photograph: Mansi Thapliyal/Reuters
In India, whether it is an urban area or a rural area, the safety of women is an issue. What should women be doing to protect themselves?
We have been looking at this from the perspective of women again and again. We talk about safety; we talk about pepper spray; we speak about karate.
It is not about women today; it's about men. We need to focus our energy on a war footing on men. Let us start with a boy who is 10 years old.
The need of the hour is to work intensively on men and boys. Leave the women alone and concentrate on men and boys.
Let us also concentrate on the judiciary executing a punishment in a time-bound manner. Yes, this means lot of amendments. The legislature has to take a stand as well.
In the Nirbhaya case, the criminal who was the most cruel was not 18 then, but he was tried as a juvenile.
My question is: Was the girl in lesser pain because the person raping her was a minor?
Does her pain increase when she is raped by an adult? What kind of nonsense logic is that?
Will our society ever be safe for women?
The safe spaces for women are shrinking. If you don't concentrate on your son, the safe space will shrink further.
We have to question -- loudly and clearly -- how we are bringing up our sons.