'Narendra Modi is a beginner on the national scene. Intelligence and security will be new for him on a national scale. He will succeed if he crosses the bureaucratic barriers. If he entangles himself in these barriers, then I highly doubt he will succeed,' former R&AW agent R K Yadav tells Rediff.com's Vicky Nanjappa.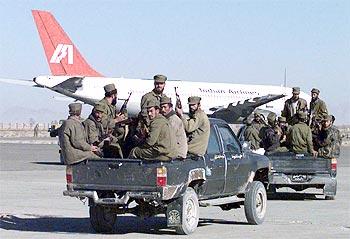 R K Yadav has the reputation of being one of the toughest spies in the Research and Analysis Wing, India's external intelligence agency.
In this exclusive interview with Rediff.com's Vicky Nanjappa, Yadav discusses his book Mission R&AW and reveals new information on the hijacking of the Indian Airlines flight in December 1999, which ended after the Bharatiya Janata Party-led Atal Bihari Vajpayee government released three dreaded terrorists.
In your book you mention specific intelligence about IC-814 which was ignored. Could you tell us more about it?
A junior officer posted in Kathmandu had this information and passed it on to his superior. This was days before the incident took place.
However, his superior did not believe him and did not pass on the information to R&AW headquarters.
The matter was not pursued and a few days later the plane was hijacked. Interestingly, that superior officer was on the hijacked flight.
Your book states there was a link between Bihar politicians and Pakistan's Inter-Services Intelligence agents. Could you tell us more about this? Why is Bihar a breeding ground for terror?
There was information that politicians in Bihar were business associates of Salim Mia Ansari, a front man for the ISI in Nepal. A leading politician was even photographed with Ansari, and this information had been passed on.
There were also several intelligence reports regarding this nexus leading to smuggling activities.
These were also shared, but no legal action was taken.
Bihar has been a problem area because it shares its borders with Nepal.
There is a mention about a nexus between arms dealers and politicians. Could you elaborate?
In 1998, an arms dealer from London, who was a big source for R&AW, passed on information to the station chief. This information suggested a nexus between two major politicians who helped facilitate arms into India. This report was forwarded to R&AW, but was not acted upon.
Is there a reason why so many important inputs are ignored?
The problem is that the information does not carry any legal weight. If R&AW sends out a report, where is the legal weight behind that information?
It is only precautionary information, and it is up to the government to check and verify it.
I have been asking for long to make the agency accountable to Parliament and for a legal status. No one seems to take me seriously.
What should the Government of India do?
The government should make this agency accountable to Parliament. This would give the information legal weight.
For 30 long years, our country has lost scores of people because of terrorism. The problem will only be solved if the information is acted upon.
Could you tell us about the Rabinder Singh incident? (Singh was a R&AW agent spying for the Central Intelligence Agency, who escaped before he was arrested.
Singh was a joint secretary at R&AW and he was spying for the CIA. He flew to Kathmandu with his wife on May 7, 2004, using a fake identity card which stated his name to be Rajpal Sharma. The R&AW unit in Nepal was mum on the issue despite specific intelligence.
Documents revealed that the CIA had on April 7, 2004 issued an American passport (number 017384251). Singh and his wife boarded Austrian Air Flight 5032 on the same day from Kathmandu. They were helped by David M Vacala, a CIA operative.
Does spying for a rival agency happen in R&AW even today?
Now they are extremely strict. They are taking a lot of precautions, but there is still a chance of something like this happening again.
Do you think political interference leads to alerts being ignored in R&AW and the Intelligence Bureau?
There is no political interference in R&AW.
As I said, the information needs to have legal weight and people to be made accountable. I cannot speak for the IB.
How has the government's handling of terrorism been?
For the last 10 years, the government has really not cared to look into this aspect. The prime minister in particular has not cared at all.
I was a bitter critic of Indira Gandhi, but today when I look back, I realise she would have never tolerated all this.
There is a good chance that Narendra Modi may become prime minister. He speaks about internal security a lot. What are your views?
Thanks to all you people (the media), the agenda for Modi has already been outlined.
In my view, he is a beginner on the national scene. Intelligence and security will be new for him on a national scale.
He will succeed if he crosses the bureaucratic barriers. If he entangles himself in these barriers, then I highly doubt he will succeed.
What does the National Security Advisor do in all this? Have you found the NSA to be effective?
The NSA has proven to be a big failure. You bring in an officer who specialises in foreign affairs and all he can do is speak about national security on a general perspective.
What we need is a retired officer from R&AW to be the NSA. I am sure he will have a much better understanding of the subject. This would help in the long run.
Image: Taliban troops with the hijacked Indian Airlines Airbus at Kandahar airport in southern Afghanistan, December 30, 1999. Photograph: Reuters.