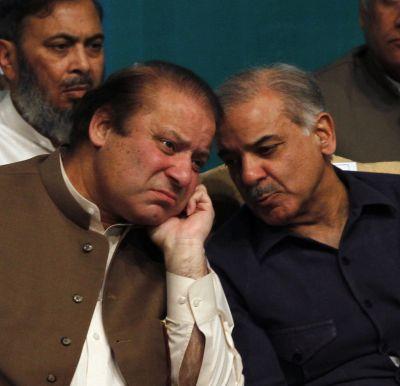 Chief Minister of the Punjab province in Pakistan and the Pakistan prime minister's brother, Shahbaz Sharif, tells Nayanima Basu that strategic issues go hand in hand with trade normalisation. Sharif believes that cordial relations are in the interest of the people of both India and Pakistan and issues such as Kashmir will also be resolved soon.
Edited excerpts of the interview:

This is your first visit to India. And you are coming at a time when relations between the two nations are going through a rough patch.
Well, I do not see it that way. It is a neighbour visiting another neighbour. In the past, both the countries have lived liked unruly neighbours. But I think we should live in peace. We should promote peace, tranquillity and prosperity together. We cannot keep on carrying burdens of the past and keep ruining our future.

We have to resolve problems through talks... it is not an option to brush problems under the carpet... we have to address them (problems).

I have come here with good intentions. Both nations need to work together to solve bilateral issues. They should live like good neighbours. I am here to promote that cause.

Both the neighbours have many common interests… India and Pakistan depend on each other even for meeting the requirements of onion and tomato (for their people). Cordial relations are in the interest of the people of both the countries… one day issues such as Kashmir will also be resolved.

I understand you visited some of our thermal power plants in Haryana and Bathinda.
Yes. We are deficient in energy and our Prime Minister (Nawaz Sharif) has mandated to improve relations with our neighbour. So, we are seeking more partnership with India in this particular sector.

Did you discuss all the sticky issues in your meeting with Prime Minister Manmohan Singh?
We are trying to resolve our differences through peaceful dialogue. It is not the time to discuss matters of the past but to sit and have a dialogue. Now is the time to discuss trade, commerce and complement each other by leveraging each other's expertise. We share a long border and rich history. We can do so much export and import that we do not need anyone else. There is a lot to be discussed and implemented. Prime Minister Singh also raised the issue of disturbances at the Line of Control and other issues.
Did you extend Prime Minister Sharif's invitation to Prime Minister Singh to visit Pakistan?
Yes, I did extend the invitation. But he did not give any timeline.

What about the most-favoured nation (MFN) status? Did you give any deadline to Prime Minister Singh and tell him about the current status?
I told Prime Minister Singh that trade and commerce have to be combined with strategic issues. If it is only a dialogue on trade and commerce then it will not be enough. We must learn from our experience. We have to resolve the issues between us and move forward together.
In New York, the two prime ministers agreed that the Director Generals of Military Operations of the two countries should visit each other. But two months have passed since the New York meeting and they still haven't met…
We are ready for the meeting, we have no problems, we agreed it should be held as soon as possible.
It looks unlikely that both sides will be able to achieve the set bilateral trade target of $6.5 billion, considering the fact that the trade dialogue has suffered a major setback this financial year.
We have to strive hard. There are always challenges and issues, and there are issues that need to be resolved. I told Prime Minister Singh that trade and commerce have to be combined with strategic issues...exchange of cultural troupes is not enough.

But when do you plan to finally grant MFN status to India? It was supposed to be done last December.
The Indian government has already accepted the articulation for a non-discriminatory trade agreement. I have requested Prime Minister Singh that the two commerce secretaries meet. The respective commerce secretaries should meet at the earliest in Islamabad and in Delhi and discuss the areas of convergence.

You said trade dialogue had to be combined with strategic issues. What exactly do you mean?
I meant we need to resolve the issues related to Siachen, the Indus Water Treaty and Kashmir. These issues need to be resolved, so that posterity remains in peace. We also know that these issues cannot be solved overnight.
Did you discuss the Kashmir issue with him?
Like I said, war is not an option. But we cannot keep issues under the cover for long also.
Did you discuss the matter concerning (Jamaat Ud Dawa chief) Hafiz Saeed?
It was not taken up in the meeting. See, we are also a victim of terrorism. We condemn all shades and hues of terrorism and militancy and want to cooperate with India to fight this menace. While we did not discuss the Hafiz Saeed issue, the Indian government also knows that their institutions under the United Nations have been taken over and are run by the government of Punjab.

What about the charge that the Jamaat Ud Dawa is being protected by the government of Pakistan?
That is totally garbage. It's trash. There is nothing of that sort.
What about the plan that DGMOs from both sides will meet, so that such sporadic incidents of ceasefire violations do not occur?
I said the DGMOs should meet as soon as possible. The PM did make certain observations.
What did you tell him on Kashmir
War was not an option at all. At the same time we can't brush our problems under the carpet. We need to deal with them like intelligent and prudent nations. We can no longer live like unruly neighbours and need to resolve issues through a peaceful dialogue.

Overall, how do you view the visit? You are going to Ludhiana to meet the Confederation of Indian Industry. What will you say to them?
I had a very good meeting with the prime minister. We had a ride on Metro and some other visits. I think (the visit) was very productive and useful In Ludhiana I am going to talk about the meeting of the commerce secretaries -- they should meet in January. There must be greater cooperation in the agricultural sector. R&D centres should be opened to exchange technical know-how.
Image: Pakistan PM Nawaz Sharif speaks with his brother Shabaz, the CM of Punjab
Photograph: Mohsin Raza/Reuters