'Most likely scenario is Modi comes back with either a much smaller majority and no majority at all and a coalition.'
'Very hard to imagine him doing better than he did last time.'
'He will then be a weaker prime minister,' the author of The Billionaire Raj tells Rediff.com's Vaihayasi Pande Daniel.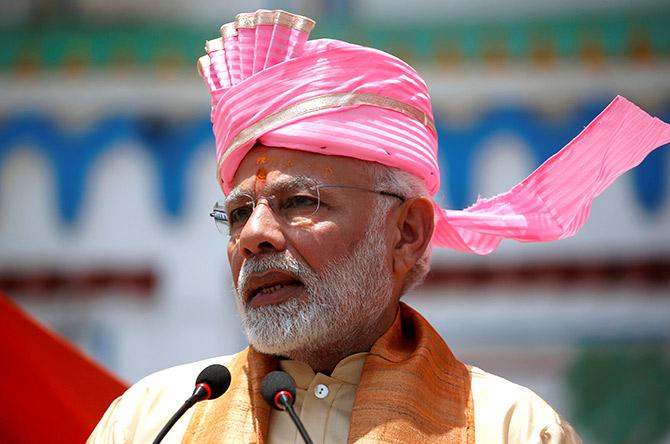 "Indian buffets are my favourite. To have an omelet with Chole Bhatura is a real treat!" says James Crabtree gleefully, sitting down with his heaped breakfast plate at the coffee shop at the Vivanta hotel, Cuffe Parade, south Mumbai.
Crabtree, who spent five years in Mumbai as the correspondent for the Financial Times, living about a kilometre away from the hotel, before he moved to Singapore to teach at the Lee Kuan Yew School of Public Policy in 2016, and is now back in India to promote his book, The Billionaire Raj, at first meeting, strikes you as quite the Mumbaikar.
Genial, friendly, there's a kind of chalta hai relaxed air about him that instantly puts you at ease and a chatpata liveliness that's as Mumbai-esque as Wada Pav.
Over lengthy, well-cooked courses of Masala Dosas, eggs, hash browns, café lattes, sevaiya upma, idlis, medu wada, cake and muffins -- James loves all Indian food but Chole Bhatura is a favourite -- the discussion extravagantly meandered between two dozen topics.
In his five years in India, and subsequent trips after that, what is especially evident, both through his book and our conversation, is that Crabtree has invested enormous energy in really knowing India.
He embraced India immersing himself in every experience and even delivered two lines in the Salman Khan starrer Kick. His favourite Hindi film is Yeh Jawaani Hai Deewani. "I once got to interview Deepika (Padukone), and so have followed her movies. Also, Badtameez Dil (from Yeh Jawaani Hai Deewani) is a fantastic song!"
Crabtree, who is English, but was brought up in Scotland, came to his job in Mumbai, after studying public policy and government at Harvard University, the Kennedy School at Harvard and at the London School of Economics and working at think-tanks, in the media and even in then British prime minister Gordon Brown's office (2007-2008).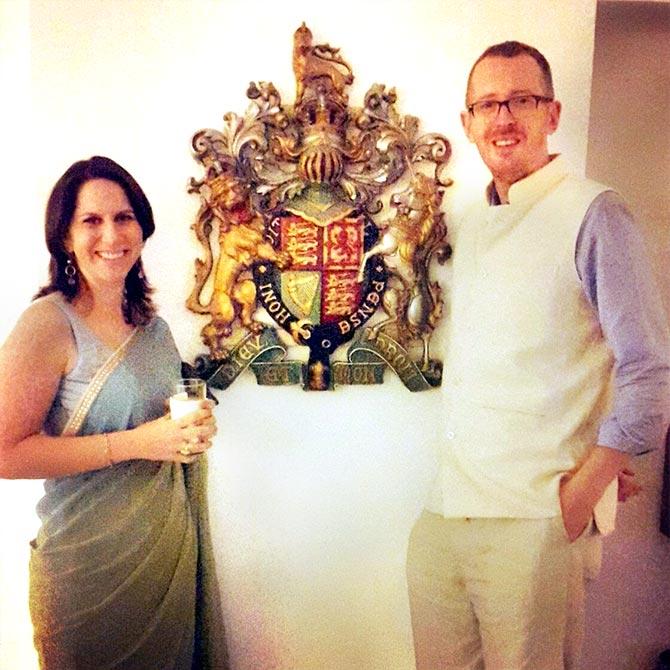 While living in Mumbai, with his Californian wife and two Maine Coon cats, a son was born to them -- 'It is a cliché of expat life that expectant parents fly back home for the birth, but the idea never really appealed to us. Instead, we sent carefully worded e-mails to our families, with stories of India's excellent medical institutions and world-class doctors,' Crabtree mused in an article in the FT.
Their firstborn was named Alexander Francis Viswanathan Crabtree, in honour of Viswanathan Anand, the former world chess champion who his father admired, and had a Hindu naming ceremony. Alexander -- who was weaned on Colaba's fishy air and Mumbai Fort's Yazdani Bakery kadak pav -- was also quickly converted into a Bombayite, when the lanky James and son -- Crabtree is a good six foot four or so -- were spotted all over Mumbai exploring: 'For the locals, the sight of a giant red-headed foreigner striding around with a small red-headed foreigner strapped to his chest provided reliable amusement,' he noted in the FT.
His reporting from India -- as a foreign correspondent, which he describes to be a special odd caste of its own -- took him mainly between Mumbai and Delhi, but to several distant parts of India too (holidays took them even further) and serendipitously into the offices of some of India's most influential policy makers and flashiest businessmen.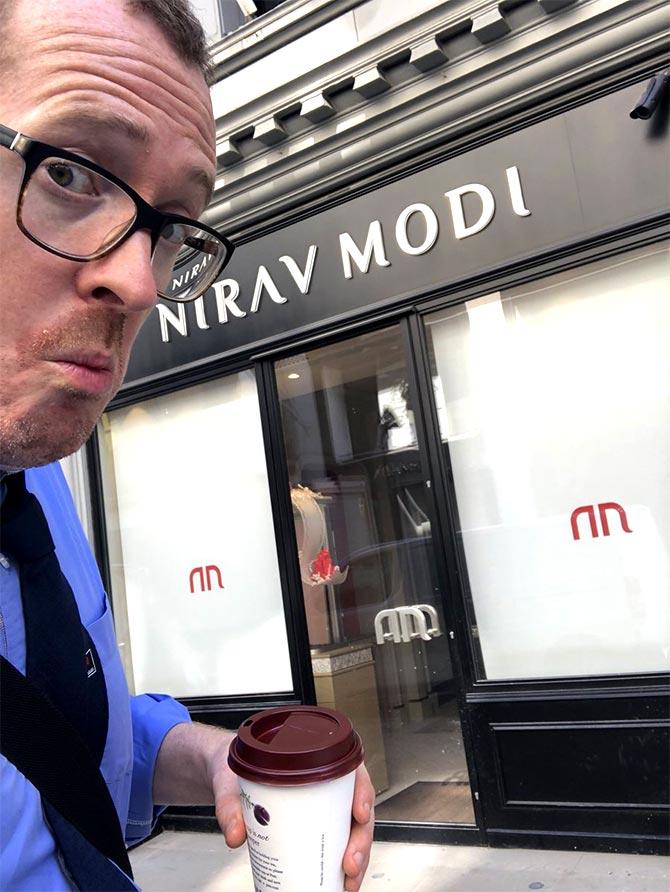 The Billionaire Raj is a result of those extensive travels and curious encounters.
Unlike most books written on India by non-Indians, Crabtree's insightful hardback, which was a year in the writing, is less of a sociological study of India, venturing instead into infrequently-covered terrain, bravely examining the roots of India's corruption, attempting to make sense of the shadowy world of campaign funding, while dissecting the lives of our tycoons, bank scams, demonetisation, economic policy, bank governor tenures, cricket betting scandals and Arnab Goswami.
The book, while not lacking colour, energy and humour is also a serious, nuanced political and economic take on The India Story. Or as Lord Meghnad Desai put it, 'Crabtree has given us the most comprehensive and eminently readable tour of economic India.'
Crabtree arrives at the three fault lines that could endanger the landscape of India's continuing progress, if not dealt with -- the frighteningly yawning inequality that separates India's top one percent from its top 10 percent, worse the top 10 percent from the rest and, worst, the top one percent from the balance 90 percent; the crony capitalism that produced both Vijay Mallya and Nirav Modi; and the till now boom and bust investment model particular to India.
His book's subtitle is A Journey Through India's New Gilded Age. Crabtree believes the very factors that catapulted the US from the raucous, crude, Gilded Age, famous for its selfish millionaires, too powerful big businesses, rapid urbanisation, its grinding poverty and lack of governance, between the 1860s and 1900, to the Progressive Age, could very well do the same for India.
"It is only a metaphor and something that you can learn from history... An economy that was monopolistic was made to be more competitive. Although I don't think India's private sector is dominated by companies in that way I think company policy is certainly an important tool that India needs to develop."
Urbanisation then in America, he says, was nothing like the scale of urbanisation that is going to happen in India, which can fundamentally change the politics of places.
The first of a multi-part interview:
Your assessment of Prime Minister Modi, in the last chapter of your book, is something many may agree with.
You mention that for a man who came to power with such a thumping majority his decisions till now have been timid.
You also refer to his huge preoccupation with winning an election, which exceeds all else.
Isn't that a depressing scenario given that Modi can have several terms in office and if his focus is always on the next election, there isn't going to be too much exciting that he will do for India in between?
There is also the fear that he might become a much more autocratic kind of figure, with time.
I think the idea that Modi will have what you might call a radical second term -- he will do all he can in the second term -- is very unlikely.
Once a relatively cautious politician always a pretty cautious politician.
But I think Indian liberals tend to worry that Modi is going to turn into a kind of Putin figure.
Or a Recep Tayyip Erdogan?
Or (Turkish President) Erdogan. I think that is also quite unlikely.
The most likely scenario is that Modi returns as a much weaker, second-term, prime minister.
It is going to be very, very hard for him to return with a comparably large majority.
Now I don't know what it is going to happen in the election and nobody else does.
Most likely scenario is Modi comes back with either a much smaller majority and no majority at all and a coalition.
Very hard to imagine him doing better than he did last time. He will then be a weaker prime minister.
So this idea -- the scenario on which Modi becomes a real autocrat, those would be very worrying scenarios -- but I don't think they are likely.
It is much more likely that the problem we will have with Modi's second term is that he is less able to do the things he needs to do than he was in his first.
That means the things that India really needs to do are still not going to happen for ten years at least?
Not at all. Modi has been a reasonable effective administrator of the Indian economy.
Putting demonetisation to one side -- which was a disaster and one the dumbest things any leader has done in a long time -- most of the rest of the stuff he has done has been fairly reasonable on the economy.
One can argue that he should have done faster and he should have done more, but he hasn't made many mistakes.
So I would expect the same to be true in the second term -- relatively steady, sensible economic progress, but probably not the kind of radical reforms that India needs.
That's not to say that nothing is going to happen. It is just that it won't happen as quickly as one might like.
One of the criticisms levelled against your book is that you examine Modi very carefully and sometimes harshly and don't talk enough about his predecessors who handed over a 'messy' India to Modi to run. How would you defend that?
It is a book about a moment in time.
Lots of other books cover the politics of the Congress years. But I'm still highly critical of what occurred during those years.
So, as was touched on, at the Nehru Centre discussion you had, August 6, with Brown Professor Ashutosh Varshney, Yes Bank economist Shubhada Rao and writer Amish Tripathi, Mint journalist Niranjan Rajadhyaksha, is India an illiberal democracy or an election-only democracy or a semi-liberal democracy? What do you finally feel?
In the sort of strict sense of the definition of an illiberal democracy, given by (CNN anchor, author) Fareed Zakaria, I don't think India quite reaches that point. There are plenty of things about the Indian system that remain fairly liberal, certainly in principle.
The thing you are talking about, which is what (historian, author) Ram Guha says democratic at election time, not so great in between -- that's true.
Semi-liberal democracy is a good answer, I think.
Traditionally, the problem has been that the Indian State has not been capable of enforcing the rights that its citizens are meant to have. That is the problem. That's a fixable problem over time. The State will become more capable.
The worrying thing is if the Indian State stops wanting to enforce the rights of its citizens, particularly its minorities. I don't think we have quite got there yet.
But under Modi, I think, it is pretty clear that India is heading in the wrong direction, the more illiberal direction -- not dramatically so -- but gradually and people are right to be worried about that.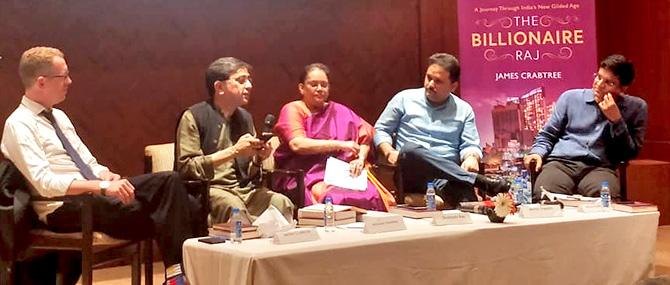 What were your initial impressions of India when you arrived here to become the foreign correspondent, out of India, for the Financial Times?
And what is your impression now?
How do you describe India to someone who doesn't know the country?
It is a kind of humblingly complicated place, right so...
You arrive for the first time and it is completely bewildering, Still five years later (you can) still find it confusing if I read a new story in an Indian newspaper that I am not familiar with.
It happens all the time. There are so many layers -- not just to economic and business life -- but to social life.
For a foreign correspondent here, particularly a business correspondent, you circulate amongst the elite.
My world was south Mumbai and central Delhi. That just means there are vast swathes of the country I need to know more.
It is a lifetime (endeavour) to get to know this country. It's a fascinating project. That's how I describe it.
An endlessly complicated place, but one that remains so interesting, it's kind of like trying to peel the layers off an onion and I don't think you ever get to the end.
Another way of putting this is, I often say, that I arrived India with a mental list of places to which I wanted to travel to, I wanted to visit. That list is longer five years later than it was at the start...
I feel for a foreigner I have made a reasonable start in trying to understand a part of India.
But you could do this for the rest of your life and never quite get to the bottom of it.