'Some members of the Obama administration have worried that Pakistan's heightened anxieties about India might lead Islamabad to take reckless measures, so they have wanted New Delhi to pursue more diplomatic engagement with Islamabad.'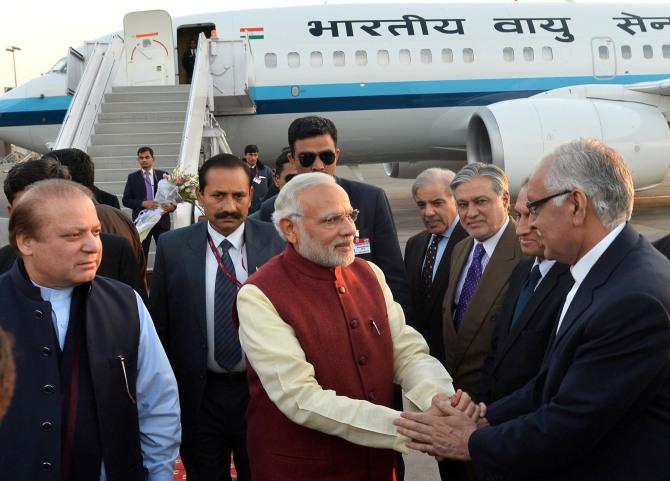 Daniel Markey is Adjunct Senior Fellow for India, Pakistan, and South Asia at the distinguished New York think-tank, the Council on Foreign Relations, where he specialises in security and governance issues in South Asia.
His 2013 book, No Exit from Pakistan: America's Tortured Relationship with Islamabad, is a must read for everyone puzzled about Washington's continued association with Islamabad despite its many skirmishes with the Pakistani State.
Dr Markey, below, left, has also been part of the US government, having held the South Asia portfolio on then Secretary of State Condoleezza Rice's policy planning staff from 2003 to 2007.
"This is quite a Christmas Day surprise..." Dr Markey said about Prime Minister Narendra Modi's sudden visit to Lahore when Nikhil Lakshman/Rediff.com requested an interview on Friday evening.
As an astute observer of Pakistan, what has changed on the ground in Islamabad and Rawalpindi to enable what appears to be the most dramatic turnaround in India-Pakistan relations in years?
I would say the visit was full of drama, but it is too early to ascribe a "dramatic turnaround" to the relationship.
Basic sticking points remain, especially with respect to Pakistan's limited action against anti-Indian terrorist groups, and Modi's visit to Afghanistan would -- if not for this surprise visit -- have irritated Pakistan and contributed to tensions.
Do you think people are being blinded by the atmospherics -- the sight of seeing an Indian prime minister in Pakistan for the first time in nearly 17 years?
Perhaps, but this is a really important sight. Wasn't (then prime minister Atal Bihari) Vajpayee in Islamabad, 2004?
In any case, atmospherics matter here because one of the basic questions in Indo-Pak relations has been whether -- if the governments could ever hatch a deal -- their publics would be willing to accept it.
Part of making that happen would be through improving the atmospherics with summit diplomacy and other dramatic moves. I don't think we're close to any breakthrough of this sort, but I am also inclined not to discount emotion and public politics here.
Where do both nations go from here?
The next step is full resumption of diplomatic dialogue as was already decided a few weeks back. But now those talks will have the added energy of a clear and personal endorsement from PM Modi.
Pakistan's generals have always been a roadblock for a better India-Pakistan relationship. Perhaps no army chief in recent times as been so apparently hostile to the prospect of an India-Pakistan rapprochement as General Raheel Sharif.
All these developments that have taken place in recent days between New Delhi and Islamabad could not have occurred without the general's consent. Do you think the Americans leaned on the general when he visited Washington this fall? What could Messrs John Kerry and Ash Carter have likely told the general that he gave up his opposition -- especially after Ufa -- to talks with India?
I disagree that General Sharif needed to be convinced of the tactical utility of reopening dialogue with India. He is clearly traditional, even old fashioned, in his strategic distrust of India, but as a practical matter he cannot deal with a serious India problem at the same time as he is trying to tackle a lot of insurgents at home.
If Washington delivered any message to (General) Sharif related to India, it was that the United States would like to see greater evidence that Pakistan is committed to severing links with LeT (the Lashkar-e-Tayiba), and eventually to ending anti-Indian terrorism.
Without that evidence, Washington would have no reason to encourage India to resume talks.
There is a feeling in India that the Obama administration got both sides talking. What concerns do you think compelled the administration to make the call to Islamabad, New Delhi and Rawalpindi? Was there a fear that the hostility had entered the perilous terrain of nuclear threats?
Some members of the Obama administration have worried that Pakistan's heightened anxieties about India might lead Islamabad to take reckless measures, so they have wanted New Delhi to pursue more diplomatic engagement with Islamabad.
The Indian leadership knows that American leaders are basically sympathetic to Indian concerns about Pakistan. But they also know that Washington wants India to seize opportunities for dialogue when possible, even if only to reduce the likelihood of a crisis (without great chance for resolving underlying differences).
And because Indian leaders want to retain the moral high ground, there are limits to how hardline they can be.
Or was there an Afghan angle -- that Pakistan needed to be given some India sops so that it would get the Taliban talking and ensure that the Ghani regime in Kabul -- which the Americans want to succeed after the Karzai fiasco in their eyes -- had some leeway to run the country when the international security forces withdraw?
This is a good supporting explanation, if not a primary one. Washington does want Pakistan's help restarting talks, and keeping them focused on the task -- not distracted by Indian helicopter deliveries to Kabul -- is helpful.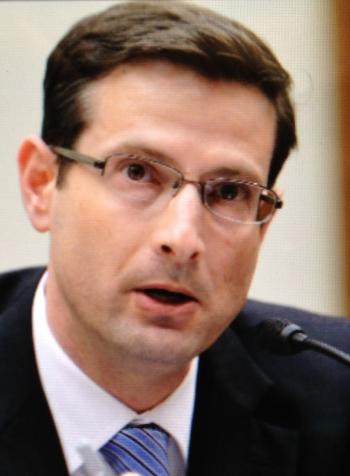 You have been sceptical about Pakistan's intentions. Do you think they have been a reliable US ally since the War on Terror began?
Pakistan has reliably pursued its own interests, and at times those interests have overlapped with the US'. Often they have not.
Why, despite the double dealing which people like Admiral Mike Mullen highlighted, have successive American administrations continued to give Islamabad more or less what it wants? Is it because the State Department and the Pentagon believe that despite the Pakistani perfidy, it has no option but to keep the Pakistanis on its side?
Where US and Pakistani interests have overlapped, even temporarily, Pakistan has played a useful role to the US. In other cases, US officials have been risk averse in their policy choices, preferring to maintain a maddeningly inadequate relationship with Islamabad than to court a complete rupture.
What does Islamabad offer Washington that it needs?
Pakistan continues to offer CT (counter-terrorism) intelligence of value, and its role is Afghanistan remains essential to the country's future.
Those points aside, Pakistan is a significant State -- size, location, nuclear armed, and large growing population.
~What is your prognosis for Pakistan, Afghanistan and South Asia in 2016? Will we see calmer times? A better India-Pakistan relationship? An easing of tensions in Afghanistan? The entry of Da'esh in the region?
Speculation on these points is dangerous. It is hard to predict calmer times in Afghanistan anytime soon, that is clear.