'They will talk about secularism, but communalism -- they just won't say there exists such a beast.'
'It's harmful for society to brush it under the carpet.'
'If we talk about secularism, we must talk about communalism.'
Rakshanda Jalil's article 'The ballad of Ram e Hind, revisiting the Urdu versions of Ramayana' (Indian Express, September 2017) was an eye-opener for Urdu lovers both in India and Pakistan.
A literary historian specialising in Hindu and Urdu -- she runs an organisation called Hindustani Awaaz dedicated to these two languages -- Jalil, who recently visited Mumbai to talk about freedom of speech in Manto's era and today, speaks to Jyoti Punwani about the growing interest in Urdu, and the way modern Urdu writers skirt around the elephant in the room called communalism.
How do you compare freedom of speech in Manto's era and today?
When it comes to specific things like communalism, I find the writers of Manto's era more open and honest. They openly admitted there was a problem of communalism. If you see Kishen Chander, Rajinder Singh Bedi, these writers were writing about society, about Partition.
Today, Urdu writers tend to be more politically correct, not wanting to get into trouble perhaps. They resort to allusion, imagery.
They will talk about secularism, but communalism -- they just won't say there exists such a beast.
I am not comparing freedom of speech in general then and now. I want to dwell only on communalism. Because it is important to write about it. It's harmful for society to brush it under the carpet.
We have to acknowledge the good and the bad in society.
If we talk about secularism, we must talk about communalism.
Have you asked the Urdu writers about this?
Some say it's not true. They say it's part of a literary trend called Modernism, where you don't have to call a spade a spade.
You can allude to it by a phrase such as 'kaali raat'. That could mean anything -- the forces of darkness, bad times, anything.
The writers say this is a perfectly legitimate literary exercise; we are using images and symbols.
But Manto -- I'm going back to him because we are talking in the context of Manto's era -- couldn't be bothered about such things.
He called a spade a spade. There was no ambiguity about what he said, it had just one meaning.
His stories ended with a sting which left no leeway for subjective interpretation.
As he said: 'Main duniya ko saaf nazar se dekhta hoon. Jo nagn hai uske kapde main kaisey utarwa sakta hoon. Halaanki main toh use kapdey pehnaney ki koshish bhi nahin karta. Who mera kaam nahin. Darzi ka kaam hai (I see the world with clear eyes. How can I undress what is naked? However, I don't even try to clothe its nakedness. That's not my job. That's a tailor's job).'
Manto didn't feel the need to resort to imagery.
But today, writers have even stopped saying 'Hindu and Musalmaan'! Why are we so scared to use these words? They are not gaalis! They are just names of communities.
Like newspaper reporters say 'one community', not even 'minority community'.
So these are the new rules, and they are not always coming from a benign space.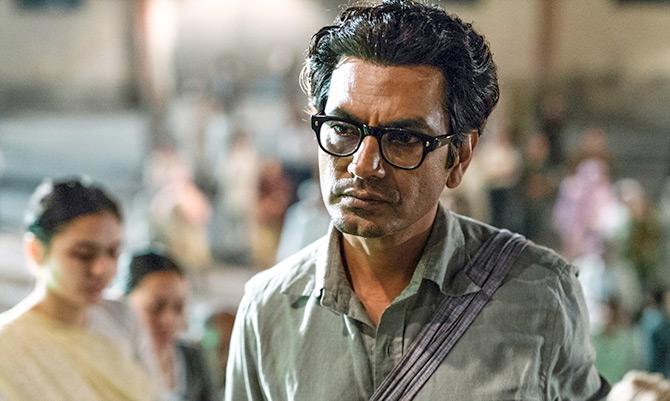 So what do they say instead of 'Hindu' and 'Musalmaan'?
They will say 'ek kasbey mein yeh hua... ek kaum ko...'
I am not saying every writer is like that, I'm talking about a trend.
The tendency is to not point a finger, not lay the blame even where it's due, to resort to images.
In my anthology Pigeons of the Dome: stories on Communalism, nowhere does the title story say which dome! It's left to us to figure out that the writer is referring to Ayodhya.
The writer doesn't even indicate which city he is talking about.
I guessed it was Patna because I know the writer is from Bihar.
So, everything is to be inferred. Today's writer doesn't feel the need to be direct, for various reasons.
You miss the punch of a Manto!
But then, 70 years is a long time. The literary canon changes.
Manto can't be treated as the lodestar. Every creative person has his/her legitimacy.
Who are we to question it?
I guess as long as the images can be understood, it's ok.
Yes, the meaning does come across. I guess the writer today is asking more of the reader than what Manto did.
There's a story in this collection by Gulzar. He's writing about the Mumbai riots. Manto wrote about riots in Mumbai too.
Gulzar's story is called Khauf, fear. Manto also wrote of the fear one feels during a riot.
But Gulzar's is such a hugely different way of writing!
And why should it not be?
You are a literary historian, you also run Hindustani Awaaz. Is there a growing interest in Urdu or is it declining?
I've been running Hindustani Awaaz for 15 years.
My whole agenda is to show people that Urdu is not just about romance. It has so many different shades.
Actually there are two things about Urdu that I want people to know:
It's not about Muslims at all.
There are a whole lot of things in Urdu. It's not just shayri. Every literary form, every ideology, every tone and tenor can be found in Urdu.
I would say the interest in Urdu is increasing, given that fewer people are reading the Urdu script.
I've just written a biography of the Urdu poet Shahryar. It's been published by Harper Collins.
Why would a prestigious publishing house agree to bring out a book like that, and that too in a very attractive form, if it was not selling?
I feel strongly that people should not run away from learning to read Urdu. But till that happens, we must feed this burgeoning interest in Urdu.
That's what we try to do through our programmes. People can listen, even if they can't read. A lot can be said through the spoken word.
After all, there was a time when people only heard, they didn't read.
The printing press came to India after 1857, but that doesn't mean there was no literature here till then.
Are young people interested in Urdu?
Increasingly it's the young. When we started our programme, our audience was largely grey.
The venue was the India International Centre, which is not seen as a venue for young people.
We kept changing out venue year after year to reach out to newer audiences.
We held it at a book stall, at The Attic, and now we are going to have it at the India Habitat Centre.
There are still a lot of greys in the audience -- people who have always had an interest in Urdu. But there a lot of youngsters too.
These days there's a lot of merchandise relating to Urdu -- mugs, t-shirts, badges. These are bought by young people, not the old.
Now for a crude question: Are these young people Hindus or Muslims?
I'm glad you asked that question! More than 50% are non-Muslims.
That's what people like me are trying to do: Reach out to everyone.
Urdu has no organic link with Islam. Muslims don't pray in Urdu, they pray in Arabic.
If you were to go through my Facebook page, you will see the messages coming in are from both Hindus and Muslims.
I just posted something about Hasrat Mohani.
People know him as the author of the ghazal Chupke Chupke Raat Din, which was sung by Ghulam Ali.
But here was a man who would go every year to Mathura for Janmashtami.
He was a bhakt of Krishanji Maharaj.
The comments on this post came from both Hindus and Muslims.
You have written on Urdu versions of the Ramayan, and now Hasrat Mohani's worship of Krishna. How do people react?
That Ramayan paper was for a seminar in Delhi University. The audience was students and teachers and they listened to every word I spoke.
See, I gain nothing by what I write. I only want to share with others my interest in Urdu.
Perhaps over the years this has come through in my writings, and I have gained an appreciative audience.
Of course, there will always be the one troll who will say 'If that's what you want, go to Pakistan.' But why pay attention to them?
No Muslim has criticised you for writing about the Urdu Ramayan or Hasrat Mohani's worship of Krishna?
Oddly enough, no. Nobody has said this is kufr (disbelief).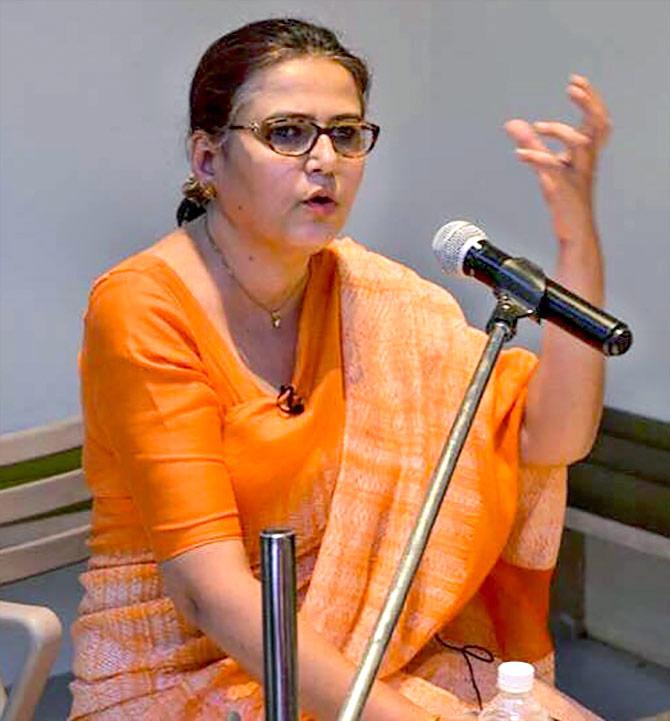 Does your research in Urdu make you feel sad that that era, when Muslim poets wrote about the Ramayan or about Krishna, is over? Or are they still writing all this?
Oh they are. Secularism is still very much a part of Urdu literature.
It's a fact of life for Urdu writers. They may be terrified of speaking about communalism, but not about secularism.
You still have Nida Fazli writing
Ghar se masjid hai bahut door chalo yuun kar len.
Kisī rote hue bachche ko hansaya jaae.
(Note: The Urdu poet Nida Fazli died in 2016.)
From Mir and Ghalib to the present, Urdu poets have always had a catholic view of the world.
Urdu continues to be subversive, open, questioning.
I've just translated some poems of Javed Akhtar for Scroll. This one: A new decree says:
Someone has decreed
That all the flowers will henceforth be of one colour
There will be some officers who will decide
How the gardens of tomorrow will take shape
Certainly the flowers will all be of one colour
But how deep the colour or how light
Will be decided by the officers
How is one to tell them
That in no garden anywhere are all the flowers of one colour
They cannot be
For, many colours live together hiding in one colour
Look at the fate of those who have
Tried to make their garden all of one colour
See how a hundred colours have seeped into a single colour
How troubled they are
How worried they look
(Kind courtesy: Scroll)
Fortunately, that trend in poetry is continuing. But in prose there's a wariness.
So one can be optimistic about Urdu?
Oh yes. The publishing scene is very vibrant in Bihar, Mumbai, Aurangabad.
The Urdu scene is neither dead nor dying.
What worries me is the declining number of those willing to learn the script.
People have a Plan B -- they will read Urdu in Devnagari. But not everything can be available in Devnagari.
Isn't Chinese difficult? But people learn it, don't they?
Illustration: Uttam Ghosh/Rediff.com