Former IPS officer Sanjiv Bhatt wants BJP chief Amit Shah to be made a respondent for allegedly foisting wrong criminal cases against him, former additional solicitor general Indira Jaising tells Prasanna Zore/Rediff.com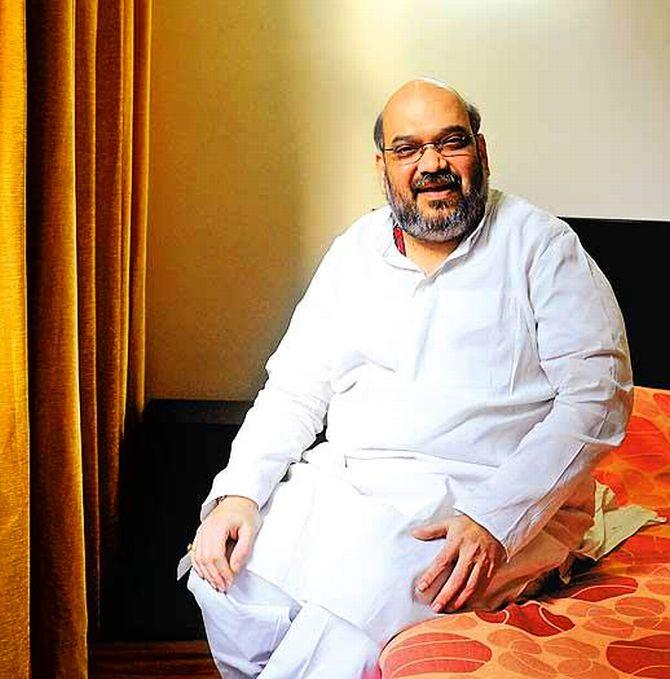 Recently dismissed Indian Police Service officer Sanjiv Bhatt wants Bharatiya Janata Party President Amit Shah to be made part of a petition for allegedly foisting false charges against him related to the hacking of then Gujarat additional advocate general Tushar Mehta's e-mails, Bhatt's lawyer, senior Supreme Court advocate and former additional solicitor general Indira Jaising told Prasanna D Zore/Rediff.com
Bhatt also wants Mehta's allegation -- that he (Bhatt) hacked into his e-mail account -- to be investigated by a Supreme Court-monitored Special Investigative Team.
In this petition filed first in 2011 and which is coming up for hearing on Tuesday, September 15, Bhatt wants Amit Shah to be made a party to it.
When this correspondent called Bhatt, he refused to comment on his petition and asked me to speak instead to his lawyer Indira Jaising who, along with Kapil Sibal, moved a fresh application on Monday, September 14, before a bench headed by the Chief Justice of India, Justice H L Dattu, to make Shah a party to this petition.
Jaising told Rediff.com over the telephone why Sanjiv Bhatt wants Amit Shah to be made a party to this petition.
On what basis does Mr Bhatt want Mr Shah to become a respondent to the petition you have filed in the Supreme Court?
There were exchanges of e-mails between Mr Tushar Mehta (the then additional advocate general of Gujarat) and Amit Shah in relation to pending litigation in the Supreme Court in which he (Shah) and (RSS ideologue) Mr (S) Gurumurthy also have given inputs on what should be said in the Supreme Court.
In relation to those exchanges of e-mails among Mr Tushar Mehta, Mr Gurumurthy and Mr Amit Shah, Mr Bhatt wants those e-mails to be investigated.
Please don't forget that the main petition is that Mr Mehta has filed an FIR (First Information Report) against Sanjiv Bhatt and we want that investigated by a court-monitored SIT.
Sanjiv Bhatt wants Amit Shah to also be added as a respondent for foisting wrong criminal cases against him.
What has Mr Mehta filed an FIR against Mr Bhatt for?
Mr Tushar Mehta has claimed that he (Sanjiv Bhatt) hacked into his (Mehta's e-mail) account, which we are denying.
How did Mr Bhatt access these mails which Mr Mehta claims were hacked into by Mr Bhatt?
It was accessed by Mr Sanjiv Bhatt because Mr Tushar Mehta is his friend since 1985 and Mr Mehta asked him to access his mail for the purpose of making bookings.
So, you are claiming that the mail was accessed in a lawful, legal, way? There was no illegality here?
Yes, that is Mr Bhatt's claim and so he wants an Supreme Court-monitored SIT to investigate Mr Mehta's claims that he hacked into his mail and accessed the mails in which he found Mr Gurumurthy assisting the government of Gujarat in the Zakia Jafri petition (the petition filed by Zakia Jafri, widow of slain Congress leader Ehsan Jafri who was burnt alive in the riots that followed the Godhra train carnage in Gujarat, seeking the then Gujarat chief minister Narendra Modi be made accountable for post Godhra riots).
IMAGE: Amit Shah at home in Ahmedabad. Photograph: Kind courtesy, Amit Shah's Facebook page