'Biplab Deb said it was unfortunate.'
'If he continues to respond this way, then further damage will not happen.'
'But if under pressure from his party members he does not take action, then the future is dangerous.'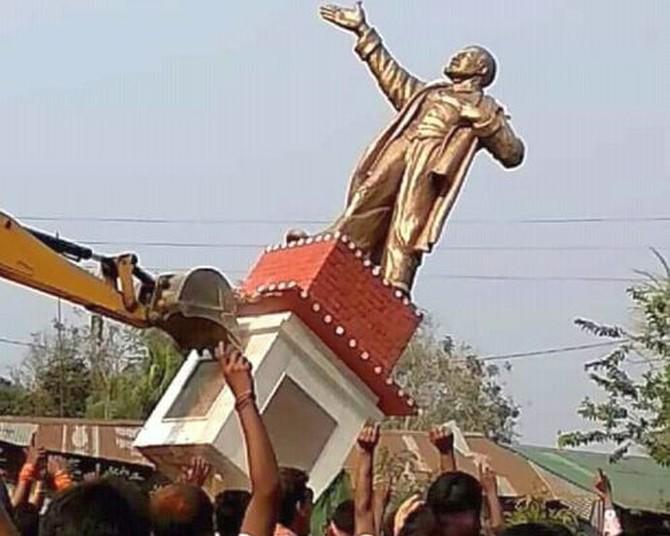 When an angry mob brought down a statue of Lenin in Tripura on Monday, March 5, it perhaps marked the first time that the Communist titan's statue was pulled down in India.
The mob action, in which a JCB machine was used, and with no policeman present on the scene, came two days after the Bharatiya Janata Party stunned the 25-year-old Communist Party of India-Marxist government, by winning an absolute majority along with its partner, the Indigenous People's Front of Tripura.
Post election results, there have been reports of violence breaking out in many parts of the state, prompting Union Home Minister Rajnath Singh to call up Governor Tathagata Roy and Director General of Police A K Shukla, instructing them to maintain peace till a new government is sworn in.
"Is this the BJP culture (to demolish statues)?" a seething Jitendra Chaudhury, the Communist Party of India-Marxist member of the Lok Sabha from Tripura East, asks Rediff.com's Syed Firdaus Ashraf.
What were the reasons for the CPI-M's rout?
First is anti-incumbency. It happens with any party if it rules for a long time.
But yes, this could have been combated or marginalised, but what happened was that the ruling party at the Centre put their political force and administrative might of the central government ethically and unethically.
For the last two-and-a-half years it put all its weight to dethrone the Left from Tripura, ethically and unethically.
Yes, it is their democratic right to oust a ruling party and that is ethical.
But what happened when (Narendra D) Modi came to power, they blocked all fund flows to Tripura.
They also started a disinformation campaign against our government and pumped in hundreds of crores of money to oust our government by mobilising people.
You need to come to Tripura to understand that. For a party like the Left that (depends only on) the people's support, it is difficult to survive (this kind of onslaught).
Definitely, there are other reasons, I don't deny that. We need to be self-critical too and we will try to get answers for that.
But basically, one political party of the country puts its political might by using State power to throw the Left out of Tripura.
It was not about an ideological shift, it was only money ideology.
What the BJP did was to delude people from the reality. They promised one job to each family. It was a complete lie.
So many other lies they spread. They also got Finance Minister Arun Jaitley to say this and so did Prime Minister Modi.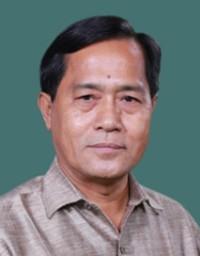 Why has there been a sudden spurt of violence in Tripura after the election results?
On March 3, after the results were declared, the violence started.
From that day in the afternoon there has been widespread violence.
The nature of violence is arson and ransacking of CPI-M offices.
In some places they even forcibly occupied CPI-M offices.
Till now, 1,500 households in villages have been looted by hooligans who are being supported by the BJP and IPFT.
If I am not mistaken, Sunil Deodhar, the Rashtiya Swayamsevak Sangh pracharak and the mastermind behind the BJP's victory in Tripura, told a television channel that the state government in Tripura is still run by the CPI-M.
The BJP government has not been sworn in yet, so how can you blame the BJP for this violence?
They are in power. Whether they have taken over or not, that is not the issue.
After their win their leaders are doing these things.
How can Sunil Deodhar deny this?
Pictures are coming in the media and on TV channels. How can he deny this?
Is this a responsible statement from the party which is ruling the country?
The BJP has personal dislike for Lenin and Mao Zedong.
It happened in Iraq after America invaded (when Iraqi dictator Saddam Hussein's statue was toppled).
The same thing happened in Leningrad after the Soviet Union disintegrated.
The Taliban demolished Bamiyan Buddha statues after it came to power in Afghanistan.
But how can this happen in India?
Is the CPI-M a banned party in India?
Is this the culture of the BJP (to demolish statues)?
But the police force is controlled by the caretaker chief minister, the CPI-M's Manik Sarkar.
One political party comes like a wave as they have won. Our people are shocked and they are restrained. They are afraid.
It is not the question of who is in the government. They are at the helm of affairs.
Tripura Governor Tathagata Roy wrote on Twitter: 'What one democratically elected government can do, another democratically elected government can undo. And vice versa.'
I condemn his words. It is wrong.
Lenin, Mao Zedong, Mahatma Gandhi, Rabindranath Tagore are not leaders of a particular country. They are world leaders. The entire world follows them.
When they were breaking Lenin's statue they were chanting 'Bharat Mata Ki Jai'.
Explain Bharat Mata to me here.
Maybe they felt Lenin is alien to the Indian ethos.
Tomorrow, these people will do similar things to Mahatma Gandhi's statue if they are not restrained.
It is the duty of the leaders to take care of them and act responsibly.
But if the governor is also saying such things, then it is very unfortunate.
The BJP says CPI-M workers beat up them for the last 25 years in Tripura, but nobody protested.
Let them cite a single example that happened in the last 25 years.
We also celebrated our victory, but not a single BJP office did we occupy forcibly.
Four RSS workers did disappear in Tripura in 2001.
It was the militants who kidnapped them. And now the same militants are an ally of the BJP!
This IPFT is that same group, but the BJP is now shaking hands with them. They should be ashamed.
With whom are they shaking hands? The same people who kidnapped the RSS people.
In a democracy, demolishing statues was unheard of whenever there is regime change. This is fascist-like activity.
I don't think this demolition of Lenin's statue was done in the heat of the moment.
Day after day, the RSS people have groomed them like that, they have motivated them like that.
This happened in broad daylight, and JCB machines were used to demolish Lenin's statue.
Do you think statues of leaders who do not belong to the Sangh ideology could be in danger in the future?
I know (BJP state unit president and chief minister-designate) Biplab Deb and he immediately responded to me. He said it was unfortunate.
If he continues to respond this way, then further damage will not happen.
But if under pressure from his party members he does not take action, then the future is dangerous.