'This has always been a trend by the ruling party, that they give assurances but never fulfill it.'
'The BJP is known for it as it is their character.'
'They agree when the farmers' movement is on, but turn their backs when the farmers leave.'
'We have to keep a constant pressure on the government for our demands.'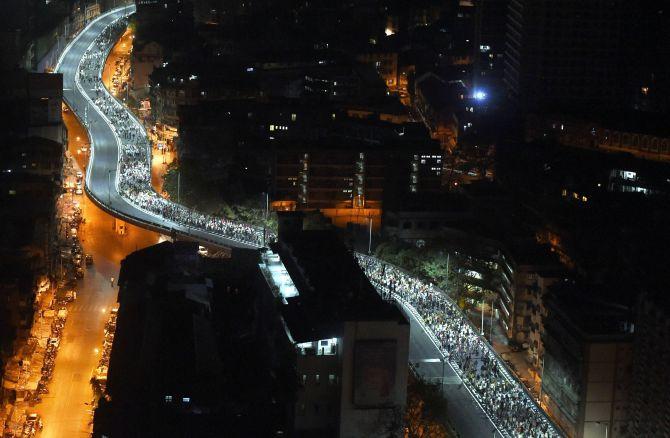 IMAGE: Thousands of farmers and Adivasis march on the J J flyover on Sunday-Monday morning night to reach the Azad Maidan in south Mumbai before daybreak. Photograph: Shashank Parade/PTI Photo
Have the agitating farmers who thronged Mumbai over the weekend to press for their demands been sold a lemon?
Even as the Maharashtra government announced that all the farmers' demands have been accepted, The Times of India reported that only two of their demands have been accepted; the government has for the first time given in writing that the other seven demands would be looked into by committees.
Nevertheless, Communist Party of India-Marxist General Secretary Sitaram Yechury announced that the farmers would withdraw their agitation.
"When the government is giving something and at the same time we are tired, as a leader I must know when to stop," Ajit Nawale, general secretary, Maharashtra Rajya Kisan Sabha, tells Rediff.com's Syed Firdaus Ashraf.
There are reports that the Maharashtra government has not accepted all your demands.
No, this is not true.
All our demands have been met and the Maharashtra government has given that in writing to us.
I said this yesterday (on Monday, March 12), that the movement is not over, but we have crossed one hurdle.
Which are the demands that the government has accepted?
We have got a complete loan waiver.
Earlier, the government had put many conditions to give a loan waiver. But now they have agreed to our demands.
Implementation was a big problem.
Now, the government has agreed to include members from our organisation in the committee to solve the loan waiver problem. And this will be looked into on a day-to-day basis.
This will be done in 45 days.
The farmers who had taken loans before 2009 were not included in the list. But after our meeting the government has agreed to include these farmers too.
Even the farmers who took loans in 2016-2017 will be included in this list.
Another demand the government agreed to was that it will consider individual farmers and not the family as a whole to waive off the loan.
How many demands were there from your side?
There were seven demands, and there are ups and downs in all demands.
But I must say they have agreed to give some or other thing on all the demands.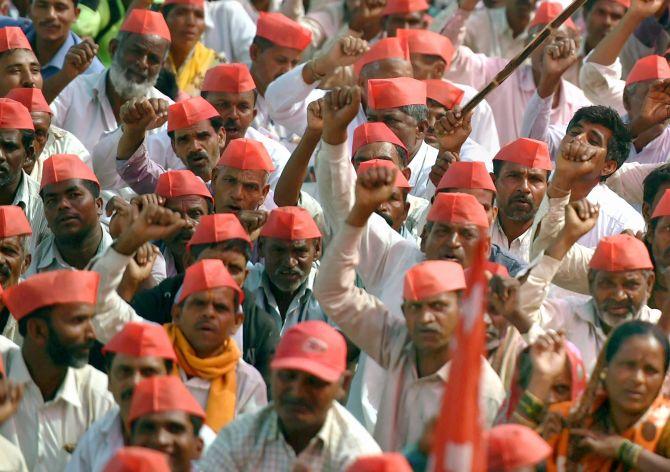 IMAGE: Farmers gather at Azad Maidan in Mumbai on Monday, March 12, 2018. Photograph: Mitesh Bhuvad/PTI Photo
There are doubts that like the previous government, the Bharatiya Janata Party-led government too will not implement anything on the ground.
This has always been a trend by the ruling party, that they give assurances but never fulfill it.
The BJP is known for it as it is their character.
They agree when the farmers' movement is on, but turn their backs when the farmers leave.
But we have to keep a constant pressure on the government for our demands.
We organised a farmers' strike earlier too and they agreed to some demands.
And when we saw that many more demands were not met, we again went on a strike and got some more things from the government.
We have to be alert all the time.
When we struggle, we get strength.
If they do not agree to our demands in practice, then we will fight again.
Why is it being said that the BJP government has fooled the farmers again?
I don't know why they say such things.
I have been in farmers' agitations for the last 17 years and those who know about farmers issues are happy to get what they got yesterday (March 12, 2018).
It is also said that the farmers gave up their protest too soon. The agitation fizzled out after just one meeting with government representatives.
For seven days we walked. There were blisters on the farmers' feet. We too are human beings.
Being a leader of this march, I have to keep these factors in mind.
This is not the last fight.
When the government is giving something and at the same time we are tired, as a leader I must know when to stop.
We ate only dal-rice for seven days. We did not take breakfast or even tea.
We took this march very peacefully and democratically. We did not want any violence. If the movement got violent it would get over very easily.
You said you will come back after six months if your demands are not met.
I said we have only crossed one hurdle.
If there are more hurdles, then we will try to cross it after six months.
Till the time farmers are not free from debt, this struggle will go on. We have to go step by step.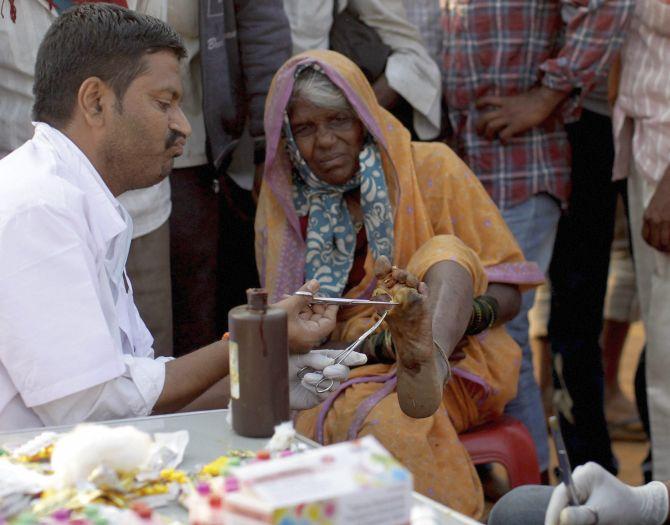 IMAGE: An elderly woman is treated for blisters after walking 180 km under a blazing sun for seven days. Photograph: PTI Photo
Will the government act on its promises on the Forest Rights Act and implementing the M S Swaminathan Commission report?
They have agreed to act on the Forest Act.
As far as the Swaminathan report implementation is concerned, the government will have to include the C2 + 50 formula.
This A2 formula will not work.
Have they agreed to the C2 + 50 formula after your long march?
This is a central government issue.
There is pressure on the central government from Maharashtra and now even from Rajasthan.
Questions are being raised about who paid for the thousands of farmer caps and flags the farmers sported, and who gave you the money to organise such a huge march.
Only people who do not know Communist ideology speak like this.
One cap costs Rs 1.70 and I paid Rs 17,000 to make Rs 10,000 caps.
I paid this money from my own account.
And after we got the caps, we sold them for Rs 5 each.
The difference of Rs 3.30 (profit) which we earned was used to buy the flags.
The people who participated in the movement paid money from their own pockets.
They paid Rs 5 to join the movement.
From different villages people got utensils and rice. They made food and distributed to all farmers in the rally.
If this was a sponsored rally, then people would not have walked when their feet were bleeding.
When people feel from the heart and join a movement, they come to rallies by paying from their own pockets.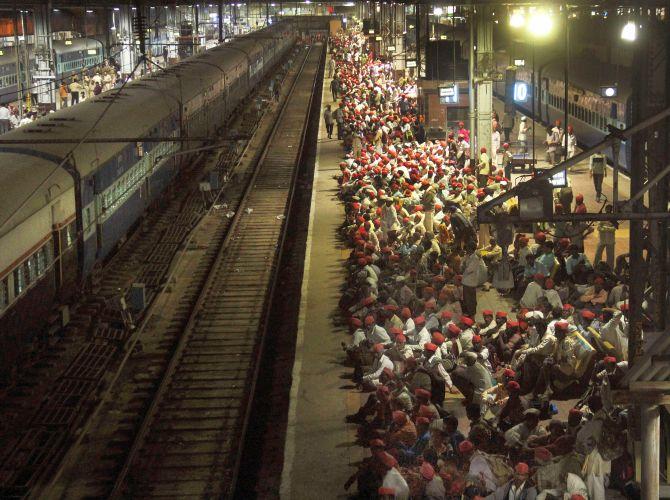 IMAGE: Farmers wait on a railway platform to return to their villages after the Maharashtra government accepted their demands. Photograph: PTI Photo
BJP MP Poonam Mahajan said your protest was propelled by 'urban Maoists'.
I don't know what to say to those who do not know farmers' pain.
Do they even know whether potato is grown above the ground or below the ground? How can I comment on such people's statements?
If I do that, then I will devalue myself.
In 2017 too, you were assured of a loan waiver, but did not get anything.
No, it is not completely true.
We got Rs 13,500 crore (Rs 135 billion) that year. That was not enough.
We wanted more, therefore we went on strike again. So we got something.
The government too gave into some of our demands.
This struggle will continue in future if our demands are not met.