'Any new technology, either before or soon after its release, will face severe criticism by one or the other segment of society. It is only after seeing the benefits of new technology for themselves that our farmers accept it.'
'The arable land in India is not increasing and currently hovers at around 140, 145 million hectares.'
'Today, Indian agriculture has to work towards achieving nutritional security.'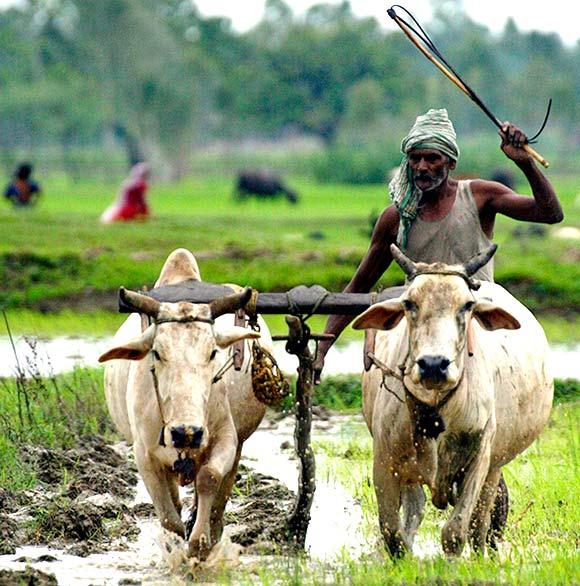 Image: The traditional way of farming in India.
Photograph: Pawan Kumar/Reuters
The College of Agricultural Sciences was founded nearly 70 years ago by renowned scientist S W Menshinkai in the appropriately named Yettinagudda (Hill of Bullocks) on the outskirts of Karnataka's cultural capital, Dharwad.
It took another four decades for it to become a full fledged university -- UAS Dharwad.
It has, to date, released over 200 new varieties of crops.
Its annual farmers's exhibition, the Krishi Mela, attracts over a million progressive farmers and is the largest of its kind in India.
Recognised as a leading institutions in India that has consistently engaged in high quality research, teaching and extension among farmers, the university today faces new challenges.
Plant biotechnologist Dr D P Biradar is the new vice-chancellor at the university. His dream is to take forward the path-breaking work done by the university so far and make it a globally known institution that serves the needs of local farmers.
He discussed the challenges facing agricultural research with Shivanand Kanavi.
What are the current challenges in agricultural research and education in India?
Post Independence, Indian agriculture -- which was traditional and focused on subsistence -- was unable to meet the food demand of a fast growing population. This forced India to go with a begging bowl to the world for food aid.
During the Green Revolution that was started in the sixties and seventies, the priority of the government was to produce more food. Thus, semi-dwarf wheat varieties from Mexico and chemical fertilisers were introduced in the Indo-Gangetic plains and, later, elsewhere.
The Green Revolution was a success story and helped us achieve national food security.
Today, Indian agriculture has to work towards achieving nutritional security.
I believe technological intervention is the only option to achieve both national food and nutritional security.
The arable land in India is not increasing and is currently hovering at around 140, 145 million hectares.
Therefore, it is not just important to grow only high yielding crop cultivars (a plant created and maintained through cultivation); it should be of better quality as well.
Any new technology, either before or soon after its release, will face severe criticism by one or the other segment of society. It is only after seeing the benefits of new technology for themselves that our farmers accept it. A good example of this is Bt cotton.
How were you able to convince farmers about Bt cotton?
When genetically modified crops were introduced in India, there was -- like elsewhere around the world -- a lot of hue and cry.
I remember similar, unscientific objections to hybrid crops released in the seventies.
Many environmental groups and farmers associations strongly opposed the introduction of any kind of GM crop, including Bt cotton. Some farmers' associations went around burning Bt cotton trial fields across Karnataka and elsewhere in India.
Even though cotton is mainly grown for fibre and not consumed directly by human beings, cotton seed cake is fed to animals. There were questions as to whether Bt cotton seed was good enough for cattle and bird feed.
Today, after of constant testing and evaluation on farmers's fields, Bt cotton is accepted by cotton growing farmers. Over 90 per cent of the cotton acreage in India is Bt cotton and farmers, both under rain-fed and irrigated conditions, have seen higher yields.
What are the advantages of Bt technology in cotton?
The yields are higher. It has greatly reduced the use of pesticides, especially for the pest known as bollworm.
Earlier, farmers needed to spray pesticides at least 18, 20 times to prevent a bollworm attack. With Bt, you need hardly one or two.
Even for scientists, it is amazing to see that when you keep a few Bt Cotton leaves among a bunch of bollworms in a lab, the worms start dying in front of your eyes after eating the leaves.
It has helped reduce environmental pollution by lowering the usage of pesticide against bollworms.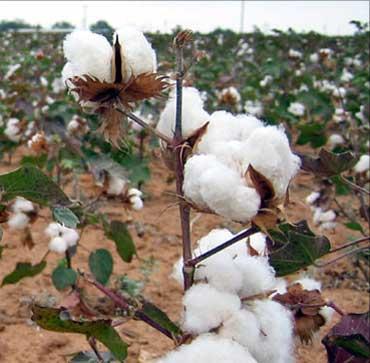 What are your university's plans regarding cotton?

UASD's work in cotton is well known the world over. We have been working on Bt technology for quite some time and I am confident that, when Bt cotton seeds are introduced in the market by public sector research (companies), we will be in the front ranks.
We have even developed, through GM technology, cotton varieties in blue, brown and peach.
Similar efforts should be made to make sure that safe GM brinjal and other food crops are developed and popularised.
We are now concentrating on Bt cotton hybrids. We are also developing Bt cotton varieties suited to high density cultivation.
Unlike Bt hybrids, when Bt varieties are released, the seeds can be reused by farmers. They need not go back to the seed marketing firms. Thus, we help farmers in the long-run.
Can Bt cotton varieties compete with Bt cotton hybrids?
Yes, of course. Our varieties are well adapted to local environments, including limited water environments and both rain fed and dry land. Therefore, they would definitely perform well.
Karnataka is supposed to be the second-most water stressed state after Rajasthan. What are you doing about that?
Dryland is another major area where new technological interventions are required to adapt to abiotic stress (hot and dry climates).
This includes drought tolerant crop cultivars and the introduction of drought resistant genes, rain-water harvesting, soil conservation and mechanisation that is suited to the small holdings of Indian farmers.
We are weak in agricultural engineering, so I see a greater opportunity to work with engineering colleges.
The collaboration between plant biologists and engineers should address the problems related to labour scarcity and the mechanised cultivation and harvesting of agricultural crops.
What about intellectual property rights for the research and development done by your university?
UAS Dharwad has released over the years over 200 varieties, but we neglected registering many of them. Now, we are registering all the varieties released by us.
We will seek the law university's help in strengthening our IPR cell.
How are you developing international collaborations?
We have now revamped our university Web site (external link), highlighting our research accomplishments and scientific publications to increase its global visibility and explore scientific collaborations with outside institutions.
UAS Dharwad has quite a few Memorandums of Understanding with outside institutions like Texas A&M and Cornell University in the US; McGill and University of Manitoba in Canada and many others, including some African institutions.
We have established an International Centre for Agricultural Development here in Dharwad and have identified six themes for research with global partners.
We want to develop collaborations with Asian and African partners. For example, we now have MoUs with China and LUANAR, Malawi. In fact, we have been attracting students from Africa and the Middle East regularly.
A minute fraction of agriculture graduates go back to farming. What measures are being taken by UASD so that more graduates go back to the farm and use their knowledge?

This is an issue (Image, left: Plant biotechnologist and vice-chancellor, UASD, Dr D P Biradar).
The government recently started a two-year diploma course in agriculture, which is picking up well. However, the number of graduates returning back to the farm is still very small. New, out-of-the-box ideas are required to change this situation.
We are encouraging our graduates to work closely with their farming families.
I think both agriculture graduates and diploma holders need to be provided with credit by the banks so that they are encouraged to take up farming or agriculture-related enterprise.
I am floating this idea at the government level; hopefully, they will consider it. We have also started an incubator here develop agri-business ideas from our alumni and others into enterprises.
We are now importing 13 million tons of edible oil. What is UASD's contribution in the oilseed mission?
Our university has done good work on oilseed crops -- peanut, sunflower and soybean.
We have new and large scale oilseed seed production activities to popularise the cultivation of oilseed crops. This is being done in peanut (higher yield), soybean (rust resistant) and safflower (mechanisation).
Further, our seed unit is doing great job in supplying quality seeds to the farmers of Karnataka and across India.
Shivanand Kanavi is a theoretical physicist, senior journalist, author and former vice-president, TCS.