'There is no secrecy clause to the price (of the aircraft).'
'There can be secrecy on the capability of the nuclear payload of aircraft and things like that, but the price is hardly a secret.'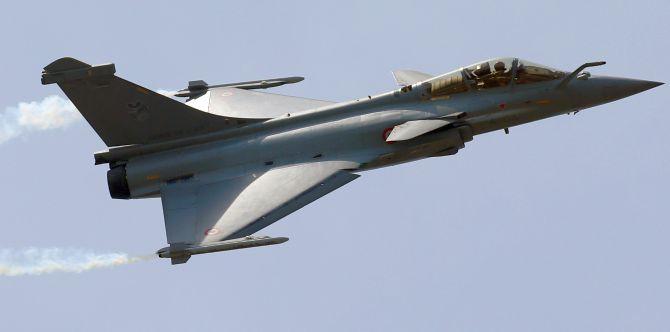 IMAGE: A Dassault Rafale fighter at the 52nd Paris Air Show at Le Bourget airport. Photograph: Pascal Rossignol/Reuters
On February 5, Defence Minister Nirmala Sitharaman stunned the nation when she told Parliament that the government would not divulge certain details, including the per unit cost, of the Dassault Rafale twin-engine fighter jet.
This, according to the defence minister, was due to a secrecy pact between the governments of India and France.
The response came after Congress MP M V Rajeev Gowda posed some questions about the controversial Rs 58,000 crore or $8.7 billion deal with France for the Rafale fighters in the Rajya Sabha. Congress President Rahul Gandhi was quick to dub the Rafale deal a 'scam'.
"The government says we cannot make Rafales as it is too sophisticated. We can only make pakodas?" Gowda asks Rediff.com's Syed Firdaus Ashraf.
When you asked the question about the Rafale deal in Parliament, did you expect it to lead to such a huge controversy?
I just wanted to know the facts. The facts were that there is a particular price for Rafale aircraft which the Government of India negotiated and that price should have been the lowest price among the competitors.
We wanted the government to follow procedures as this is your and my money.
But what has happened is that there was a gross violation of all procedures, something which was negotiated for years for 126 aircraft as that was the requirement of the Indian Air Force.
It was pushed aside in a very arbitrary manner and 36 were chosen off the shelf.
If you go by the earlier discussions of the foreign secretary, then you will realise they were not even aware of this deal, that such decisions were to be taken.
So are issues of defence preparedness and national security taken on a whim?
Or is there some other story behind it so that a favourite crony capitalist can get a piece of the pie?
What is going on? This is the question I raised.
One of the simple questions that you can ask is what is the price that was negotiated?
And how does that compare with the previous price that was negotiated over the years.
But...
(Interrupts) Instead of giving a straightforward answer Defence Minister Nirmala Sitharaman tried to cover it up.
She says I cannot tell you. Who am I? The defence minister of India is accountable to us.
There is no secrecy clause to the price (of the aircraft).
There can be secrecy on the capability of the nuclear payload of aircraft and things like that, but the price is hardly a secret.
If the defence minister had given the price, then we (the Congress) would not have got alarmed about it.
Since she covered up, then you feel kuch toh game is going on.
(Defence expert) Ajai Shukla has written a series of articles in which he says, what is the value of offset that goes to Anil Ambani group, he says that it is 50 per cent and its value is about Rs 30,000 crore.
Then the overall deal must be Rs 60,000 crore, and you are getting 36 aircraft (for it).
How much is it per aircraft then? And how does it compare with the previous defence contract?
There are a lot of questions to be asked; after all it is your money and my money.
We need a probe and we need a disclosure of facts. This deal was done in an unorthodox manner.
AJAI SHUKLA on the RAFALE DEAL
Why do you say that this deal in a secretive manner?
Just because he has a majority in the Lok Sabha does not mean he can influence deals and outcomes. He has to do what is right in the national interest.
UPA
NDA
Deal value
Rs 79,200 crore for 126 jets
Rs 58,000 crore for 36 jets
Unit cost
Rs 629 crore
Rs 1,611 crore
Total cost
for 36 jets
Rs 22,644 crore
Rs 58,000 crore
Figures as provided by Congress leader Kapil Sibal
Defence experts say that people who have no knowledge of defence issues are making a noise for no reason on the Rafale deal, and that critics are trying to make a scam out of no scam.
We (the Congress party) did a price negotiation of Rs 500 crore and PM Modi goes to France and negotiates a price of Rs 1,500 crore, why?
PM Modi is a generous man with your money. Tell these defence experts to give their money, not yours and mine.
The basic question is: What is the price? Tell us what was the deal?
Why did the prime minister break the rule? Do these defence experts agree that there is something called defence purchase procedure, which has been violated?
Do you know that the MMRCA (Medium Multi-Role Combat Aircraft) was still in operation when this new deal was signed there (in France) and it was only afterwards that it was cancelled and only after that was permission from the Cabinet Committee on Security taken?
Do you want a dictator? You do not want democratic procedures?
If these defence experts say I don't know anything about defence deals, then I want to tell them to go to hell. They have no idea how democracy works.
What should have PM Modi done in this deal, according to you?
If he was changing the order, then follow a process.
First of all, call for tenders.
If he says there was an emergency, then still call for a meeting with the Cabinet Committee on Security and get it cleared.
What is this? Are you going to some supermarket to buy the (Rafale) planes off the shelf?
Defence purchases have to be done with tremendous care by getting the right price and the best configuration.
Tomorrow, the prime minister cannot go to any country and say he wants five battle tanks and three submarines. He cannot go and shop that way.
There is some procedure for it. What would he have said if Dr Manmohan Singh had done this?

IMAGE: According to the original deal, 18 Rafale planes were to be made in France and 108 would have been made in Bengaluru. Photograph: Charles Platiau/Reuters
Some defence experts say the agreement is between Reliance and Dassault, two private companies. The Government of India is not a party to that agreement.
Welcome to the real world.
When the prime minister of India travels with the head of one of these defence production companies, that is how the world works.
What happened to HAL (Hindustan Aeronautics Limited)? Does Anil Ambani have years of experience in building planes?
Why was the HAL deal (to make Rafales in India) cancelled?
HAL would have got this job and this would have come to the public sector which would have created a large number of jobs.
People in my own state of Karnataka would have got jobs. Therefore, I feel there is something extremely fishy here.
The defence minister says transparency is our middle name -- let her show it. But instead, everything is a secret.
The planes will be made in France. Mr Ambani's company is just an offset partner.
The original deal was that 18 planes will be made in France and 108 will be made in Bengaluru.
The Modi government now says we cannot make (Rafale) planes as it is too sophisticated for Indians. We can only make pakodas?