'Most of the agitations are staged by the Opposition to disturb the peace of the state.'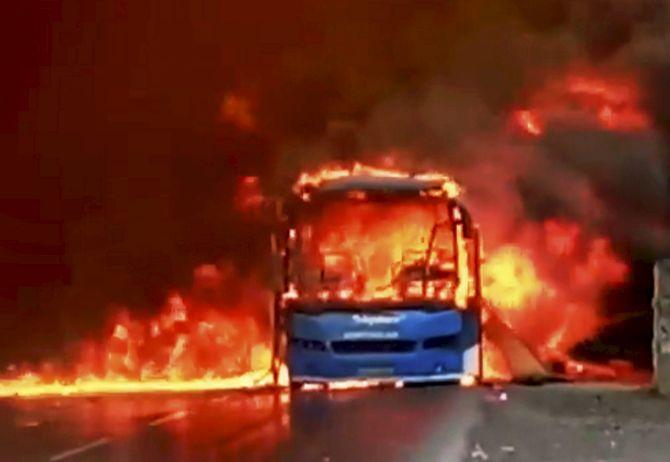 "Farmer suicides can't be politicised or looked at in isolation," three-term Madhya Pradesh Chief Minister Shivraj Singh Chouhan tells Sandeep Kumar.
Assembly elections are on the horizon in the state. Do you think there is a sense of anti-incumbency in Madhya Pradesh?
I don't see any anti-incumbency in the state as our Bharatiya Janata Party government has been working to fulfill the promises we made to the people.
The results are there for everyone to see. The public is witness to our journey of creating a developed state from the BIMARU one we inherited from the Congress in 2003.
The overwhelming response to the Jan Ashirwad Yatra is the proof. Wherever I go, people from all walks of life turn out in large numbers to shower their affection and blessings on me.
As far as the Congress is concerned, neither I nor the people see any rejuvenation. It is still divided into many groups, each trying to get their agendas through.
Every other day, you hear of their state in-charge getting beaten up by supporters of one or the other group.
I have even requested our home minister to speak with him and provide him additional security, if needed. I feel sorry for him.
There is significant infighting and the party unit is in complete disarray.
The past few years have been marked by scams, illegal mining, farmer suicides and agitations. This has tarnished the image of your party somewhat. Will this have any fallout on you or on your party's confidence?
The BJP is a cadre-based disciplined party. There is no question of any internal fallout; there has never been one.
We are united in the goal of creating a Congress-mukt Bharat. We are already there as they are present in only four states now.
When we talk of scams, I must mention that Vyapam scam, which was going on since Digvijayji's (then MP chief minister Digvijay Singh) time was brought to light by me. We should get credit for that.
We have banned all types of sand mining in all important rivers, and wherever there are legal mines, Panchayats have been entrusted with the responsibility of managing sand mining.
The only major issue farmers are facing today in MP is bumper production of crops and nothing else. We are always there for farmers.
The real farmer doesn't go out to agitate, most of the agitations are staged by the Opposition to disturb the peace of the state.
On one hand, Anand department has been constituted in the state, on the other, incidents of rape in the state have suddenly escalated in the recent days. Is this a problem of law and order? How do you perceive it?
We are the first state in India to constitute an Anand Department. We are laying emphasis on spreading happiness in the lives of people.
The incidents of rapes, be it in MP or anywhere else in the country have always disturbed me. It is my firm belief that perpetrators of such heinous crimes have no right to live in a civilised society.
MP became the first state in India to introduce capital punishment for rapists of minor girls up to 12 years of age, in December last year.
To get rid of this menace, society needs to look within and bring a behavioural change. We need to educate our children and teach them to discern right from wrong.
Make in Madhya Pradesh was announced right after the Make in India programme of the central government. What progress has been made in this direction?
A slew of projects have been initiated under the Make in Madhya Pradesh.
India's first small arms manufacturing unit has been set up in Malanpur in association with Israel. It's a joint venture between Israel Weapon Industries and Punj Lloyd and the first of its kind in India. We have created a defence production investment promotion policy.
Our rate of converting investment intentions into actual investment is much better than many other states.
What are the particular measures being undertaken by the state government to achieve headway in manufacturing and service sector?
A single window clearance system has been introduced in the state to facilitate and increase investment.
We are ranked seventh overall in India in the ease of doing business.
A conducive infrastructure has been created that includes good road and air connectivity, 24x7 power and water supply.
A slew of incentives is being provided to prospective investors. An industrial corridor -- the Chambal Expressway -- is being constructed that will give a fillip to trade and commerce including inter-state transfers. Our aim is to develop MP as a logistics hub.
Some time back, you had said, 'The roads of Madhya Pradesh are better than the ones in America'. But when we get out of big cities to the rural areas this doesn't really hold true...
I have been asked about this on several occasions and my answer is the same. I had gone to the US to market my state as a top destination for investments and industry.
I am, in a way, the CEO of the state representing 75 million people of the state. I made the statement as a CEO and I stand by what I said.
The approach road from Indore to airport is by far much better than the Washington, DC road.
Global investment summits were organised in the state with much fanfare. But the benefits don't show on the ground...
Global Investment is a lengthy process. Nothing can be built in a day. It requires continuous engagement with investors.
We have had a fair share of success. IT giants like Infosys and Tata Consultancy Services are also making their way into Madhya Pradesh.
Madhya Pradesh, which has been ranked seventh in terms of ease of doing business has received 16.4 per cent of total investment, which is second to Maharashtra in 2017.
We have already talked about small arms factory.
Also, there is no real data on the capital investment and the employment of the people in the state?
Industrial parks and special economic zones have been set up in the state and received good response. This would not have been possible without actual investments pouring in.
Ventures like small arms manufacturing unit in Malanpur, Rewa ultra mega solar etc have generated jobs in the state.
We have received 16 per cent of actual investments in 2017 in the country as per DIPP so that's the data part.
Today, self-employment is a big development across the country. Mudra loan has been given to more than 26.83 lakh people of Madhya Pradesh.
A few years ago, you spoke of Vision 2018. More than half of 2018 has ended and elections are looming large. What has happened to that vision?
Our vision 2018 included a three pronged approach:
1. Bringing MP out of the BIMARU club.
2. Making MP a developing state by building the necessary infra in place.
3. Making MP a developed state by attracting investments and promoting agriculture.
I am glad to share that we have achieved the objectives of Vision 2018.
We have started Jan Kalyan Yojana (Sambal) for the poor, downtrodden and the needy.
Under this scheme, pucca houses are being built for the poor. Free-of-cost education is being provided to their children and medical treatment up to Rs 500,000 is being provided.
We are hopeful of bringing a significant transformation in the lives of people through SAMBAL.
There is a peculiar paradox in the agriculture sector. On one hand, we can boast of agriculture development rate of more than 18 per cent and bagging the Krishi Karman award, whereas on the other hand, farmers are aggrieved.
According to NCRB, more than 11,000 farmers committed suicide in the last 9 to 10 years.
Farmer suicides is a serious issue. It can't be politicised or looked at in isolation.
When I assumed office, agriculture reported a negative growth rate. I realised that agriculture is the backbone of our economy, more than 2/3rd population is dependent upon it and we can't succeed without fixing agriculture.
We have increased the land under irrigation from 7.5 lakh hectares to 40 lakh hectares with plan to double it to 80 lakh hectares. The turnaround in agriculture in the state is a case study in itself.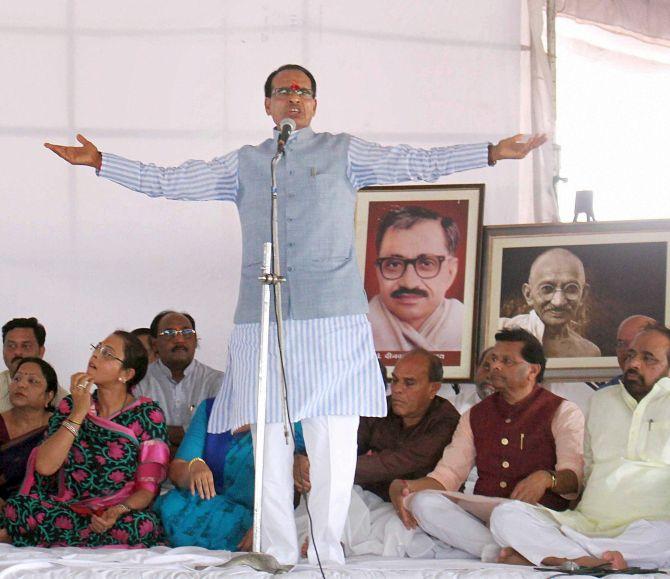 In the last few years, the government has announced several schemes. Sambal Scheme, Easy Electricity Bill absolution scheme, Krishak Samrudhi Yojna, Bhavantar Bhugtan Yojana.
Is the fiscal order of the government in such a good shape to withstand such monetary overload?
Yes, we are in proper shape to withstand any monetary overload of the schemes that have been rolled out. We have spent significant capital resources on building world class infrastructure in the state.
We are now past this phase and assets will just require maintenance as we go ahead freeing up resources for social welfare schemes.
The fiscal deficit in our budget for 2018-19 is within the prescribed 3.25 per cent limit of the Madhya Pradesh Fiscal Responsibility and Budget Management Act, 2005.
Your elder son Kartikeya Singh has been recently seen campaigning for the party. Is he going to join active politics in the coming elections?
Kartikeya is a young man and is free to pursue a career of his choice. He does help me like any other son would help his father and looks after my constituency development work; but the decision to join politics is entirely up to him. However, if he wants to do public service, he will have to go up the ladder.
Our party does not believe in dynasty politics and he will have to prove his mettle.