'Many were wearing three shirts, one on top of other.'
'Half of our time was spent in removing these clothes.'
Dr Ashok Sharma, who conducted the post-mortem on the 8 escaped prisoners slain by the Bhopal police, is mystified why they were 'wearing layers upon layers of clothes.'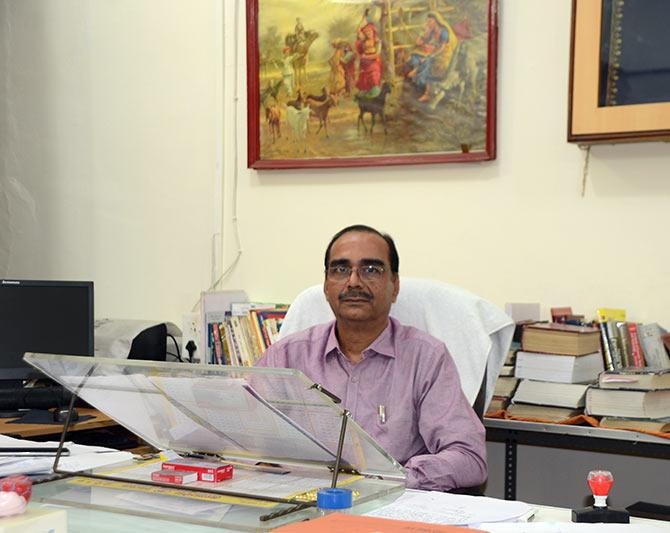 IMAGE: Dr Ashok Sharma, medico-legal head, Gandhi Medical College, Bhopal, was writing the post-mortem report that could throw some light on the cause of deaths and unearth other forensic details that can help prove if the encounter was fake or genui.
Photograph: Prasanna D Zore/Rediff.com
Dr Ashok Sharma, the medico-legal head of the Gandhi Medical College, Bhopal, who conducted the post-mortems of the eight escaped prisoners who were gunned down by the Bhopal police on October 31, speaks to Rediff.com's Prasanna D Zore about what he found during the post-mortems.
Why is a post-mortem conducted generally? What does it tell you about the death of the deceased?
We perform a post-mortem examination to help find out the identity of the deceased, the cause of death, the mode of death, the nature of death, and the duration of death.
Then there is a form given by the police in a prescribed format that asks for other information.
But a post-mortem is conducted for the reasons I mentioned above.
It is not necessarily to get all these parameters (mentioned in the form provided by the police), but we have to keep in mind all these things.
How long did it take you to complete the post mortem of these eight men?
We started (the post-mortem) at 4 pm or 4.30 pm (on October 31) and finished it (on all eight bodies) by 9 pm or 9.30 pm.
There were so many mosquitoes biting us (laughs).
According to your post-mortem report when did these eight men die? How many hours before the post-mortem started?
That is shown and possible only in Hindi films that you give the exact time of the death of a deceased person.
When in reality we can only give a broad range. The post-mortem was conducted within 24 hours of the death and that is what I can say.
You have only in films that a post-mortem report answers those issues that can, in reality, only be handled by a forensic expert or a team of such experts.
This is all based on science and we give the estimated time frame (of the death of a deceased) only when it is possible, which is not possible always.
In what condition were the bodies of these eight men brought to you?
Most of them were wearing layers of clothes.
Many were wearing three shirts, one on top of other.
Half of our time was spent in removing these clothes (laughs).
I am getting to see this (the deceased wearing layers upon layers of clothes) in this particular case, for whatever reasons they were wearing so many of these clothes.
What can you tell about the nature of the injuries on the bodies of these eight men?
That all the injuries were ante-mortem injuries, which means, the injuries took place before their deaths and not after their deaths.
And they were all gunshot injuries and I conducted the post-mortem within 24 hours of their deaths.
They have gunshot injuries on their abdomen, chest, shoulders, head, loin and upper thighs.
In four of them there were parts related to bullets like jackets, shells and covers.
In the other four the bullets could have pierced through the body and exited the other side or were deflected.
The gunshot injuries showed all ante-mortem reactions and so we can say that the injuries happened when these people were alive.
But there are videos that show a policeman firing into a body lying still on a rock?
I am a scientific man and I cannot comment on any such videos.
I am not afraid of anybody to speak the truth.
I am saying what my post-mortem is telling me.
We report the facts as science help us reach. We never do anything wrong (with post-mortem reports).
It may be a good question from your side, but being doctors we cannot speculate.
By when will you submit your final post-mortem report to the police?
We will provide (our final post-mortem) report as early as possible.
We are a part of the chain because there will be another report from the FSL (Forensic Science Laboratory, which works under the CID, Bhopal) and both the reports will have to be merged.
If there were just one body the final report wouldn't take much time. But since the post-mortem was conducted on eight bodies I will have to take my time.
Once I write something (in my report), I cannot change it because it is a (hand)-written document and I have to answer every commission (of inquiry) and every court regarding this (post mortem) report.
So, I will take my time.
Do you think the final post-mortem report will be ready in a month's time?
(I will do it) much earlier than that. (I will submit the report) within the next five to six days (this interview was conducted on the evening of November 3).