'Nobody knows what they teach in madrasas.'
'If we do not adapt to the ways of the modern world, how will we progress as a community?'
'How will these children compete in the modern world?'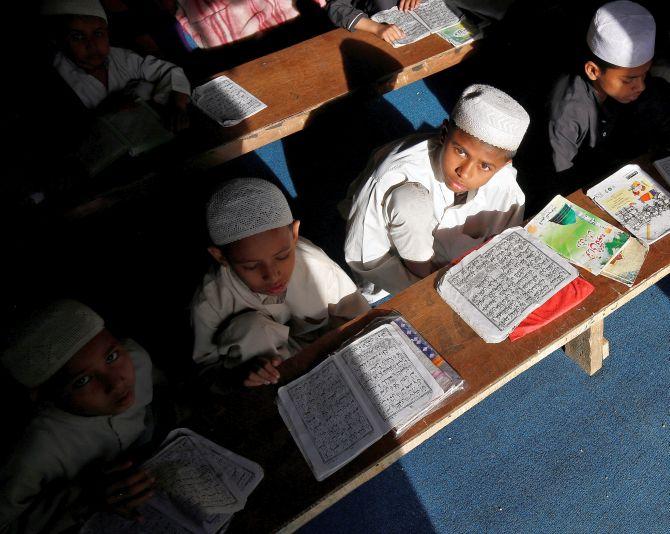 IMAGE: There are 19,000 registered madrasas in Uttar Pradesh and another 4,000 unregistered ones in the state.
Kindly note photograph only published for representational purposes. Photograph: Mukesh Gupta/Reuters
Uttar Pradesh Shia Central Waqf Board Chairman Syed Wasim Rizvi set off a controversy when he alleged that madrasas were creating more terrorists than civil servants.
Following his remark, effigies of Rizvi were burnt in UP. This week, the All India Faizan-e-Madina Council, a Bareilly, UP-based organisation, announced a 'reward' of Rs 1,000,786 for Rizvi's head.
"I raised 27 points in my reports about teachings in madrasas, but only one point -- the terror angle -- was highlighted," Rizvi tells Rediff.com's Syed Firdaus Ashraf.
What made you say what you did about madrasas?
Actually, I was saying that convent education must be made compulsory in madrasas.
The condition of the madrasas being run in rural UP is very poor. They are run out of small rooms and the level of education is very low.
How will the children who are taught in these madrasas cope in life with this poor quality of education? I was concerned. Therefore, I highlighted this issue.
But what came out of my statement was the fact that in West Bengal there are 58 madrasas which are linked to jihadi groups. Those madrasas were training people to make bombs.
I am not wrong. Google it and you will find the list.
In Kerala too, there are some madrasas which were found to have terror links.
Therefore, I raised these points so that these madrasas must be affiliated to the CBSE (Central Board of Secondary Education or the ICSE (Indian Certificate of Secondary Education) board or state government boards.
If they do that, then the certificates of madrasas will have value too.
I want Islamic teachings to continue in madrasas and I am not opposing it.
I only want the students to get modern education too so that they will become better mullahs after passing out from madrasas.
If they are only taught Islamic teachings and not modern education, their future is in danger.
The Sachar Committee report in 2006 says that four per cent of (Muslim) children study in madrasas and today that number has increased to 10 per cent.
Mullahs have made these madrasas into chanda (donation) collecting shops. They hand out (fake) receipts.
They are doing business and spoiling the future of young Muslim children.
If you want to make profits, please do so, but at least give them such training so that these young Muslim children when they grow up are able to finance and support themselves and their parents.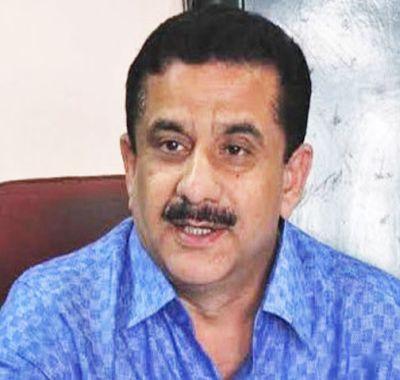 IMAGE: Uttar Pradesh Shia Central Waqf Board Chairman Syed Wasim Rizvi.
What is taught in madrasas? Who decides that?
At four places -- Uttar Pradesh, West Bengal, Bihar and Odisha -- there are madrasa boards. In other places there are no madrasa boards.
At these places, madrasas are registered, but the rules are so bad that if you have a room of 10 feet, you can start a madrasa.
Such madrasas don't have blackboards, chairs, tables or any other facilities. There are no toilets nor playgrounds.
So you tell me, when these children grow up, what future will they have? Their future is in danger.
I have raised very valid points, but then the whole issue got diverted to the fact that I am saying madrasas are training terrorists. I was not saying that about all madrasas.
If you cite a report that 58 madrasa have terror links, you must have some figures about the number of terrorists arrested from these madrasas.
I have a printout about all these stories. I am not wrong.
There were raids at these madrasas. You search it and you will get the facts.
What do you plan to do about this issue in UP?
I want the madrasa boards to stop functioning.
The madrasas must get affiliated to either the CBSE or ICSE board.
How many madrasas are in UP at this moment?
There are 19,000 madrasas in UP -- that too registered madrasas. I feel another 4,000 unregistered madrasas are running.
What grants do these 19,000 madrasas get from the government?
They get the teachers' salaries and other aid.
Therefore, I am saying that these people are taking money from the government and putting the future of innocent children in danger.
They take donations from private people for which there is no accountability.
You go to any madrasa and you will find that children are just mugging up by nodding their heads. This is bad.
If we do not adapt to the ways of the modern world, how will we progress as a community?
How will these children compete in the modern world?
How many students study at a time at one madrasa?
At least 100 students are present in a madrasa at a time. Most of them are in rural areas. Just go and check what pathetic kind of education is being taught to them.
There is an accusation that you are a Shia Muslim and since most of these madrasas are run by Sunni Muslim groups you are targeting them.
You must feel pain for everyone.
When I raise these issues they point to my sub-sect, but the fact is that (education of) young innocent Muslims is everyone's responsibility.
I raised 27 points in my reports about teachings in madrasas, but only one point -- the terror angle -- was highlighted.
No terror links have been linked to madrasas in UP.
There is one secret (intelligence) report that madrasas situated in the border areas carry out unlawful activities.
In Lucknow, very recently, a girls' madrasa was caught in a sexual exploitation scandal.
In 2007, there was a serial blast in Lucknow and a madrasa student was caught in the terror act.
No terrorist has been caught directly from UP madrasas, but I have raised my question on the education system in madrasas rather than terrorism.
Why did you create this report highlighting what needs to be done to improve madrasas?
I am the chairman of the Waqf board and therefore I had to make this report.
When I went to rural areas and saw the conditions of madrasas I was deeply saddened.
Take one example: The biggest madrasa is in Nadwa near Lucknow. You will not get the syllabus of Nadwa (madrasa) in any bookshop.
Why?
Nobody knows what they teach in madrasas.
No one knows what the students are learning at that Nadwa institute.
On the other hand, go to any school bookshop and you will get textbooks of any standard of any medium.
Only students and teachers of madrasas know what they are learning.
The madrasa teachers do not want to tell the world what they are teaching.
When I asked them, they say they are teaching physics, chemistry and computers, but when I asked where are the textbooks, I did not get the textbooks.
As the Waqf board chairman, it is your right to demand textbooks from teachers at madrasas. Why didn't they show it to you?
They didn't show it. I asked many times, but nobody gave me the textbooks.
On the contrary, they are twisting my statement on terrorism. They are trying to divert attention from the real issue.
I have now written to the prime minister that a common education policy must be made in which a curriculum must be given to these madrasas.