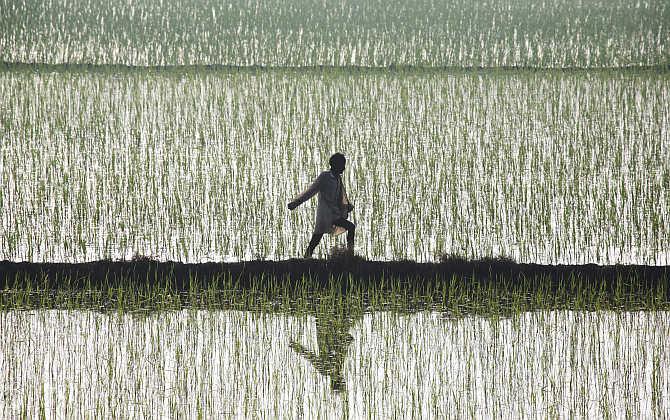 'In North India, brother kills brother for a small piece of land. So if the perception goes that the government has come to snatch away land, then the issue can go to any extent.'
Satpal Malik, below, left, has been fighting for farmers' causes in northern India for the last two decades. A Socialist at heart, he was a minister in the V P Singh government and joined the Bharatiya Janata Party in 2004, long after the Jan Morcha experiment failed and the Congress started shrinking in north India.
A leader in the classical mould with old value systems, Malik was recently appointed to head the committee to look into farmers' woes by BJP President Amit Shah. For three days at New Delhi's Constitution Club he met farmers who had come from all over India.
While Arun Jaitley and Nitin Gadkari were using their persuasive skills in Parliament in support of the land acquisition bill, Malik was facing farmers' ire. Almost all of them were vociferous against the proposed bill. One member of Malik's committee, Gopal Agarwal, said the farmers were not, in principle, against land acquisition, but they have many other issues.
Malik will now prepare a report for Shah who will take the recommendations to Prime Minister Narendra Modi.
The battle for farmers's land is a battle like none other. Everything counts and even a little effort, like what Malik put in, will make a difference.
In an interview to Sheela Bhatt/Rediff.com, Malik says his party and the government should not make the land bill a prestige issue.
Can you tell us more about the assignment entrusted to you by Amit Shah?
We were given the job to solicit the opinion of farmers and agri-organisations about the proposed amendments to the land bill. We are not giving our opinion.
In some cases there are some misunderstandings that we do clear. But, by and large, we are just listening to the farmers. In one-and-a-half days we met around 300 people.
Farmers from South India and Rajasthan have come, there were farmers who are agitating in Noida. Jat farmers from Haryana. Many kisan unions have come. RSS(Rashtriya Swayamsevak Sangh)-affiliated kisan unions have given their concerns in writing to us. All kinds of farmers's activists are meeting us.
On Sunday (March 1) we will submit our report based on their feedback.
What response are they conveying to you?
Most of the farmers disagree on various points. But on certain points, there is little disagreement. By doing certain small things these issues can be sorted out.
Don't you think the land bill has given an issue on a platter to the Opposition?
Because the Opposition has no programme of its own! Land is an important issue for farmers. And, if you just do wrong propaganda, you can arouse them.
In much of the cases they are telling lies to the people and they are getting a good response. That's why we thought we should go to the people and get their opinion.
Will you suggest what kind of tweaking can be done in the land bill?
Yes, we will. We will suggest these are the points that hurt farmers the most. These are the points where they are ready to listen to the government. Then, let the party decide.
One of the complaints pertains to the consent of 70 per cent farmers to be taken before land acquisition. They find it too little.
Previously, it was 80 per cent, now it is 70. You make it 75 per cent, or even 80 per cent, doesn't actually make a big difference.
What about the absence of a clause to study the social impact in many categories?
This is important. We have not done away with it. We have to study the social impact issue.
How much potential does the land issue have?
The Mahabharat was fought on the issue of land. It is a very important issue in India. It can go the full extent if we mishandle it.
Especially in North India, brother kills brother for a small piece of land. So, if the perception goes that the government has come to snatch away land, then the issue can go to any extent.
How confident are you that it won't happen?
It is very easy (to manage perceptions in favour of the government). It is a matter of a day. Don't make anything a prestige issue for you.
Tell (the worried farmers) we thought these changes are for your good. But if you are reacting so violently about it, then okay, we will listen to you.
What is wrong? In democracy you have to listen to the people.
Prime Minister Narendra Modi has ruled out making any changes in the land bill at the meeting of the BJP parliamentary party. Finance Minister Arun Jaitley gave a strong speech in the Rajya Sabha.
Pandit Jawaharlal Nehru apologised the most in the Lok Sabha. A great man is a person who accepts his follies and not someone who sticks to his attitude!
My party listens to everybody. If it was not so, then why this exercise? Why this committee? We are ready to listen to find out some ways.
This attempt to change the law is to make it easier for the State to acquire land. It was done in British times, why do it in a democracy?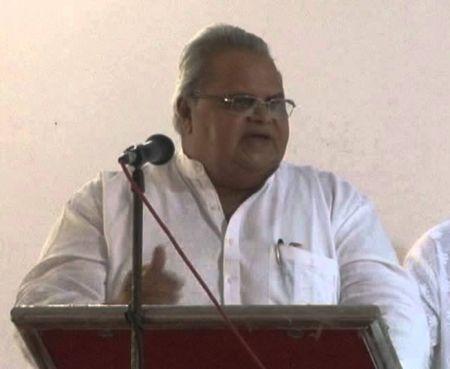 In some cases the government wasn't getting land for a genuine cause since a mischievous person could stall the process.
Let me tell you when the highway to reach Muzaffarnagar was being built the contractor sub-let his contract.
That guy was having a cash crunch, but he wasn't ready to let go of the business. So, he provoked farmers to take a stay order from the courts. For five years, the highway work could not progress.
Development can't be stalled by such means.
Don't you think the land bill is a real landmine you are stepping on?
It is a dangerous thing. We have to handle it very carefully. Whatever information I have gathered (from farmers), I can say that Jaitleyji and Modiji are intelligent enough to understand what it (the land issue) is.
What is the most common woe of farmers?
When the bill was passed in 2013 most of the solutions were from the BJP. So, the farmers are asking, what happened? Why are you changing it?
So there are doubts in farmers's minds. We have to tell them, 'Look, this is for you. We are doing it for your benefit. If you don't want, then we will say fine. Let us talk.' At some point of time they can come to the point.
What will happen on the political ground?
Some exercise, left and right, will be done and the issue will be resolved.
Meaning some changes?
Yes, some changes. Some suggestions will be accepted.
What is your own view on the land bill?
It can be sorted out. It is not as difficult as people think. If the people doubt our intentions we should modify.
Why is this land bill good for farmers?
It is good for farmers because it has the vision to take industry to the rural areas, also infrastructure. It will develop our country very fast.
The country can no more remain static. Ultimately, the benefits will go to the farmers only.
It has happened in Gujarat. It has happened in the NCR (National Capital Region.
What is wrong if farmers enjoy modern facilities?