That it's the day his daughter was brutalised, raped and died as a result of her horrific injuries does not weigh heavily on Badrinath Singh.
'We remember her every single day. In fact, we try not to think of her today, of what happened to her today,' he says.
The young woman, who would have turned 26 this year, was gang-raped by six men in a moving bus on December 16, 2012.
Of the six, one died in jail and four others were handed the death sentence by the high court; their appeal with the Supreme Court is pending.
The fifth convict, who was six months short of 18 years when he raped the young woman, is scheduled to be released on December 20 unless the Delhi high court intervenes.
The Centre had on December 13 asked the court to extend the juvenile's custody in the remand home, saying several mandatory aspects were missing from the post-release rehabilitation plan which needed to be considered before setting him free.
The Centre's observations came after Badrinath Singh and his wife, Asha Devi, repeatedly asked the government not to release the juvenile, saying he was a threat to the society.
Singh tells Swarupa Dutt/Rediff.com why his daughter will not find peace.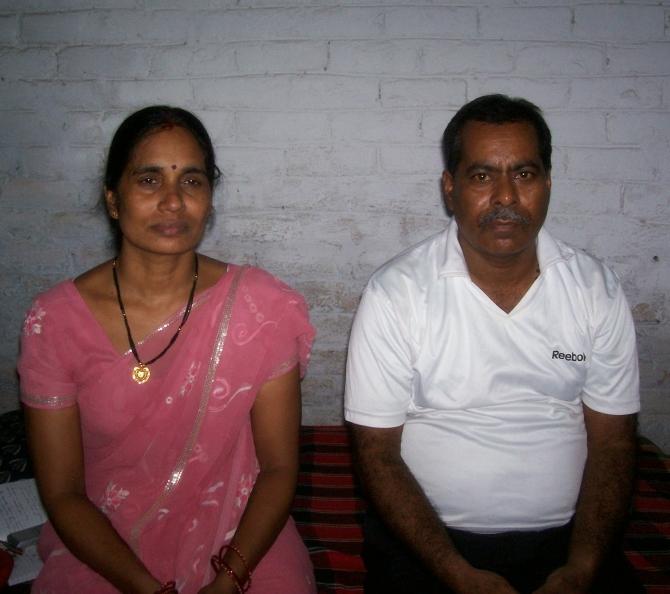 Should the juvenile rapist's custody be extended? Do you think the government will release him?
The juvenile should never be released. And if he is released, the government should make sure that his face is shown to the public, so that people can be careful. Will people remember his face if they see him up close? I don't think so.
So, it's best he remains in custody. He is a threat to society. The high court has given the government time until December 20 to decide. Let's see what happens. I don't think the government will release him.
Will you approach the Supreme Court if the juvenile is released?
We had appealed the court's decision to not grant the death penalty to the juvenile, but nothing happened. He is dangerous to society and if he is released, it's a slap on the face of all those who have survived rape and bravely moved on.
You don't believe in second chances?
Usne chori thodi kiya hai ki use dubara chance diya jaye? (It isn't as if he robbed someone that he should be given another chance). He has committed such a grievous crime that he doesn't deserve a second chance.
Who are we to forgive him and say, use dubara chance dena chahiye (he should be given another chance). Not even God can forgive him for what he did. And he has been given a chance at reforming himself at the remand home, but he did not change.
That man cannot be reformed. He has no regrets about what he did. In fact, as everyone knows, he has been radicalised inside the remand home. He has become a jihadi.
He is a threat to society in every possible manner, so why release him? He will make a living on the one hand and murder people on the other, if he is thrown back into society.
The juvenile is believed to be the most brutal among all the men. Is that why you feel he deserves the death sentence?
Look, all of them were equally brutal. There is nothing like he was more brutal or the others less. Sab ke sab ek hi hain. Sabne crime kiya hai. (They are all the same. All of them committed a crime).
If the other four rapists have been given the death sentence, so should the juvenile.
If there is no legal provision to hold him back in custody, the government should enact a law. Infants, two-year-old girls are being raped; isn't it time the government enacted stronger laws?
You had told Rediff.com in an earlier interview that you will not rest till all the five men are hanged.
And I haven't. I am doing everything possible to ensure my daughter gets justice.
Have three years helped you learn to live without your daughter?
Arre nahin nahin. Humein jeena sikhne ki kahan se zaroorat padh gayi? Aur kahan sikhne jayenge? Humein toh ladne ki zaroorat hai, ladna sikhna padega (No. Since when do we have to learn to live? And where will we go and learn? We need to fight. We have to learn to fight).
This much I will tell you; the fault lies wholly with the government, not with anyone else.
Which government is at fault? The Congress government in 2012 or the Aam Aadmi Party government now?
Arre, what is the difference between the government then and now? There have been hundreds of rapes since, maybe thousands. Children, aged two, or five or four, are being raped. Maybe the situation is even worse now.
Do you hope, believe, that one day you will find peace, you will heal?
It's this way, a wound can never heal. It's like a cancer, it's eating away at us. We have not got justice yet, how will we heal?
And justice is?
All the five (rapists) should hang. That's justice.
IMAGE: Badrinath Singh and his wife Asha Devi, parents of the Delhi gang-rape victim. Photograph: Swarupa Dutt/Rediff.com