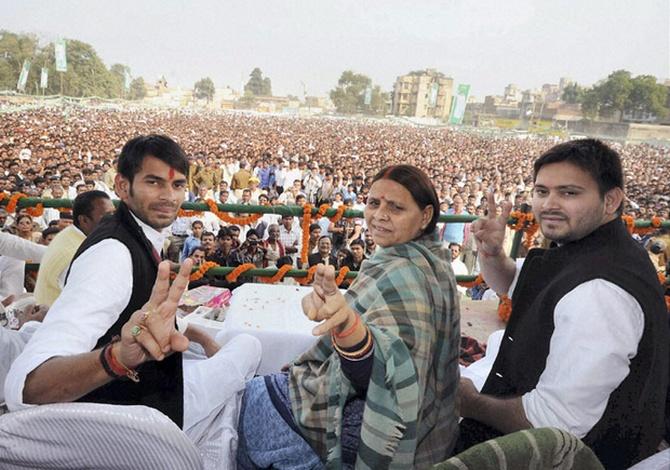 'If Lalu puts his son's career ahead of the coalition's interest, this coalition will fare very badly.'
'Lalu will ultimately want that his son becomes deputy chief minister, but if he's prepared to wait for some time, nothing bad will happen for the coalition,' Professor Prabhat Ghosh, Director, Asian Development Research Institute, a leading think-tank in Patna, tells Archana Masih/Rediff.com
What went against the BJP (the Bharatiya Janata Party) in Bihar where it had staked so much?
The BJP did a mistake by not declaring its chief ministerial candidate. The most obvious choice would have been Sushil Modi. He is from a backward caste and has a very good record as deputy chief minister-cum-finance minister. He is articulate and competent. That was a wrong calculation. That ambiguity turned out to be a costly one for them.
Secondly, in the fourth and fifth phase, the NDA (the BJP-led National Democratic Alliance) played the worse card it had. The Muslim card. This card is not going to be very effective in a place like Bihar.
How did Bihar withstand this attempt to polarise it on the basis of religion?
We have no such history. There may have been a couple of riots, but the general animosity between the two sections does not have a political reflection.
I know many Hindus may be feeling strongly against Muslims and many Muslims may not feel comfortable in the case of Hindus, but it is not reflected in electoral politics.
Unfortunately, this Hindu-Muslim divide is reflecting in West Bengal politics. This wasn't there before. It is a recent phenomenon. The Hindu-Muslim divide is much stronger in UP, but not in Bihar.
That remark that that if the RJD (Rashtriya Janata Dal) wins there will be celebrations in Pakistan was a very bad one and then the beef remark on the last day of the campaign was a negative one and they also got an FIR (First Information Report) by the Election Commission.
If the BJP had concentrated its campaign on lines other than communal, probably they would have done better.
Bihar and UP are seen as the two politically important states of the Hindi heartland, but Bihar has proved once again that is very different from UP, isn't it?
First, let me tell you what is common between Bihar and UP.
In any state, the castes and class of people from where you get political leaders is the same.
In West Bengal, there is a very tough battle between the Trinamool, the CPI-M (the Communist party of India-Marxist) and Congress, but the families from which you get a Trinamool leader is also the one from where you get a CPI-M leader or a Congress leader. Of course, caste does not matter in West Bengal politics fortunately.
In Maharashtra, in the last 20, 25 years, no new caste or class has emerged as a new claimant of power. This is not the case in UP or Bihar.
In UP and Bihar, the middle caste, the Yadavs, is most important and has emerged as the claimant of power and in both these cases has dislodged the hegemony of the Brahmins and the upper castes.
About 20 years back, almost every second leader in UP used to be a Brahmin. In Bihar, it was either a Brahmin or a Bhumihar, the other forward caste. That dominance is no longer there.
In UP, the four forces -- the BJP, SP (Samajwadi Party), BSP (the Bahujan Samaj Party) and Congress -- they are still fighting alone. In Bihar also they were doing the same for the last 15, 20 years.
In this election, the so-called emerging castes and the so-called entrenched caste decided to make two coalitions. One was the traditional elite which was a broad coalition and the second was led by the emerging elite, the Yadavs.
In these two cases, the politics is far more contested than in other places.
Now that Lalu Yadav has more seats, it already indicates that it is not going to be an easy ride for Nitish Kumar.
It all depends on the political wisdom that Lalu displays. Lalu's personal career is finished.
If he puts the agenda of his son's career ahead of the coalition's interest, this coalition will fare very badly.
Lalu will ultimately want that his son becomes deputy chief minister, but if he's prepared to wait for some time, nothing bad will happen for the coalition.
How long does Lalu need to rein his ambition?
At least five years. None of his sons should become ministers in this cabinet. Both are not even 30 years of age and first time MLAs.
If Lalu extracts a price for his support, then it will be very difficult.
When Nitish came to power for the first time, one thing everyone started talking about in one month, was improvement in law and order. That sense of peace is very important.
Growth and development is, of course, very important but you don't feel it every day but absence of law and order is something you can feel every day.
There has always been concern about Nitish Kumar's ability to handle Lalu Yadav. The BJP has said that Lalu's return will herald the return to 'jungle raj' in Bihar.
If the NDA has 37% of the vote, 17% of that vote is of the backward and extremely backward castes. This 17% are the natural allies of the Mahagatbandhan, but they left Lalu fearing that if the Mahagatbandhan wins, it will be back to 'jungle raj.'
But a majority has stayed with them hoping that good sense will prevail upon Lalu and he will not make a mistake like the last time.
Who is the Mahanayak of this election? Lalu or Nitish?
Lalu.
In the 2014 Lok Sabha election when everyone was washed out in the BJP wave, Lalu's vote share was 20%. Lalu was not in power. He had just been convicted. It was the worst year of his political career, but still he got 20% of the vote.
Nitish Kumar was at the helm of his political career and got 15% of the vote.
A man who is capable of getting 20% of the vote in his worst of days has got psychological bonding with certain sections of the people. They will criticise him, but will not cease to support him.
Lalu has a solid and long time political base. That is something Nitish doesn't have.
What will Nitish Kumar Version 3 be like?
It will be a continuation of Version 2, but his authority will be slightly less. He will have to listen to Lalu -- that he cannot avoid.
I hope Lalu will be slightly more wise this time and keeps his narrow political interest subdued for some time.
What does this mean for Narendra Modi?
He will find it very difficult. The winter session of Parliament is going to start and even now they haven't decided for how many days the session will continue. They had thought if they win, they would have a long session, now that they are discredited and crestfallen, it will be a short parliamentary session.
How much of the Modi sheen has worn off?
Considerably. Now he has nothing to show. The honeymoon with Modi is over. The next election is in West Bengal, that he is not going win. Then Odisha, which again won't be exceptionally good, but, of course, their presence is much better there.
I think they will have to wait for MP and Rajasthan before 2019. Modi's political capital is much, much, depleted now.
Are you surprised with the result?
It was predicted to be a close fight, but it turned out to be the opposite. 90 per cent of Bihar is rural and from Patna you may not know what 90 per cent of Bihar is thinking.
What was the real issue in this election?
The BJP said it was fighting on the issue of development. Development was not the issue. An issue becomes an electoral issue when on that particular question, the competing parties have a different view.
Development is a compulsion for whatever party that comes to power because in the last 10 years, Bihar has seen high development rates.
What the fight was for was who should lead this agenda for development.
At the national election it was Narendra Modi versus Sonia Gandhi. In Bihar, of course, there are leaders -- Lalu is a high standing leader. He is talked about and discussed even when he is not in power. That is the test of leadership.
You are a leader only when you are discussed when not in power.
I am not sure if Nitish Kumar enjoys that status or not, or anyone else in the BJP.
Who were the voters that the BJP was banking in Bihar's caste-based voting pattern?
For the BJP, the voting coalition's most important component was the forward castes. It is a party of the forward castes. Muslims are completely out of this.
The BJP was hoping that the scheduled castes would side with them and they had Ram Vilas Paswan and Jitan Ram Manjhi in their coalition.
They also gave a number of tickets to candidates from the backward castes. So the BJP was sure that the forward castes would stay with it.
They were sure that Muslims were not with it. It was hopeful that the scheduled castes would be with it and it was trying to woo the backwards and extremely backwards.
And the Mahagatbandhan?
They were sure that the forward castes would not vote for them. They were also sure that Muslims would vote for them. About the backwards, extremely backwards and scheduled castes -- they did not get 100% of the votes of the backward castes, but the largest share has voted for them.
The most difficult to predict were the extremely backward castes.
And they have always been difficult to predict.
They have always been difficult because they do not have the share of power that the Yadavs have got in the past. They do not decide where to go. The Yadavs have tasted power and gained some economic advantage, so it is much easier for them to make the choice.
Most interestingly, the scheduled castes have not voted for the NDA.
What is it that the Mahagatbandhan did right that helped them reap such rich benefits?
First of all, they ensured that there should be no separation of votes. I think the NDA's vote share is 36%, 37%; the Mahagatbandhan's vote share is 43%, which means that 20%, 21% votes have gone to others who knew fully well that they would not be in the power structure.
Their number of seats is only 7 which is only 3% of the seats -- so 20% of the vote and 3% of the seats means that 17% of the votes were cast for people knowing fully well that they would not be part of the power structure.
Secondly, they said clearly that even if the RJD gets more seats, Nitish would be the chief minister. So people had a clear message about the character of the Gatbandhan.
In case of the NDA coalition, they did not know who will be the leader.
IMAGE: Tej Pratap, left, and Tejaswi Yadav flank their mother Rabri Devi.