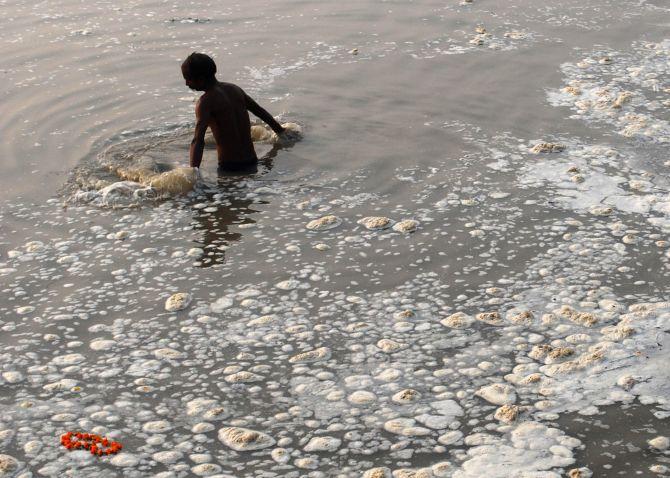 'One per cent of wealthy people have been handed over 99 per cent of our nation's resources. The rest are mute, helpless and very frightened spectators to this loot.'
'More forests have been axed in the last 19 months than in the entire history of post-independent India.'
"The government is only interested in working with contractors. It does not work for the benefit of the people. It is a government whose only purpose is to help a handful of corporate houses," says Rajender Singh.
The eminent water conservationist, below, left, in conversation with Rashme Sehgal.
The unprecedented drought across our northern, central and western states has caused distress to millions of farmers.
India is facing an unprecedented drought across several states that include Madhya Pradesh, and a large swathe of Maharashtra, Karnataka and Andhra Pradesh. Neither the central nor state governments have come up with any long term plan to tackle this situation. This is something we should have highlighted at the Paris meet.
What is especially tragic is that traditionally, over the centuries, we in India have developed an expertise to manage drought and had also developed an expertise on how to manage floods. Both are the same sides of one coin.
These traditional, community-driven, time-tested models on how to handle drought as also our water resources helped ensure that our rivers, lakes, wetlands and other water bodies remained intact over the centuries.
It is these areas of expertise that we should have promoted at the Paris meet. We were gurus in protecting wildlife and nature. Other countries could have learnt this knowledge from us.
But at Paris, the only green technology being promoted was technology related to energy efficiency whereas our traditional water management systems were not showcased at all.
The only people assisting our official delegation were corporates and consultants. How do they represent the view point of millions of Indians?
Are you saying India missed an opportunity to become a rallying point for other nations?
Of course. We know how to use our water sources just as we know how to extract water, and through the centuries, have used this technology in the most effective manner without depleting our resources.
Let me cite an example. Prince Charles approached me last year to help provide solutions for the flooding of the Thames river in the United Kingdom. I went there to make an on-the-spot assessment. I provided him with a traditional Indian solution where the flow of the river was slowed down by the construction of small barrages at the places where the river meandered. I provided them with a typical Indian solution which the UK government has happily accepted.
Now I am invited there once every three times to monitor the river flow. There are hundreds of Indians who possess similar expertise. Why is the government not using their skills and knowledge?
Instead, all our water bodies -- whether our rivers or our tanks, ponds and wells -- are all facing major encroachments. We are also plagued with the problem of over extraction.
Our present educational system has come up with a breed of students who are taught subjects such as soil, climate and water uses without understanding that these are evolutionary resources that are irreplaceable.
Please understand that all our underground and surface aquifers are exhausted and we have no water sources left in our villages.
This in turn has resulted in huge levels of migration which in turn is causing huge social upheaval.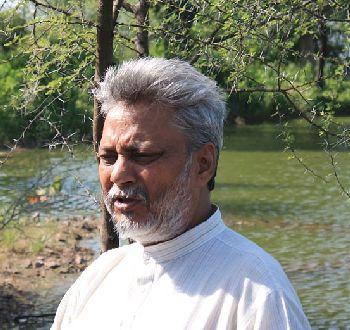 Are you saying we should go back to our indigenous systems to conserve water?
Our indigenous knowledge systems followed a decentralised and holistic approach. Everything was looked at in its totality. We were part of nature.
Unfortunately, this world view to live in harmony with nature has been lost. And as we lose our underground aquifers and extract more and more water, we must realise that the patient has become very sick.
Prime Minister Narendra Modi spoke about the Ganga being his mother. I would like to point out to him that his 'mother Ganga' is in ICU (intensive care unit and the son is not doing anything for her.
The drought situation is so intense that farmers are committing suicides across all our states because no alternative sources of water are being made available to them.
I was recently invited to Turkey where I was invited for a United Nations conference on how to combat desertification where I was the keynote speaker. It was attended by ministers of 190 countries, but out environment minister was not present.
I told this audience that if the relationship between water and soil is forgotten and there is no water in the soil, the soil will establish its relationship with air and the air will move this dry soil to create a desert.
It is therefore imperative to establish a relationship between the soil, moisture and air and I gave them the examples of how I had helped rejuvenate seven rivers in Rajasthan.
From there I went to Israel to see how the government is using their water resources. In Israel, water has been placed in different categories. C class water is used to grow grains, B class water is used to grow fruits while A class water is used for growing vegetables and for drinking purposes.
In India, A class water is being used to grow sugarcane. Ninety per cent of the water of the Ganga is being used to grow sugarcane. This is criminal.
By now, the government should have initiated major steps to change our agricultural crop patterns. With our rain patterns becoming more erratic, the thrust should have been on growing drought resistant crops.
I am a firm votary of the fact that the present centralised water management system in our country has proved to be a disaster.
The control of water must be handed over to communities and it has to become decentralised or we will face a water famine throughout the country.
Countries which waste water will suffer. After winning the Stockholm Prize for water this year, I undertook a padyatra around the Los Angeles area in California which is facing drought. I was invited by the former Red Indian community now referred to as a reserved community to help them overcome their water crisis.
Earlier, 25,000 reserved Indians used to live around the Owens lake area whose water used to feed Los Angeles and other cities in California. Today, their numbers are down to 2,000. The Owens lake has dried up and the government there has spent a whopping $120 billion to spread a network of roads across this Owens lake in order to bring down dust pollution levels.
Can you imagine such an expensive remedy? All I can say is that the Americans are the spoilt race of God.
You are being invited across the world to provide water solutions. Why is the Indian government not using your services?
The Indian government is only interested in working with contractors. It does not work for the benefit of the people. Rather, it is a government whose only purpose is to help a handful of corporate houses.
Let me warn you that one per cent of the wealthy people have been handed over 99 per cent of our nation's resources. There is a small fraction of the population, I would put it at five per cent, who are helping to enrich this wealthy one per cent.
The remaining 94 per cent of the people are mute, helpless and very frightened spectators to this loot.
The few who had raised their voices in the past -- whether it be NGOs or members of civil society -- have been silenced.
A very calculated strategy is being enacted by this government. I am not afraid to speak out. What is the most they can do to me? Kill me?
What is sad is that what I and other activists say has no impact on the government. If a government were to listen to us, more people will speak out.
Unfortunately, the present regime is deaf to our pleas, not realising that the situation in terms of the environment has become critical.
Is your criticism related to all aspects of our environment?
The last 10, 15 years have been a watershed for us. Activities which should have been key such as nature rejuvenation, pasture rejuvenation, jungle rejuvenation have all been stopped.
Watershed projects which were community driven have been dismantled and water management has been given to the irrigation department which is run by contractors who understand nothing about water.
The most criminal action relates to the irreversible losses taking place of our forests.
The present government has given collectors the right to hand over some forest land for 'development' projects while state governments can decided to green signal the axing of more forest land while larger areas will be cleared by the central government.
More forests have been axed in the last 19 months than in the entire history of post-independent India.
IMAGE: A devotee takes a dip in the Sangam, the confluence of the Ganga, Yamuna and Saraswati in Allahabad. Photograph: Jitendra Prakash/Reuters.
Rajender Singh's image: Kind courtesy: Abhinav619/Wikimedia commons