'While Kejriwal has lost his credibility due to his failure in Delhi, Captain Amarinder Singh is dancing on the tune of his image managers.'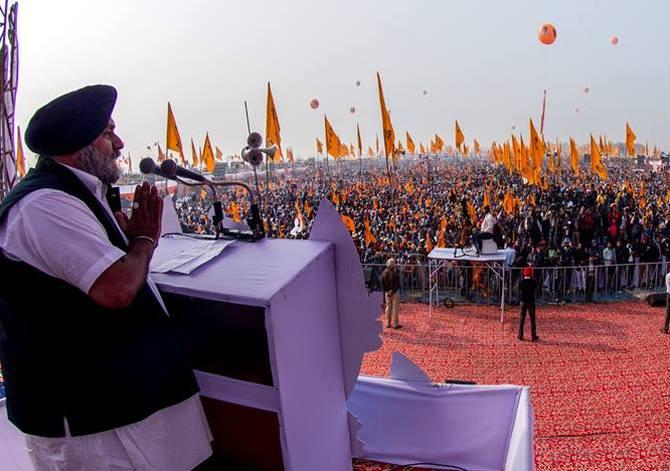 IMAGE: Punjab Deputy Chief Minister Sukhbir Singh Badal at an election rally, December 8. Photograph: Kind courtesy Sukhbir Singh Badal/Facebook
Sukhbir Singh Badal, Punjab's deputy chief minister, lashes out at his political opponents from the Congress and Aam Aadmi Party in this e-mail interview with Rediff.com's Prasanna D Zore.
Demonetisation doesn't seem to have resulted in any poll reverses for the SAD-BJP (Shiromani Akali Dal-Bharatiya Janata Party) combine, the sweep of Chandigarh municipal elections being the case in point...
The BJP-SAD alliance victory in elections to the Chandigarh municipal elections is a slap in the face of those who want to belittle the steps taken by Prime Minister Narendra Modi against black money and terrorism.
It's also proof that the Indian voter is ready to reward good governance and is a true barometer of the widespread support the government enjoys among the aam aadmi.
Between the AAP and Congress, who do you consider your bigger rival?
We don't feel there is any competition.
The Shiromani Akali Dal is a people's party. This is the party of Punjab. We have worked tirelessly for last the nine years.
It's only due to our commitment to the development of state and welfare of its people that Punjabis chose us twice.
We are confident of a third win too.
Our rivals, including the Congress and AAP, have no agenda and are both indulging in political stunts only.
Politically too we have distributed our tickets and have kick-started our campaign.
The Congress on the other hand is accepting all the rejected leaders of the Akali Dal and is working more like a waste management company.
The Congress is badly split into factions and different factions would defeat one another.
The less said about AAP, the better.
All its leaders are abandoning the party which has given tickets to criminal elements.
Even their convenor, Arvind Kejriwal, is being booted by his own party men during his visits to Punjab.
With AAP joining the Punjab fray this assembly election the state will for the first time witness a triangular contest.
Who do you think has the advantage in this triangular contest?
I do not perceive this as a triangular contest.
AAP is not in the race and it will be a direct contest with the Congress.
AAP is not a party, but a movement created over undue hype.
With the AAP bubble getting burst, they are going to get buried under the weight of their own contradictions very soon.
AAP will fail to open its account in Delhi if elections are held there tomorrow.
Who are you more afraid of? Captain Amarinder Singh or Arvind Kejriwal?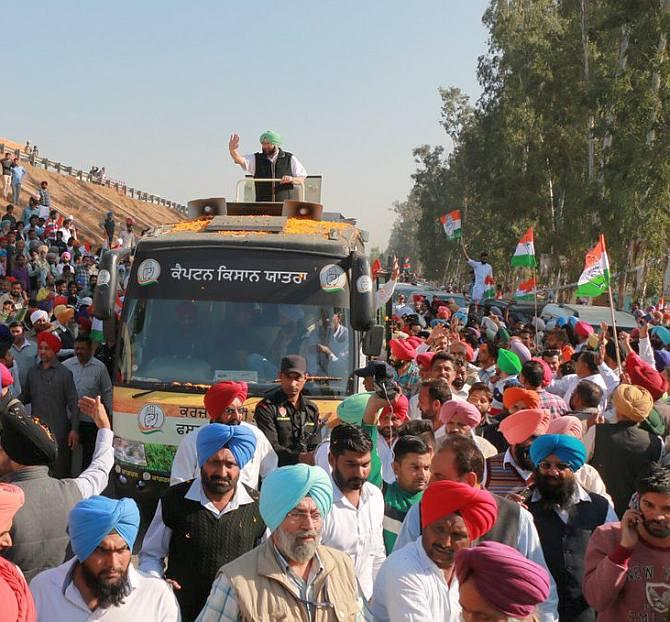 IMAGE: 'Glimpses from roadshow at Sangrur. The mood of the people is clear,' tweeted Captain Amarinder Singh, the Congress leader, November 27 about this photograph. Kind Courtesy: Captain Amarinder Singh/Twitter
None!
Undeterred by the nefarious agenda of our opponents, the Shiromani Akali Dal has been tirelessly working for the welfare of Punjab for the past one decade.
We delivered what all we had promised.
A slew of initiatives undertaken by the SAD-BJP-led government has put Punjab on a growth trajectory.
Poised to be the number one state in the country, Punjab is also one of the most peaceful, harmonious and socially equitable states in the country.
While Kejriwal has lost his credibility due to his failure in Delhi and his U-turn on the crucial matter of SYL (Sutlej Yamuna Link Canal), Captain (former Congress chief minister Amarinder Singh) is dancing on the tune of his image managers.
He first promised to waive off the loans of the farmers and then went to the prime minister begging for the waiver.
The Congress track record shows that they are incapable of generating revenues for the state.
In this scenario, how is Captain Amarinder Singh going to fulfill his promises of loan waivers, free smart phones and unemployment allowance?
The AAP has fielded its MP Bhagwant Mann against you from your constituency, Jalalabad.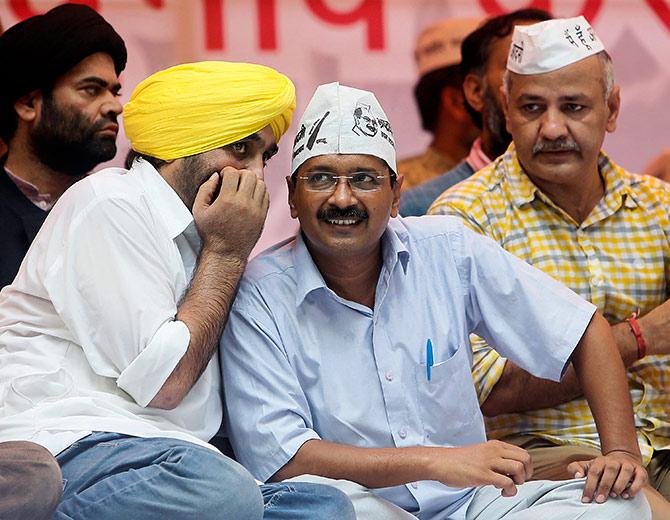 IMAGE: Delhi Chief Minister and Aam Aadmi Party leader Arvind Kejriwal listens to AAP MP Bhagwant Mann during a rally in 2014; Photograph: Anindito Mukherjee/Reuters
This will surely add a dash of humour, something missing in our party.
On a serious note, this will not affect the poll dynamics.
Theatrics and cheap antics offered by AAP have made politics a serious business for all the comedians.
Bhagwant Mann's track record speaks volumes of his tall promises and false claims.
Never in the history of Parliament has it happened that all the MPs joined in to lodge a complaint against a sitting MP including his own party colleagues.
Such is the state of the people's elected representative from Sangrur that he was held responsible for endangering the security of Parliament by putting up a video on social media.
Give us three most important reasons why the Shiromani Akali Dal will score a hat-trick in Punjab.
We are confident of scoring a hat-trick as we have worked hard for the future of the state on an agenda of development, development and yet more development.
The SAD-BJP government in Punjab created history in the last elections by forming a government for the second consecutive term.
A sitting government has never been voted back into power in the state before.
Punjab has achieved unmatched progress and inclusive growth in every sector.
Amongst others, one of the major developments is making Punjab a power surplus state.
Punjab has achieved the distinction of 'only power surplus state in the country'.
The Punjab government's welfare initiatives have created a benchmark for other states to follow.
Punjab has witnessed n infrastructural revolution and set new milestones in e-governance.
A lot has been done, but there is always a lot more that needs to be done.
I am very confident that we will take the state to even greater heights after getting elected for a record third time.
You have been boasting of the Akali Dal winning a majority 70 seats, relegating the Congress to the second position with 35 to 40 seats and AAP at a distant third with just 9 seats.
What gives you this confidence that the Akali Dal will win an absolute majority?
The landmark development works and historic achievements in all sectors have made Punjab a leading state in the country.
Under the dynamic leadership of Chief Minister Parkash Singh Badal, Punjab has witnessed unmatched growth and progress.
On the other hand, the malicious propaganda launched by the Opposition parties for their vested interest is destined to meet its nemesis.
The benefits of Punjab's development and welfare initiatives have reached all cross sections of society.
People of Punjab are smart enough to gauge who works for them and stands for their welfare.
What if your forecast goes wrong?
Work speaks louder than words.
Our work speaks volume about our intention and commitment for the welfare of Punjab and its people.
The Shiromani Akali Dal is a 95-year-old party and it is the only party which evokes the cause of Punjab, Punjabi and Punjabiyat.
We are not afraid of our critics and we shall continue with our development agenda.
Given that Punjab is predominantly an agrarian state and the state of farmers as well as small traders post demonetisation is not all hunky-dory, do you think your ally might spoil your chances with demonetisation having a huge negative impact on your voters?
A historic move, demonetisation would go a long way in transforming the economy of the country.
We cannot undermine the fact that people are facing hardship due to the higher currency getting demonetised.
But having said that, the people of Punjab are cooperating and there is patience being shown, which is guided by the long term benefits that would come from the decision.
We have also urged the Union government to ensure easy availability of new notes.
Rahul Gandhi has alleged that your party promoted a drugs culture in Punjab.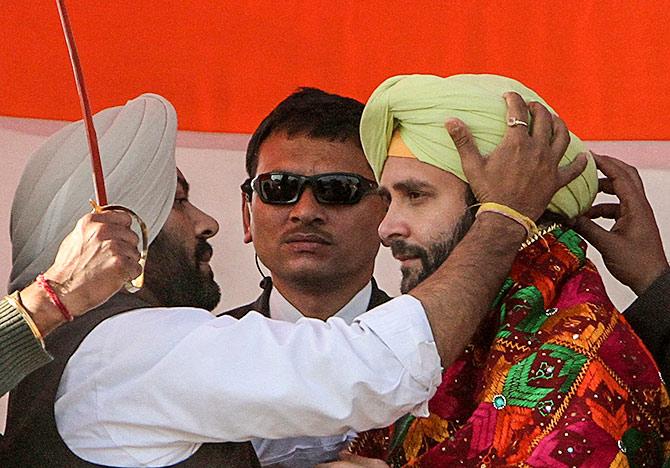 IMAGE: Rahul Gandhi is presented with a turban by party supporters in Sirhind during the 2012 election campaign. Photograph: Ajay Verma/Reuters
It all started when Rahul Gandhi came to Punjab and read from a paper that 70 per cent of youth in the state are drug addicts.
Whereas the reality was that 70 per cent of the drug addicts were youth as per the study of drug addicts referred by Rahul.
While it was a pointer to Rahul's immaturity, it gave enough ammunition to anti-Punjab forces and startling figures on drug abuse started doing the rounds in Punjab's political circuit.
The nefarious propaganda of defaming Punjab was exposed recently with the police recruitment drive conducted by our government.
We conducted dope tests of more than 400,000 applicants and only 1.26 per cent of them tested positive.
There is speculation that former BJP MP Navjot Singh Sidhu will likely contest from Amritsar on a Congress ticket.
What impact will his exit from the BJP have on the SAD-BJP poll prospects?
Credibility is everything in politics. Presently Navjot Sidhu has no credibility.
He has exposed himself by bargaining with the AAP and Congress, both. Now it is immaterial whether he contests election or not.
People have come to know his true self. They will never trust him again.
What could be the best case scenario to settle the SYL issue in the best interest of India's federal structure without compromising on the rights of the people of Punjab on the Sutlej waters?
It is an emotional issue as the Sutlej water is the lifeline of Punjab.
Punjab doesn't even have a drop of water to spare with any other state.
The SYL is a political conspiracy by Congress-led successive governments, both at the Centre and in the state, to take away Punjab's legitimate right to its river water.
SYL was never required and we have vociferously opposed it from day one.
As per internationally accepted 'riparian law', the state has exclusive rights over the river water from which it flows.
Haryana demands a share from the Sutlej. Will they also share the Yamuna's water?
SYL is no more an issue with the Shiromani Akali Dal settling the matter in favour of the farmers by denotifying the acquired land and transferring it in the name of its owners.