'If you say I won't talk to them at all, does terrorism stop?'
'Even if they say they will give up terrorism, "I will fight terrorism along with you," but even then you say I still won't talk to you until you do the following things, then that is a political call.'
Shiv Shankar Menon, foreign secretary when India and Pakistan met at Sharm-el-Sheikh, Egypt, in July 2009 apart from serving as national security adviser -- speaks to Sheela Bhatt/Rediff.com in an exclusive interview.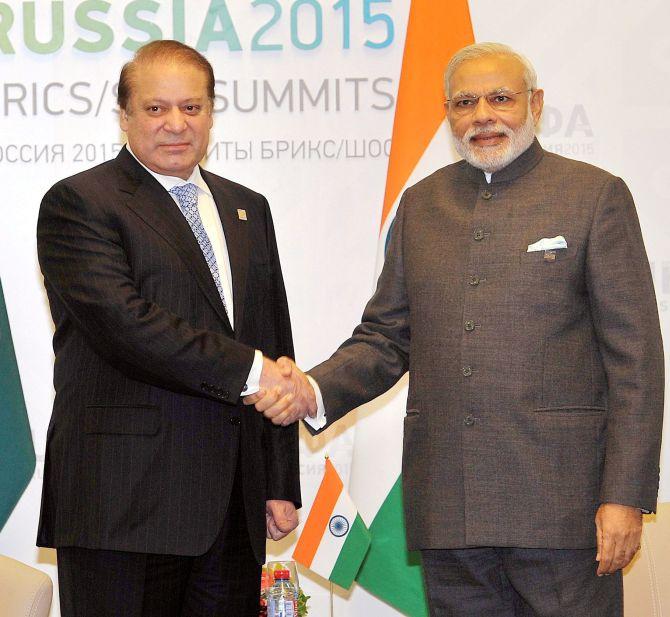 IMAGE: Prime Minister Narendra Modi with Pakistan Prime Minister Nawaz Sharif at Ufa, Russia, last month. Photograph: Press Information Bureau
I have a few more questions on the border issue. Give us three good options which are practical, feasible and great solutions to the India-China border issue.
I don't think this is the time to do that because if you reduce the political space by saying here are the options, do this and so on, they will never settle it. This is also why you will never get the details, in the public space at this time of the negotiations, of what the Special Representatives are doing.
But what will the people debate about without details? Real deliberations in both countries need facts on hand.
Yes, but the facts are out there. You have the guiding principles and political parameters; you know the principles on which they are working...
Yes, like the decision to not shift the settled population...
That is just one of the principles and there are several other things also in there. Secondly, you know the process they are following; you know that both sides have said the status quo is not acceptable as a solution. So you know the framework within which both are working. Now you can't ask in the middle of the negotiations, tell me what India said or what China had said.
I am not asking about the final solution, I am asking about three options.
So you want three final solutions and not just one. It is certainly not possible for someone who has been a close part of the negotiations to give you the options at this stage. If I was an academic scholar I would have freely given you ideas. But I cannot because I have the knowledge of what went on in the negotiations.
The whole purpose of the negotiation is to create a political space within which the leaders can make the choices that they have to. And that is what I mean when I say the political leadership will have to make choices in both countries, simultaneously!
When you say the political leadership will have to make choices, do you mean swapping of some land here and there?
Each side will have to decide to modify its position. Because their positions today do not allow for a settlement, and if they want a settlement they will have to modify their positions.
Otherwise, is there no other solution?
No. Whatever that modification will be, you need space within which you can examine it and do it together and do it simultaneously and then you have a settlement!
I have asked you before if it is about the Shaksgam Valley and Askai Chin...
That is what I said; I am not going into the specifics. Otherwise, if you start talking like that, anybody who is not involved in it can also do that exercise.
Can I at least know whether the Indian side has offered some options?
See, I have been telling you that our job is to create the space. We are moving from the general to the particular and we are, now, at the end of the second stage. We are in the process of doing the framework for the settlement. We have done the principles...
And what is the third stage?
The third stage is of the Actual Line... both sides will draw it. It has to be a line that both sides accept.
And in that the problem lies more with China, which is not coming forward to...
No, it is not that. Until both sides agree on a line as the actual boundary, there is no settlement. So to say it is more here or less there does not mean much. Both sides have to agree simultaneously.
Who makes what concession and all that is a matter of detail which you would only know at the end of the process?
Have both parties done their homework and do they know where their respective lines are?
They know. Everybody has done their homework. The technical work has all been done.
So what do you think will be the trajectory of this talk?
Which talk?
The Special Representatives talk.
I can't say, I am not going to speak for them now. This is hypothetical, I can't speculate. Let them speak. And I don't think they will give you more specificity until they have an agreement.
I do not think any negotiator will tie his hands in public first before he negotiates.
What is working well in this particular (round of) border talks?
The SRs' talk is not only about a boundary settlement. It also deals with maintaining peace and tranquillity on the border; it also discusses the situation and other issues in the relationship. And it is the direct channel between the prime minister of India and the highest levels in the Chinese leadership. And it speaks with authority, on both sides that is why it is so important.
Many analysts argue that on the issue of the South China Sea India is taking a stand which is more aligned with that of the West. Do you think so?
Our stand is consistent since 1988 -- that is when we first started drilling for oil in the South China Sea, when ONGC (the Oil and Natural Gas Commission) got exploration blocks from Vietnam.
Ever since we have been in the South China Sea, we have always made it clear to China, to everybody, that these are straight forward commercial deals and we consider that if China and Vietnam have any differences between themselves they should sort them out among themselves; they should talk to each other and settle them peacefully.
We think that in the South China Sea the freedom of navigation, commercial exploitation, should proceed irrespective of whatever disputes they might have among themselves. The Chinese had raised it with us in the late '80s and then they never raised it for many years.
You mean the issue of exploration?
Yes. Of exploration, saying you are drilling in Chinese waters. We had told them that this is a commercial arrangement and Vietnam has given us a concession, you should not drag us into your disputes. They started raising it more recently, privately, must be around 2007-2008 and publicly, after 2009, when the issue of the South China Sea heated up among them. So, until 2008-2009, no occasion came for us to speak about it in public.
But what we are saying today in public is what we have said to anybody before, to the Chinese, to anybody else who has asked us about what is our position on the South China Sea. We think commercial deals should go on and there should be no restrictions on freedom of navigation. And I think that is a logical position, it is a position in India's interest.
Do you think that issue will become a bone of contention between the two, eventually?
Between us and China? I am not so sure. There are enough primary participants in that dispute who have to sort it out among themselves and we keep telling them that. Now they are saying they will negotiate a code of conduct, but they have been saying that for many years now. So far, they have not done it.
You know both the leaders (Prime Minister Narendra Modi and President Xi Jinping) quite well and you have known them for more than a year now, how do you see the short-term trajectory of India-China relations?
In the short term there are many issues that we need to work on. I think the reworking of the economic basis of the relationship is very important, both because we are trying to redo our economy and also because the Chinese are trying to readjust their economy.
The world economic situation is not so good, so we will have to rework the terms of your economic engagement. We cannot put up with the present economic imbalances for a very long time.
China also has other things to bring to the table -- it has excess capacity in infrastructure building, has capital, has the capacity to help you if you want to rebuild your economy or infrastructure etc. We have been talking about Chinese manufacturing zones in India, for instance. We can look forward to those sorts of exchanges in the very short term.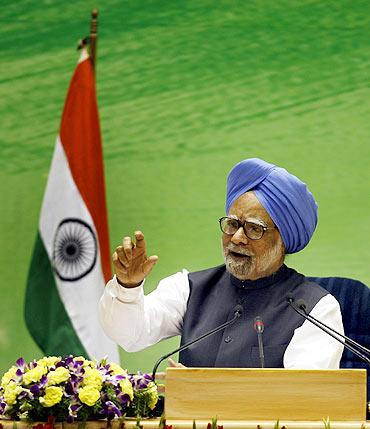 'For me he was a really great leader in many ways'
'He was a wise leader in the sense that his idea of transforming India, of making India into a modern, prosperous country, he followed steadily.
He didn't allow himself to be distracted by status goals or personal ego or any of these things that so easily can distract a leader.
When history judges him and looks at the changes he brought to India, when we look at what changed India's future, I think we will look back to the UPA.'
Do you think China is more enthused to work with India under Modi's leadership?
I think China has always, and now increasingly, considered India as an important neighbour. Important for different reasons, not only because of India'size but also because India's economy has grown at 6.5 per cent for 35 years, and also because of India's vision of itself and its role, and also because they have seen the situation evolve around them.
They see that there is a political influence with India and that India plays a role in the subcontinent, in South East Asia, in various markets. So, it is natural that they will work increasingly with India.
What failed Dr Manmohan Singh's government post-Sharm-el-Sheikh (in July 2009, when the joint statement between India and Pakistan referred to Baluchistan, setting off a furore in India)? Why did Dr Singh and you have to face such an embarrassment?
I think that, of course, the attack on the results of Sharm-el-Sheikh was primarily political. I don't think it had anything to do with the merits of what happened at Sharm-el-Sheikh because what did they object to? They objected to two things: One was that there was a reference to Baluchistan being discussed. Now, I don't know why there is an objection to this...
If Pakistan can discuss their internal issues with you and you can discuss Kashmir, which is your internal issue, with them I do not see why anybody, as an Indian, takes offence.
I think the then Opposition claimed that this somehow admitted that we are interfering in Baluchistan. How does it admit this? It only admits that there is chaos in Baluchistan. Pakistan may say that we are interfering, but where did we ever say we were?
I mean, if they are ready to discuss the situation in Baluchistan, fine. So therefore, as I said, it is not the substance that prompted the attack on the results of Sharm-el-Sheikh.
The second accusation was, how can you agree within nine months of the Mumbai attacks to talk to Pakistan when they haven't stopped terrorism, when they haven't done anything to bring the perpetrators of 26/11 to justice?
Now that is a matter of judgement, and that is a political judgement. Other people are also still talking to Pakistan including the present government.
At no stage has anyone or any government claimed, especially Manmohan Singh or his government, that by talking or not talking terrorism will stop or not stop.
Terrorism is something you have to deal with. But that is a political call. If you say, okay, I won't talk to them at all, does terrorism stop?
Even if they say they will give up terrorism, I will fight terrorism along with you, but even then you say I still won't talk to you until you do the following things, then that is a political call.
I think the problem, therefore, with Sharm-el-Sheikh, the attack on its results, was not due to the substance of what we did. Because, after all, successive governments of India, whether NDA or UPA, are still talking to Pakistan. They are talking to Pakistan and terrorism is still going on.
We have had worse attacks than Mumbai in the '90s when more people died, in the Mumbai train bombings. It is a question of choice, of political choice.
The Opposition found a useful stick to do attack a government that had just won an election. I think it served various people's interest.
After all, in May 2009, people did not expect the UPA to come back to power. They needed a stick, they needed something and they used whatever came to hand. And I think they made enough noise to confuse many people.
But, sir, what were your thoughts, then?
I said at that time that you can argue over the drafting, about whether it is written correctly, but there is nothing wrong with the substance of it. And, frankly, if you are a realist and if you think you are going to deal with the world as it is, there is nothing wrong with it.
If, he (Pakistan) says he is ready to talk about Baluchistan, then what's wrong? Why not talk about his internal affairs?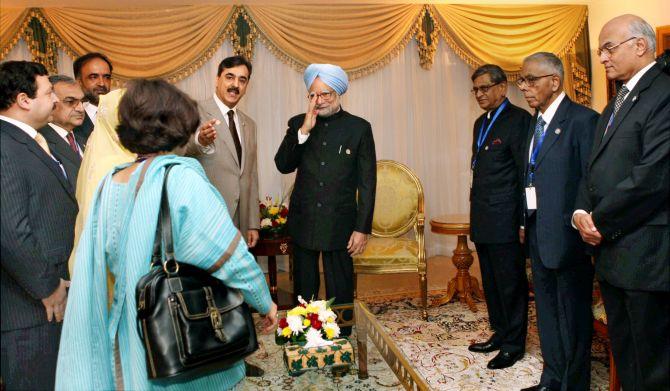 IMAGE: Then prime minister Dr Manmohan Singh greets members of the Pakistan delegation during his meeting with then Pakistan prime minister Yousaf Raza Gilani at Sharm-el-Sheikh in July 2009. To Dr Singh's left are then foreign minister S M Krishna, then national security advisor M K Narayanan and then foreign secretary Shiv Shankar Menon. Photograph: Press Information Bureau
But M K Narayanan has a different version on this...
You know, for me this (the summit-level talks and following joint statements) is something that once it is negotiated between the prime ministers, then whatever is your personal opinion, that is irrelevant, frankly.
I mean some people say, 'Oh, we weren't a part of it, we were a part of it but we saw it later and so on...' I think everybody else's function in that kind of a situation is to give the best advice that you can, to say what you think, whether the political leader likes it or takes it or not.
So no regrets (for Sharm-el-Sheikh)?
Who? We did exactly what I am saying. We said what we thought. But after all, it is not either M K Narayanan's call or my call. We were not elected prime minister. I do not see anything wrong with the substance of what there was in the statement. You can argue about the timing, you can argue about the drafting, and you can politically say this is unacceptable, but I think it was good policy.
I think it was the unexpected protest by the Congress against the Sharm-el-Sheikh statement. It was surprising to see the Congress's nationalistic leanings at that point of time because they were behaving very much like the BJP.
I really do not want to comment on that because, you see, various people said many things at that time.
Did you not guess the public mood beforehand?
It is interesting. If you ever talk to the public, the public was never as agitated as the politicians. I think we make this mistake over and over and over again. The media and the politicians will make a huge issue and get very engrossed in an issue, especially on foreign policy issues. The public, on the other hand, is much more sensible about these things. The public's interest in foreign policy, I think, is in what affects their lives directly.
But there is pride involved in this. How can one forget the Mumbai attacks in less than a year?
I retired (from the Indian Foreign Service) at the end of July 2009 and I joined the government again in January 2010. In those seven months I travelled a lot around the country. The more you go away from Delhi, the less people ask about Sharm-el-Sheikh.
What they ask about is different things, they ask about the world economic crisis, how will it affect our lives, will we be able to create jobs, what about our investment? They ask about things that affect their lives. So, when I say it, I say it for a reason, not just on first principles.
How do you assess Dr Singh's capability as a foreign minister in diplomacy and as prime minister, as you have seen him really close?
For me he was a really great leader in many ways -- because he understood the situation. He also knew how to get things done through the government machinery and certainly he was a wise leader in the sense that his idea of transforming India, of making India into a modern, prosperous country, that he followed steadily.
And he didn't allow himself to be distracted by status goals or personal ego or any of these things that so easily can distract a leader.
I think it takes a great deal of self-control actually to be a leader like that. And for the quality of his mind and the level of self-control and discipline he had, I really think he was a good leader.
But, then, where did he fail if he was such a good leader?
I honestly think he was right when he said let history judge him. And when history judges him and looks at the changes he brought to India, not just as the finance minister, but as prime minister, when we look at what changed India's future, I think we will look back to the UPA.
But he hardly spoke.
I am saying when you judge a leader and his contribution, do you judge him by what he says or what he does? Today we are in such an atmosphere where there is a lot of political noise.