'This is for the first time that a strong, solid evidence-based investigation has happened.'
'It can meet international standards and put the onus on the Pakistanis.'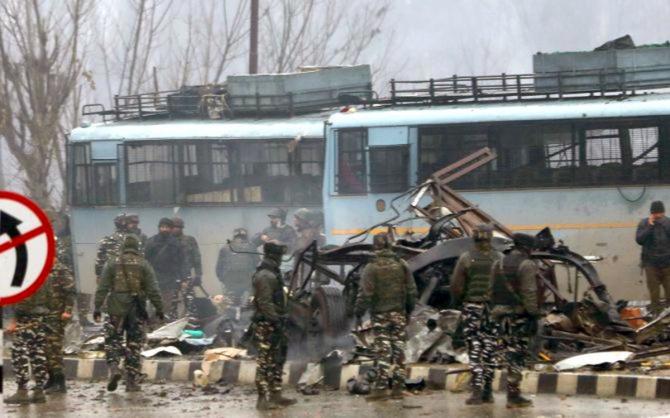 Rahul Pandita's book Our Moon Has Blood Clots is a must read for anyone who wants to know what Kashmiri Pandits went through when unrest began in the Kashmir valley in 1990 that led to their exodus from their homes.
His other book, Hello Bastar, The Untold Story of India's Maoist Movement, outlines the threat left wing extremism poses to internal security.
Pandita's latest book, The Lover Boy of Bahawalpur: How the Pulwama Case was Cracked, reveals the complexities behind the investigation into the terrorist attack of February 14, 2019, that killed 40 Central Reserve Police Force soldiers and how the case was cracked.
"It is left to the National Investigation Agency to connect the dots in the attack. They face a lot of dead ends, but due to a lot of hard work, and as they say luck favours those who put in a lot of hard work, the entire sequence is established," Rahul Pandita tells Syed Firdaus Ashraf/Rediff.com in the first part of an interview.
After reading your book one gets the feeling that the jihad started by Shah Ismail and Syed Barelvi in 1831 against the Sikhs is ongoing and that the 'Bahawalpur boys' have replaced those jihadis today.
When Syed Barelvi and his jihadis could not succeed, what gives confidence to Jaish-e-Mohammed jihadis that they will win Kashmir from India?
It is an ongoing process for them.
It never ​ends.
They have time.
They have men.
They have the right kind of poison ivy​ to attract people.
If you read my book, there is an instance where the BSF (Border Security Force) arrests a Pakistani terrorist who says they are in for the long haul in Kashmir; they are not looking at five years or 10 years, but 30 years, 40 years.
That is the final conclusion of my book.
No matter how many Umar Farooqs (the Jaish mastermind behind the Pulwama attack) die in Kashmir, they will keep sending more Umars.
Unfortunately, Indian agencies need to thwart these attempts 10 out of 10 times, but in the internal security doctrine they say a terrorist needs only one chance to succeed.
This is continuing in Kashmir and it will continue for some time.
You are saying exactly what M J Akbar did in his book Shade of Swords ... And the jihad goes on.But this cannot go on forever as we are losing lives and ultimately, we need to win over the jihadi ideology.
What can we do to win over Kashmiri youth?
I am not an expert on Islam to speak about the concept of jihad.
From my little understanding, jihad is a very holy term and when innocent people are in danger you launch a jihad.
Unfortunately, due to extremists like Jaish-e-Mohammed chief Masood Azhar, jihad has become an ugly word.
As far as Kashmir is concerned, we have to have a little tweaking in counter-insurgency.
You cannot do anything for people like Adil Dar, the suicide bomber in the Pulwama attack.
They are already religiously indoctrinated and nothing can be done about them.
We say we have killed, say, 300 to 400 militants from period A to period B. It is okay to track them and kill them.
This is an important part of counter-insurgency, but this cannot be the end goal of counter-insurgency.
You have to fight the fountainhead of this poison.
How do you fight it?
You have to make policies which will ensure that people like Shakir Bashir and the young boy Waiz Ul Islam do not join Jaish.
Waiz was a 17-year-old boy when he got in touch with Jaish-e-Mohammed and became a courier for them.
Now this boy is not from some poor family.
He is not even from Pulwama.
He comes from an affluent family, and Jaish manages to get in touch with him and makes him their courier boy.
When Jaish can reach a boy like him, why can't the Indian State reach him before Jaish?
The fight for the Indian State is that you have to reach Waiz and Shakir before Jaish.
There has to be some way to reach out and till this does not happen, you cannot find solutions.
When you start the book, you write about a 'blue car' and the focus was all on the blue car that the suicide bomber blew up killing 40 CRPF jawans.
Was it intentional on your part to keep the suspense as you reveal details of the car much later?
As an author you have to go beyond journalistic training.
My attempt was to make this book interesting for readers.
A long time back, one of my bosses in journalism asked me whether I think in Hindi or English before writing a story and I told him I only think in terms of visuals.
Then, if I have to write in Hindi, then I write in Hindi and when I have to write in English, I write in English.
When I started working on the story, there was very little known except the fact that a blue car driven by terrorist Adil Ahmed Dar rammed into the CRPF convoy, killing 40 of them.
Fifteen minutes later his last video appears in the media. As a writer I found it a very interesting way to tell the story that the CRPF convoy is leaving Jammu for Srinagar and here are two terrorists waiting to carry out their operation from a little bridge on the Jhelum river.
They are waiting for their mission.
They can see the national highway.
They can see the convoy movement.
I wrote in an interesting way so that there is thrill in it and readers will like it.
'Sindhi Ajrak Topi'. As a reader you want to know about this man immediately. but you go on to reveal his identity as a mastermind only at the end. Was that also intentional?
Absolutely.
You leave some component of suspense.
You write it as a thriller and retain some suspense till the end.
That is what good writing is and that is what I did so people are glued to the story.
It was an organic way.
When the investigation started, they had no idea about the existence of the Sindhi Ajrak Topi man and his role in the Pulwama attack.
Without getting into details of the book, you wrote that the terrorists bought 3 kg of aluminum powder through Amazon, gelatin sticks were easily available in Kashmir for road construction and bags of ammonium nitrate from a fertiliser shop in Pulwama.
Is it easy to get these bomb-making things in Kashmir?
It is easy because we have such soft standards for all this.
The problems in not in Kashmir only.
If you see the history of insurgency in this country, and I have covered the Maoist insurgency too, even there these things are easily available.
In the past, terrorist organisations like Indian Mujahideen have got things like ammonium nitrate and gelatin sticks from mining companies.
In our country there are no stringent measures that will make people wonder why is this person buying this stuff.
The same holds true for Kashmir.
When someone is buying aluminum powder from Amazon, no alarms are raised.
In other countries this immediately sets off alarm bells.
Unfortunately in our country, we have not reached that stage.
We never knew who the mastermind behind the Pulwama attack was as the police would claim after every terrorist death that the mastermind of the Pulwama attack was killed.
When did you as a journalist decide that you have to establish a chain that could connect the mastermind of the Pulwama attack to Pakistan?
The blast happened at 3.15 pm on February 14, 2019.
Fifteen minutes later, suicide bomber Adil Dar's video comes out.
From that video we know for sure that Adil Dar is the suicide bomber, but the investigating agencies do not believe that video as they feel in the past there was hardly any Kashmiri local who was a suicide bomber.
The investigation agencies are really suspicious about the video.
Only later on is it revealed which Jaish commander is involved in the attack.
What happens with this attack though is that it changed India's response to terror attacks.
Major terrorist attacks had happened in the past too, but this one created ripples throughout the country like never before. For example, people came out impromptu to protest in places like Samastipur, Bihar.
People came out on their own in support of the fallen soldiers.
Indian investigation agencies were under tremendous pressure to show results.
Therefore, every time a small player in this chain got killed, they held a press conference.
They said they have killed the mastermind of the Pulwama attack.
Mind you, Jaish terrorists were watching all this from Pakistan.
They spoke to the real mastermind in Kashmir, Umar Farooq, and told him to keep Indian intelligence agencies in a state of confusion.
Now it is left to the National Investigation Agency to connect the dots in the attack.
They face a lot of dead ends, but due to a lot of hard work, and as they say luck favours those who put in a lot of hard work, the entire sequence is established.
In the past, India has faced a lot of flak in the international community after terrorist attacks when they put the blame on Pakistan.
For example, in the 26/11 terror attacks on Mumbai, dossiers we gave them (foreign investigative agencies) were of very poor quality.
At international fora, everyone told India that our investigation was fantastic, but where was the evidence?
That is how the National Investigation Agency was formed, to have solid evidence of international standards.
In the past too, we had some solid evidence solving cases by the NIA, but this is for the first time that a strong, solid evidence-based investigation has happened.
It can meet international standards and put the onus on Pakistanis.
All the evidence is there.
When did you feel you had to write this book?
I cover Kashmir as a journalist.
Almost on a day-to-day basis.
I look at the Maoist insurgency too and cover India's internal security beat.
I started following this case right after the blast happened.
As the NIA was getting leads, I was following it all.
The decision to write the book came when the case was finally cracked.
The police and NIA teams never share anything about ongoing investigation proceedings. They are very professional in their conduct.
I was only given to understand that the investigation was going in the right direction.
It was only after Shakir Bashir was put in front of a magistrate, which was last year, that I decided the Pulwama attack is book material.
Pakistani terrorist Umar Farooq is the son of one of the IC-814 plane hijackers, Ibrahim Athar, and was also the mastermind of the Pulwama attack.
Is the Jaish-e-Mohammed a family run set-up where operations in charge have to be from the family?
Masood Azhar's family is huge.
They are 11 siblings.
The entire family is involved in terrorism.
Leadership in Jaish is held either by that family or people who are extremely close to them.
They have no qualms about their family members getting killed.
They have Talha Rashid (Masood Azhar's nephew) who got killed.
Umar Farooq's younger brother Usman Haider got killed and then Umar Farooq too got killed.
There is a guy called Lambu who is mentioned in the book. He is 7 feet tall and Waiz Ul Islam tries to get big-size shoes for him.
He is someone whose identity the investigators don't know, but he is someone close to Masood Azhar's family.
Lambu is still active in Kashmir and security agencies are on the hunt for him.
Why were security agencies so desperate to get a mole in terrorist organisations that they started trusting a terrorist like Noor Mohammad Tantray?
Again, it is a little soft approach.
In the murky world of counter-insurgency, these things happen all the time.
If you look worldwide from Israel, the USA to Russia, they use extra-judicial methods to infiltrate terrorist groups.
They use all the resources at their disposal to get some information from inside terrorist camps.
There are double crosses happening and then there are triple crosses too happening at the same time.
What is surprising in this matter is for how long this person managed to hoodwink Indian security agencies.
He is a dangerous guy.
He is someone who wanted to open a tea stall outside the BJP headquarters.
He wanted to kill the top BJP brass at one go.
He gets arrested by the Delhi police special cell as they are tipped off by the J&K police after Ansar Bhai's death.
Somehow Russian roulette happens.
He is in Tihar jail and is then transferred to the Central Jail in Srinagar which is somewhat controlled by terrorists.
There have been so many raids on that jail and so much has happened.
To send someone as dangerous as Tantray to Srinagar jail and release him on parole -- it sets a dangerous precedent.
He is someone who is responsible for the revival of Jaish in the valley.
How he managed to evade suspicion by security agencies is something very dangerous and I hope the government looks into this.