'Mamata will beat the living daylights out of BJP workers with the result that people who are not totally committed, they will promptly leave the party and go back to Trinamool.'
'Or when they find they cannot get what they came to the BJP for they will go back to Trinamool.'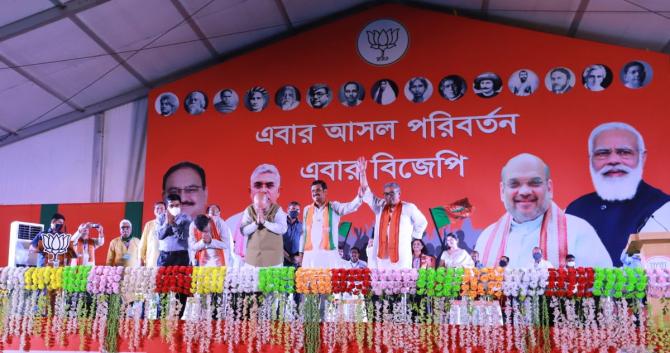 Tathagata Roy doesn't mince his words.
Following the Bharatiya Janata Party's defeat in the West Bengal assembly election, the veteran BJP member expressed his anger at the way the poll campaign was conducted by the party's decision-makers in the state.
The BJP had set itself an ambitious target of 200 seats, but won just 77, while the Trinamool Congress won 213 seats.
"I feel the Hindu vote can be consolidated. It is not that it can't be consolidated, provided it is handled properly," the 75-year-old former Tripura governor tells Rediff.com's Senior Contributor Payal Singh Mohanka.
You have been very vocal about your dissatisfaction with your party's decision-makers in Bengal and their handling of the assembly election? How has the party's central leadership reacted to your grievances?
I have not spoken to anyone in the party except a few selected people.
But what I have spoken about I am not at liberty to share right now.
And because of the Covid situation in Delhi I have been asked not to travel. I will be sending across a written report.
You have said 'unwanted elements from the Trinamool Congress had been inducted into the BJP and leaders with no idea or understanding of Bengali culture and heritage were made to helm the election campaign in the state'.
You see I have consulted quite a number of senior party leaders in the state and I have almost finalised my report.
Now this report will go to the central leadership.
As soon as it is possible I will go and see the leadership and see where we go from there.
How do you see the BJP's future in Bengal?
If it is handled well, if we learn the necessary lessons from this debacle, I see a good future. There are no full stops in politics.
Some firmly believe that in any geography which has a 30% Muslim population it is impossible for the BJP to win. How would you react?
It is nonsense. A lot of people believe in it, but I think it is nonsense. What would the rest of the 70% be doing?
Those who believe in this say that typically Muslims vote en masse whereas the Hindu vote gets divided between parties.
I feel the Hindu vote can be consolidated. It is not that it can't be consolidated, provided it is handled properly.
There are charges that the BJP seeks not just votes, but also your mindspace. It wants to control your faith, what you eat, what you wear.
This is nonsense. This is not a fascist country. That kind of thing happens only in fascist, Communist and Islamic polities.
It is impossible for it to happen in India with its enormous diversities and people who are saying this are just talking through their hat. It is just political propaganda.
You are one of a handful of leaders in the country who has moved from active politics to a Constitutional post and then again to active politics.
A number of people have done this. Arjun Singh of Madhya Pradesh, Sheila Dikshit, Motilal Vora -- many have been governors and in active politics.
This transition hasn't been difficult?
I have never experienced any difficulty. When I am governor I act like a governor. When I have divested myself of the duties of a governor, I act like a political leader.
According to the RSS's Organiser the party fared badly in Bengal due to three reasons. Its inability to fully grasp the wide network of beneficiaries of Mamata Banerjee's welfare schemes, the induction of turncoats into the BJP and Covid. Would you agree with this?
Yes, but this is only part of it. There is a lot more to it.
Which you can't share in a nutshell?
No I can't share now until I submit my entire report to the party. And they take a position on it or don't take a position on it.
You have raised issues about seats being given to Tollywood stars whom you've called 'politically stupid'.
That is a very insignificant thing. Not just Tollywood stars, but a lot of garbage which came in from Trinamool Congress and other parties have been given space, choice of candidates has been extremely bad.
And these Tollywood stars, they are not even stars. Also some very disreputable people had been given tickets.
You had predicted a huge exodus from the BJP in Bengal.
Some signs are already apparent and it is not surprising that such a thing will happen.
I did predict this, but it is not difficult to guess.
The same Mamata will beat the living daylights out of BJP workers with the result that people who are not totally committed, they will promptly leave the party and go back to Trinamool.
Or when they find they cannot get what they came to the BJP for they will go back to Trinamool.
And if you had been in charge what would you have done differently before the assembly polls?
That is the substance of my report. How can I tell you this?
Your report will also include the reforms you would suggest?
Yes. Once I get a green light from the people in Delhi. Right now they are not meeting anyone.
At this point there is nothing much to do except send across the report.
You have accused Kailash Vijayvargiya, Dilip Ghosh, Shiv Prakash and Arvind Menon of your party of 'dragging the names of the prime minister and home minister through mud and sullying the name of the biggest political party in the world'.
I stand by that. I have said it in public domain. The entire mess has been created by this bunch of four.
They have brought the names of our respected leaders to disrepute by wrong choice of candidates, wrong choice of issues, everything.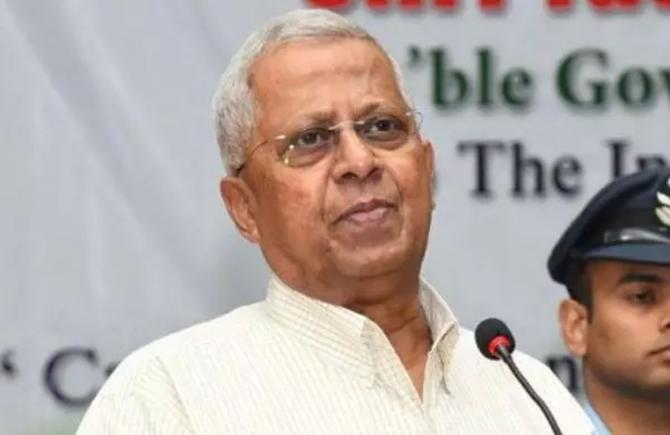 Do you think Narendra Modi has lost gravitas by making the Bengal election such an obsession?
You see Prime Minister Modi has hundreds of things on his mind.
Out of that Bengal elections is important, but it has its own proportionate importance.
So far as Modiji is concerned I don't think it makes a huge lot of difference.
I don't think there is any question of him losing gravitas.
The local media started referring to him as 'a daily passenger' because he was spending disproportionate time here.
Of course they will say such things. Nonsense. Did Modi ji come daily?! He came much more than he does in most other elections.
There are reasons. One reason is ideological, the other is that West Bengal is a border state.
It doesn't detract from his gravitas or anything of the sort.
Prime Minister Modi is receiving huge flak for his handling of the deadly second surge of Covid that is ravaging the country.
See the people who are abusing Modiji because of his handling of Corona, they would have abused him for any reason.
They have been abusing him even after his enormous electoral win in 2019.
Earlier they had abused him in 2014, prior to that in 2002 because of the Gujarat riots.
This is just political propaganda. I don't attach any kind of seriousness to this.
Narendra Modi remains a boon to this country. It is only him.
Can you think of anyone else who can manage this country at this juncture?
Nobody could ever imagine what shape Corona could take.
Today we are seeing marginal downturns, but we still don't know what is going to happen next.
It is very easy to be wiser after the event.
If we had been extremely careful and there was no second surge, then they would have said Modi has throttled the economy of the country by being over cautious.
Mr Modi's greatest strength is that he has the weakest imaginable Opposition.
That is not his fault. It is not his job to give birth to a strong Opposition. His job is to govern the country.
Why is the Opposition weak? Simply because they have to rely on one blessed family!
In conclusion how would you sum up your relationship today with the BJP?
I have been a swayamsevak since 1986 and a BJP member since 1990. I have been the state party president from 2002 to 2006. And a member of the BJP national executive from 2002 to 2015.
Then I was made governor of Tripura. I am not Yashwant Sinha. I am not severing my connections with the party or abusing the party.
I am still a very, very, loyal BJP worker, primarily a swayamsevak.
Feature Presentation: Aslam Hunani/Rediff.com