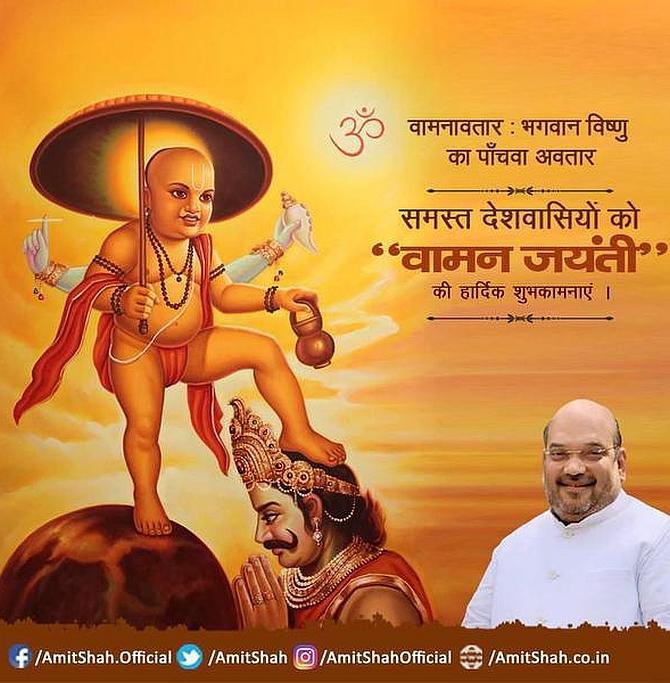 IMAGE: Amit Shah's controversial tweet.
'These people want to create fissures among Hindus and they have been trying to do this for quite sometime.'
It was an eventful Onam for the Bharatiya Janata Party's Kerala unit. BJP President Amit Shah was trolled on social media for wishing Malayalees 'Vaaman Jayanti' on the eve of Onam. Though he wished Malayalees a 'Happy Onam' the next day, the Vaaman Jayanti greetings did not go down well.
Had the Rashtriya Swayamsevak Sangh not published a cover story in its magazine Kesari hailing Onam as Vaamana Jayanti and not celebrating the Asura king Mahabali'a annual visit, Malayalees would not have cared about Amit Shah's message.
In this exclusive interview to Rediff.com's Shobha Warrier, Kerala BJP president Kummanam Rajasekharan explains where the BJP stands on the Vaamana versus Mahabali issue.
Did you not start on a wrong foot by publishing a cover story in Kesari, arguing that Onam was Vamana Jayanti and not the celebration of Mahabali's visit?
You should understand first that Kesari is an independent magazine and it has nothing to do with the BJP. Second, what you are referring to is an article written by a person and it was his opinion.
How can you say that the opinion of the writer is the opinion of a party or the RSS?
You also should understand that many people write articles in the magazine, and they include Communists and independent thinkers.
But it angered many Malayalees. The accusation was that the RSS and BJP were trying to impose a Brahminical angle on Onam. You hailed Vaamana when Kerala has been fondly remembering King Mahabali.
Is this not the propaganda unleashed by the Communists?
The people of Kerala never accused us of doing so. You have a Communist chief minister who didn't want the people of Kerala to celebrate Onam with pookalam.
It is the Communists who speak and act against the ideals behind Onam, not us. The RSS nor the BJP would talk against Onam like the Communists.
As the state party president, I wished all people a happy Onam. Not only me, the national president also greeted people on Onam. The prime minister also wished people of Kerala on Onam.
Amit Shah wishing Vaman Jayanti on the eve of Onam after the article in Kesari angered many Malayalees...
The article in Kesari has no connection with the work the Sangh has been doing in Kerala.
It is not that Vaamana Jayanthi is not celebrated in Kerala; it is celebrated in certain parts of Kerala like the way the other avatarams of Lord Vishnu are celebrated.
This has been going on for a very long time all over India, and the party president's wishes were to all those who celebrate Vaamana Jayanthi. For example, we celebrate Parashurama Jayanthi as he is the creator of Keralam.
Shah wished the people of Kerala on Thiruvonam also. There is nothing contradictory in these greetings.
Do you agree with what the article in Kesari said -- that Onam should be celebrated as Vaamana Jayanthi and not a celebration for Mahabali?
What was written in Kesari was the writer's opinion, and not ours.
Onam celebrates the arrival of Mahabali to Kerala and people celebrate the festival welcoming the king.
This is how all Malayalees celebrate Onam. There is no second opinion about that.
We strongly believe that that's how it should be, and it should continue to be like that too.
But you should also understand that just because you celebrate Mahabali, you need not condemn or insult Vamanan; vice versa too.
Keralites respect Mahabali and worship Vaamanan, and this has been going on for many, many years.
Now some people are trying to divide the Hindus, giving it a Brahmin and Dalit colour.
Some people are hell bent on categorising the rituals into two; as that of savarna Hindu and asavarna Hindu.
These people want to create fissures among the Hindus and they have been trying to do this for quite sometime.
We will not let them divide us as we do not believe in dividing Hindus as savarna and asavarna.
Chief Minister Pinarayi Vijayan wants to divide Hindus. Kerala Congress leaders V M Sudheeran and Ramesh Chennithala are also doing the same thing.
From their statements, it is quite evident that they want to divide the Hindu community on these lines.
Somehow all the happenings during Onam gave the BJP the image as the party of the upper castes or savarna Hindus...
On what basis are these people labelling the BJP as a savarna party?
That's only an image created by some. The reality is different.
We stand with the people of Kerala in celebrating Onam as the festival of the visit of Mahabali.
That has been the history of the BJP and that's the reality. We are not bothered about the false image propagated by others.
Who said Mahabali was a Dalit and Vaamana, a Brahmin? Nowhere does it say so.
You mean to say, only the so-called savarnas from the Hindu community pray at the Trikakara kshetram where the deity is Trikakara Appan who is none other than Vaamana Murthy.
During Onam, thousands and thousands of Malayalees go to the temple. There are other Vaamana kshetrams also in Kerala. Do you call those who pray there as anti-Dalit?
Some people want to divide the Hindus, that's why all these accusations.
Will such a division happen in Kerala?
The BJP will never let it happen.
Those who are trying to denigrate us should understand that we live here and we will continue to live here.
And we will face the people of Kerala as we are sure that no force can divide the Hindu community through such attacks and utterances.