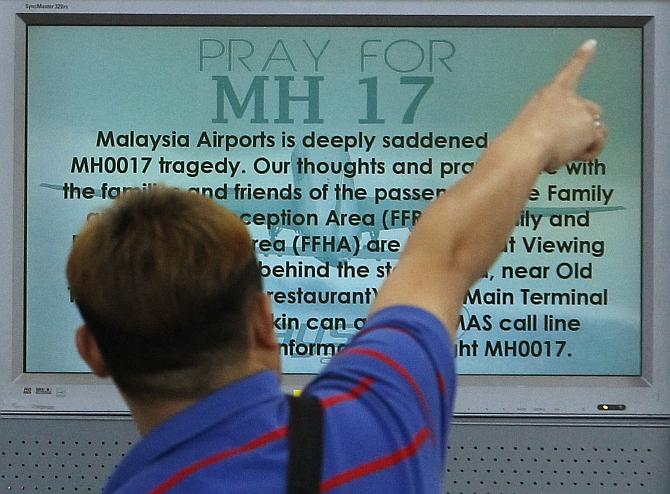 'Complex weapons are usually not in the hands of terrorists… military forces failed in this case. In a way it's an act of terror'
Captain John M Cox, who spent 25 years flying for United States Airways and is now the chief executive officer of Safety Operating Systems at Washington DC, talks to Rediff.com's Vicky Nanjappa about the Malaysian Airlines flight MH17 which was shot down in Ukraine on Thursday night killing 298 people on board.

While he calls the incident a "catastrophic mistake", he assures that aviation has never been safer.
Was the Malaysian Airlines crash in Ukraine an act of terror or a military operation that went wrong?
Based on what I have learned so far, it appears to be a tragic case of mis-identification and the failure of safety systems for a complex weapon. A catastrophic mistake. In a way, it is an act of terror but more correctly is was a failure to properly operate the weapon system.
There are so many conflict zones in the world today. How safe is it to fly today?
It is very safe to fly. Aviation has never been safer and this even after Thursday's act. Last year, we flew 3.3 billion passengers worldwide with the lowest number of fatalities in history, according to the International Air Transport Association.
Conflict zones like Iraq, Gaza, Ukraine and Afghanistan have made the world a dangerous place. Should flying be avoided over these skies? Is there an alternative?
The countries witnessing armed conflicts are responsible to advise the international aviation community. Ukraine did this and the airspace was closed below 32,000 feet. This was appropriate, as there had never been a case of a surface-to-air missile hitting an airliner at normal cruise altitude.

In the future, it is likely that more airspace will be closed. It is important to recognise that such complex weapons are usually not in the hands of terrorists and that military forces have safeguards to prevent such a mis-identification which failed on Thursday.
Is it time for international routes to be redrawn in the wake of such incidents?
Yes, it is likely that the airspace will be closed until the conflict is resolved.
This is the second time that a Malaysian airline has gone down. What are your thoughts on the first incident? What could have happened and why is it taking so long to track down the missing aircraft?
The events involving Malaysian Airlines planes are unrelated. Flight 370 flew for hours after deviating from its planned route. We do not know the reason, but we do know that someone with requisite knowledge interacted with the two computer systems -- FMC (Flight Management Computer) and ACARS (Aircraft Communications Addressing and Reporting System) -- resulting in a change in the flight path and the cessation of data transmission to the satellite. Searchers are looking for wreckage, and I believe they will find it. More time is required due to the location of the accident.
What can be done to prevent incidents like the one that took place in Ukraine?
Keeping such weapon systems out of the hands of groups who lack the proper safeguards is the first step. Now, that we know such capability exists, the closing of airspace will also be necessary in the future.
(A veteran major airline, corporate and general aviation pilot, Captain John Cox has flown over 14,000 hours with over 10,000 in command of jet airliners. Additionally, he has flown as an instructor, check pilot, and test pilot in addition to his extensive involvement in global air safety.)

Image: A bystander points in front of a 'Pray for MH17' message on a flight information board at Kuala Lumpur International Airport in Sepang. Photograph: Edgar Su/Reuters.