'The Sabarimala issue is no longer in splendid isolation.'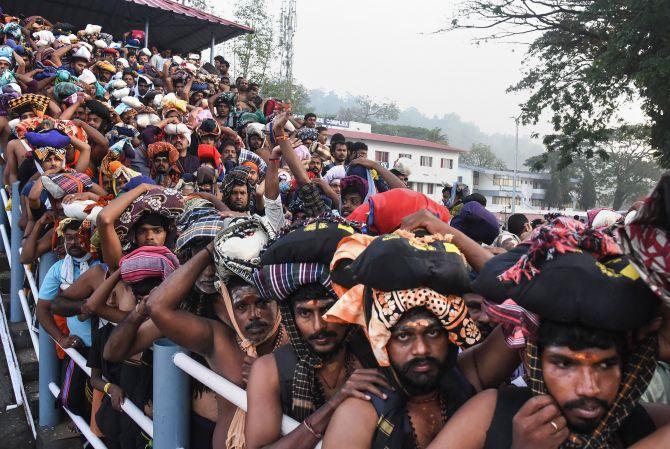 After the Supreme Court verdict on Ayodhya issue, everyone eagerly awaited what the apex court would pronounce on the Sabarimala review petition.
But the court moved the question of allowing women in the age group of 10 to 55 years to a larger, seven judge, bench.
The Supreme Court said restrictions on women in religious places were not limited to Sabarimala alone. So, the court wants the new bench to review the religious practices and rights of Muslims, Bohras and Parsis as well.
It was in September 2018 that the Supreme Court ruled that not allowing women and girls between the ages of 10 and 50 into the Sabarimala temple was illegal and unconstitutional. Though the court has now asked a seven judge bench to review the case, its earlier verdict has not been stayed.
The verdict has left many confused, including, it seems, Kerala Chief Minister Pinarayi Vijayan. The Kerala government, in contrast to its stand last year when it encouraged women to visit the temple leading to a standoff with traditional devotees, struck a cautious note this time round, unwilling to risk a law and order situation.
What are the legal implications of the Supreme Court's unusual verdict?
M R Venkatesh, chartered accountant, advocate and political commentator, explains the verdict's implications to Shobha Warrier/Rediff.com.
How do you interpret the verdict?
In the first place, one cannot call it a verdict. They have come out with a decision that, given the complexity involved, the matter should be referred to a larger bench. It is a 3:2 decision which is, in a way, surprising.
Why are you surprised?
I am not surprised by the decision to refer to a larger bench, I am surprised by the 3:2 split. That itself shows the contentious nature of this issue.
It must be remembered that we enacted our Constitution in 1950. But did we forgive and forget our past -- prior to 1950? To some, we started as if we are a new State, and a brand-new society, all coming together from August 15, 1947.
As far as matters of State are concerned, yes, that was the beginning. But society? Are we not a civilisation? Don't we have a relation with the past? Does it not matter? Is it not guaranteed in our sublime Constitution?
You mean, matters concerning the existence and beliefs of people, they go back several centuries?
Of course yes. We are a civilisation; a continuum. We also simultaneously aspire to be a modern nation State. But in a way we are a civilisational State -- civilisation in parts, modern State in some. And there are bound to be conflicts between the civilisational part and the modern State.
Be that as it may, let me be bold here. Interestingly, in this Hindu majority country, we have various sampradayas -- diverse ways of worshipping, plural faiths including agnosticism. Even atheism is accepted as an integral part of our society. The word is not tolerance as is used by many, but complete acceptance.
For example, Maha Vishnu worshiped as Govindarajaswamy in Chidambaram and Maha Vishnu in Srirangam are the same god, but the manner of worshipping Govindarajaswamy and Maha Vishnu may be different! Tirupathi Balaji is another form of Maha Vishnu.
The implication is that there are different types of faiths, beliefs and different forms of worships even to the same God.
But there is a legal catch here. The word used in Article 26 of the Constitution, unfortunately, is 'denomination'. We borrowed the word 'denomination' from an alien ideology, probably Christiandom, and transplanted it into our Constitution when drafting it in English.
Interestingly, all our judgments and understanding of the Constitution come from such fundamental flaw of using incorrect phrases to define ourselves!
You mean the use of the word 'denomination'?
The word 'denomination', as is understood in Christiandom, is probably different from as is understood in India. For us, everything is sampradaya. It is our tradition, civilisation, culture, practice, and much more. In fact, there is no precise word in English to translate sampradaya.
The larger part of Article 25 and 26 is that anybody and everybody can practise his faith subject to public order. Now, whether women should be allowed into that particular temple is a neat question of following sampradaya in Sabarimala.
The belief is that Lord Ayyappa at Sabarimala is in naistika brahmachari form, so he does not want to have women devotees above the age of 10 and below the age of 50. You may say that it is blind faith and it does not conform to the Constitutional morality.
But there is another important issue. You can't say I believe in Ayyappa, but I don't like the way he is at Sabarimala. So, I want to reform Lord Ayyappa and convert him from his current form of a naistika brahmachari into a grihasta or whatever!
I am sorry, in my humble opinion, we cannot stretch the Constitution to such absurd limits.
Do you think courts should not interfere in matters concerning faith?
In a way, yes. As I explained, in this matter what the court is doing is not only attempting to reform society, but trying to reform Lord Ayyappa himself at Sabarimala!
What they are doing is rewrite history retrospectively and rewrite our understanding of faith retrospectively. Next, they will say Malikapurathamma should not be outside the temple, she should be brought inside.
This is going to create a very big conflict and it cannot be resolved by thousands of learned men in thousands of years.
Remember, faith begins when rationality ends. When faith is guaranteed by the Constitution, where is the question of questioning faith!
You mean, we should not tackle issues of faith and not talk about it.
I would say there are two ways of tackling it. One is, letting social reformers take up issues that are essentially social in character. It is easier for a believer to accept reforms flowing from a social or religious reformer than the verdict of even a 13-member bench of the Supreme Court.
Secondly, we have not yet realised that there are inherent limitations to the State, courts as well as the Constitution.
The Renaissance Protection Committee backed by the Communist Party has criticised the way the Kerala government is handling the issue. They also call themselves social reformers...
You cannot reform society by going against the core tenets of society.
Mahatma Gandhi was a reformer. Acharya Vinoba Bhave was a reformer. Ambedkar was a reformer. Swami Vivekananda was a reformer. There were several such reformers who were above caste and community and have prevailed over society, but without going against the core tenets of society.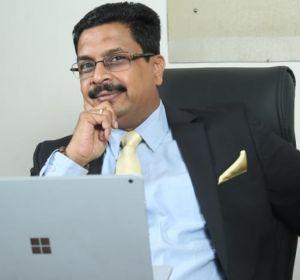 You cannot compare them with the Communists who are nothing but glorified anarchists.
What the Communists did in China was obliterate the past and create a new society. This is what they want to do here -- wiping off everything what we had before 1950 and starting afresh.
The question is, should courts go into the practice of every religious group, look into every minute detail and ensure compliance with Part III of the Constitution?
My right to pray, pray in a particular manner and pray in a particular temple in a particular manner is also guaranteed under the Constitution. That is what Article 26 talks about, and that is what Justice Indu Malhotra more or less brings about in her judgment in the first 4:1 verdict.
Now, her judgment has come up for re-consideration. Hence, this reference to a larger bench.
What is the court trying to do in legal terms?
In simple terms, society is split on this issue. Naturally, the judges are also split.
The legality is, can you interfere in every religious practice? In my view, since we are a secular State, the government itself should not have interfered in the first place.
Do you think the current bench shifted the issue to another bench because they didn't want to take a decision?
I would say the courts do not want the issue to settle now as they want to ponder over the issue.
For instance, the Ayodhya judgment given now might not have been acceptable to all faiths in, say, 1996. But today, after 23 years, it is acceptable. Likewise, probably the court wanted to wait for another 15, 20 years and resolve such an apparent conflict between the civilisational part of India and the modern State of India.
Do you think the court expects people themselves to reflect and come to a decision as time passes by?
Yes. You cannot solve every problem immediately. It may require ripening of the solution also. And the court perhaps feel they are also not matured enough to look into this problem as they lack a 360-degree view right now.
Above all, the Supreme Court has to act strictly within the Constitution and the solution has to be rooted to the Constitution too. That is their handicap.
You feel, as time goes by, society will evolve and changes will take place, even in the case of Sabarimala?
Yes. That's how solutions are made. Sometimes you can be ahead of society, but certain times, it is better to wait for society to accept changes.
So, let society do the introspection. Let it decide. But on these matters, it is better for our courts to keep a safe distance.
Now the majority verdict does not limit to the practices and rights of Sabarimala alone, but wants to review what is followed by Muslims, Parsis and Bohras.
It means the seven member bench will have a say on other religions too and it will not restrict itself to Sabarimala.
What kind of implications will this have on society, legally and socially?
Every religion has certain discrimination and certain favours to gender. There are six temples in Kerala where I am told that males cannot enter.
It means you cannot view religious practices only through the prism of Article 14 and equality which is what Justice Indu Malhotra said. I am going even further and say, do it for all the temples in India too, do it for those temples where males cannot enter.
But I think this across the board reference to all religions is basically to answer those doubting Thomases who say, if you are doing it for my religion, do it for other religions too.
Now, the court has to settle it not for Sabarimala alone, they have to settle it for everybody. Let's see how they are going to settle and how long it will take. Probably, the court wants to settle such issues comprehensively, not only for Hindus but for everybody.
Do you think it is a very intelligent move by the court to expand the issue beyond Sabarimala and transfer it to another bench?
Yes. Some problems require immediate attention and some problems require time to settle before attacking it with a solution.
These are issues that do not require a solution today or tomorrow; you can even wait another 15, 20 years.
Does that mean the Supreme Court judgment was more social rather than legal?
I would say, yes. It is more practical, and places at the centre of every social reform. It looks at the entire aspect of society as a driving force in our country rather than the State.
The Sabarimala issue is no longer in splendid isolation.
The court understood the depth of the problem and the different dimensions to the problem. So, they do not want to rush and give a verdict merely based on the sole test of Constitutional morality. To this extent, it an extremely good decision.