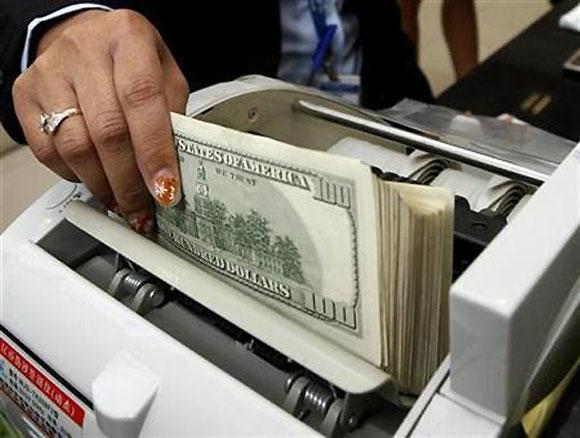 'The difference between black money in India and the black money out of India is, in India, it is tax evaded money and Indian money outside India is not only tax evaded money, but money which has been taken out of India's capital resources needed for India.'
'So it is not only tax evasion, but treason too.'
S Gurumurthy speaks to Shobha Warrier/Rediff.com about black money stashed abroad and how it needs to be brought back.
Swaminathan Gurumurthy, convener, Swadeshi Jagran Manch, launched his investigation into black money in 1986.
He was a member of the taskforce created by Bharatiya Janata Party leader L K Advani just before the 2009 election. The BJP had promised then and before the 2014 election that it would bring back the black money stashed away in various banks outside India if it were voted to power.
When the Narendra Modi government informed the Supreme Court that it could not disclose certain details about black money because of the double taxation avoidance agreement India had with certain countries, it angered lawyer Ram Jethmalani, on whose plea the Supreme Court had constituted a Special Investigating Team on black money. Jethmalani accused the Modi government of toeing the United Progressive Alliance line.
In this exclusive interview with Shobha Warrier/Rediff.com, Gurumurthy left, below, explains his expectations of the Modi government on the black money issue.
In 2009 when we met before the parliamentary elections, you had just submitted the task force report on black money to Mr Advani. Did you continue with your investigation even after the BJP lost the elections?
Let me first talk about the initial hurdles in pursuing black money. There was an opinion among many leaders that there was no black money at all. (Former Union minister) Jairam Ramesh openly said it was complete nonsense. First the Congress said there was no black money, then they said there was no black money of this kind. Such opinion was shared even among some in the National Democratic Alliance.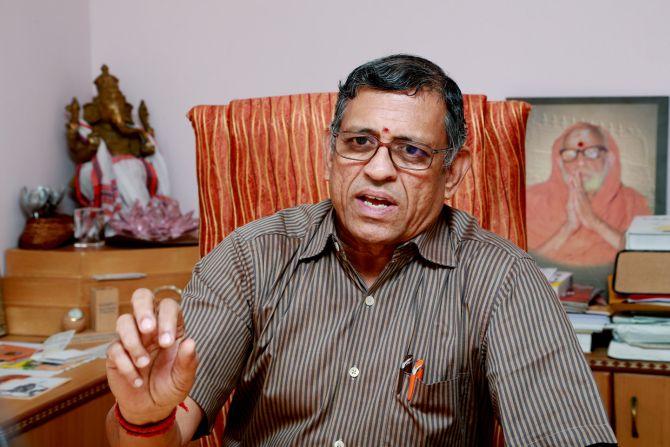 Leaders from the BJP too?
Yes, there were some BJP leaders. They genuinely felt there was no black money. That is also because some of them could not understand that black money was not kept as currency. So the initial difficulty that had to be crossed after submitting the task force report, was making people agree that there was black money.
When Advani started talking about it strongly during the elections, it became a public issue. Unless something becomes a public issue, it will never be an issue at all. Because of the elections, it got enough publicity.
When it became an issue, even (Congress President) Sonia Gandhi had to come out with a statement that they would bring black money from abroad. Then (then [prime minister) Manmohan Singh had to repeat it.
Thus, it became an issue common to the political system. Till then, it was resisted. This was the biggest public hurdle that had to be overcome.
Today, no political party can say that black money is not an issue; it has become a national issue. Who drives it, who is more sincere, who has more commitment, is a different issue.
Was it not a global issue by then?
At the 2010 G-20 meeting, France and Germany took it up and said that casino capitalism was the product of the Anglo-Saxon economic model. It was the first time in the history of the world that a virtually racial term was used to describe economic behaviour.
They said this model fostered tax havens as respected, accepted and legitimate. France and Germany said, unless you take on the tax havens and the secret banking system, they would walk out of G-20. So America had to cave in.
Unless you understand the functioning of the global financial system and the role of secret money in it, you will never be able to understand the forces that prevent the campaign and exposure of black money.
The global GDP is about $72 trillion and the high net worth individuals' wealth is $54 trillion out of which $20 trillion is called offshore money. Offshore money is nothing but secret money.
We must understand that this does not mean cash alone; it is in the form of shares, real estate, bonds, yacht, ships, companies, gold, platinum. So this $20 trillion also is in the form of government bonds especially in America.
Much of this $20 trillion black money is from Asia and Africa. This is what drives the American stock market. And 55 per cent of American families are hooked to the stock market and nearly 60 per cent of retirement benefits and pension funds are invested in the stock market. It was less than 10 per cent in 1980 and gradually all the monies shifted from the bank to the stock market.
This connection of black money with the American stock market was what France and Germany resisted. They wanted the secrecy to be broken open.
That was how what we have been trying to do got global recognition. The black money issue can ever be tackled at home. After 2010, the world began to view it as a menace, but only as tax evaded money. But it is not only tax evaded money but it is money taken out of the country.
So the difference between black money in India and the black money out of India is, in India, it is tax evaded money and Indian money outside India is not only tax evaded money, but money which has been taken out of India's capital resources needed for India.
So it is not only tax evasion, but treason too.
Do you think all political parties are involved in this, and that is why they do not want to pursue this with enthusiasm?
Not only politicians, but bureaucrats, businessmen, some even in the judiciary are also corrupt. Then there is also drug money, gold smuggling etc. Politicians, who have been in power for too long, can be involved.
Most politicians are locally corrupt and they keep the money here itself. There was a politician in Jharkhand who said, when questioned about corruption, 'Did I put the money in a Swiss bank? I only invested here.' He implicitly claimed to be a nationalist in corruption.
The Global Financial Integrity organisation came out with a calculation that between 1948 and 2008, $500 billion (about 30 lakh crore) has gone out of India. And between 2003 and 2011, $350 billion (about 21 lakh crore) has gone out of India. Most of it had gone out of India after India liberalised the economy.
Are you connecting black money with liberalisation?
I am not saying the economy should not be liberalised. But there is a connection. It allows people to have more opportunities to spirit away money. There is no safeguard.
The Foreign Exchange Regulation Act is not there. The money laundering law, not in effective form, came too late. The threat of arrest is not there.
What I want to say is, it is now certain that funds have gone out of India and what has gone out of India is not a very small amount, but very large.
Also, it is not a one nation's problem, but a global issue. It means we can form global partnership and pursue this money.
Is it possible for countries to take black money back?
By legal action, money siphoned off by Ferdinand Marcos of the Philippines has been recovered. African dictators' money has been recovered. It is possible to recover. But I don't think our income tax department and Enforcement Directorate can do it because it consists of people who have colluded with these things.
The only possibility is that our intelligence agencies must be used for this purpose.
First, you must get clues, vital leads, names of the account holders and bank names. Only then you can start legal action.
When you were with the task force, could you get all these details, like the names of people and banks?
We could get information, but only in respect of businessmen and not those of corrupt politicians.
In my view, this government must act and it has the opportunity to act. They have got to put together a set of very committed set of people with passion who will go about with this task.
I am sure Narendra Modi is quite keen about it. I have absolutely no doubt on that aspect.
At present, he has too many things to handle and I am sure he must be thinking about how to handle this. The matter is also with the Supreme Court.
The Supreme Court had constituted a SIT on black money on Ram Jethmalani's plea. He accuses the Modi government of protecting the culprits. He said the Modi government is following the UPA path when it refused to divulge the names to the Supreme Court citing the treaty...
There are two sets of names. In Liechtenstein Bank accounts, the German government announced that anybody could take the information, but the Government of India asked them to give it under the direct taxation avoidance agreement under which it is a secret. That's why the Supreme Court asked why did they obtain it under a secret clause what is available in the open?
But the most important thing is the HSBC account particulars which we got from France. France got it from records stolen by a disgruntled employee in the HSBC bank in Switzerland. But the bank is in the Swiss jurisdiction. We got reportedly about 600 Indian names from France under the double taxation avoidance agreement.
The government view is that under terms of the bilateral the details can be disclosed it only after prosecution is launched. This is the claim of the government saying this is the international practice.
The other view is, with which I agree, is that in public court proceedings, the government can disclose the names. The government seems to say that the Supreme Court cannot over-rule the DTAA. But my view is no over-ruling is needed because the DTAA itself says that it can be disclosed in public court proceedings.
My view is when the court says the government has to disclose, it must disclose.
Yes, there are two views in this. Obviously, the bureaucrats will take a view which is very defensive and conservative. The more serious thing is they have filed an application saying the original order the Supreme Court had passed must be modified.
The original judgement says the government should not enter into any agreement with any country which says the information must be kept confidential and it is prohibiting the government from entering into inter-government agreement with the US for automatic and mutual sharing of financial information which is due in December
According to me, the government is wrong in filing this application because the DTAA with America specifically says you can disclose this information in public court proceedings. In my view, signing the inter-governmental agreement with America will not violate the Supreme Court judgment.
The perception among people is that the Modi government is not very enthusiastic about the black money issue and going slow like the UPA....
I won't take that view. Action to recover black money abroad will be in any way a slow process. It needs the world's cooperation. The government has to create an atmosphere in which the world sees that the Indian government is keen on fast action.
Till the UPA was in power, the world had had a feeling that India was not keen to recover black money. This has to be reversed.
The first thing the government can do today is to expeditiously file prosecutions against people who have concealed the money in HSBC and disclose their names.
Recovering black money is a very strategic issue as the Indian government has to make alliances with many countries for which we took no efforts at all so far. This government can take these efforts because it has high level of influence with most of the countries. The credibility of this government is high.
Do you have confidence in this government that it would pursue the issue honestly?
A hundred percent. This is going to be a very important agenda for Modi. He has made his intention clear to me many times before and after coming to power.
Modi may want to pursue it, but what about the others?
There is no one in the government who can think otherwise if the most powerful person, the PM, wants action to recover black money.
In my view, Modi is the person who will do it. Others will fall in line, even if they genuinely doubt whether there is so much money.
Finance Minister Arun Jaitley hinted that the name of a certain UPA minister is there. Is the issue only about UPA ministers and the Congress party? Is it not much bigger and deeper than that?
He was talking about the 600 names in the HSBC list; he was not talking about the entire gamut of black money. He was actually answering the Congress which was taunting the NDA government for not acting on black money.
It was a political statement and that was needed because the Congress was trying to take advantage of the secrecy. That is why Jaitley said, be careful, you are likely to be embarrassed.
Do you think the Modi government will pursue the matter as seriously if there are names of politicians from the BJP?
As yet, there is not even a suspicion of anybody from the BJP in it. So this is a hypothetical question. Even if somebody from the NDA is involved, public opinion and judicial opinion will force the disclosure.
The media must pursue it relentlessly. The problem is the some powerful sections of the media in India are also corrupt. If public opinion is generated, it will have its effect.
In spite of most media underplaying the black money issue and toeing the congress it has become an issue because it was made into an election issue by Advani. The credit for making it a huge public issue must go to Advani.
I am confident that the government will pursue the matter seriously. If not, people like us will not keep quiet. It is not to see the issue goes unattended that I have spent 30 years of my life on this. There are many people like me within and outside the system.
Have you got any startling revelations while pursuing the issue?
There are many leads, but to give startling revelations, you need facts.
Without facts, you will be making allegations. I do not make allegations without facts. We can only go to a certain extent and after that, we have no powers to probe them.
Image: S Gurumurthy. Photograph: Sreeram Selvaraj